SHRAPNEL
(director: William Kaufman; screenwriters: Chad Law, Johnny Martin Walters; cinematographer: Mark Ruthledge; editors: R.J. Cooper, Rylan Rafferty; music: John Roome; cast: Jason Patric (Sean Beckwith), Cam Gigander (Max Vohdan), Teresa Decher (Leigh Beckwith), Kesia Elwin (Susan Beckwith), Efrain Villa (Eduardo), Mickey Wagner (Ghost), Megan Elisabeth Kelly (Billi Langencamp), Tamas Nadas (John Langencamp), Mauricio Mendoza (Victor Garza), Guillermo Ivan (Carlos Garza), Stephen Ray Byrd (Hacienda gunman), David DeLao (Officer Hector Montoya), Jack Forcenito (Marcus Dobson, U.S. Consul); Runtime: 89; MPAA Rating: R; producers: Elias Axiume, Al Bravo, Robert Eagar; Saban Films; 2023)
"A dull vengeance thriller."
Reviewed by Dennis Schwartz

A dull vengeance thriller that's set in Mexico. It's a manipulative B-film action pic directed by William Kaufman ("The Channel"/"Warhorse One") and lazily co-written by Chad Law and Johnny Martin Walters.


Sean Beckwith (Jason Patric) is a military vet with the rank of colonel in the Marines, who lives with his wife Susan (Kesia Elwin) and two daughters on a Texas ranch. The older 18-year-old daughter Leah (Teresa Decher) sneaked across the border with her friend Billi (Megan Elisabeth Kelly) to have a good time and is kidnapped.


Dad gets no help when going to the law in both Mexico and America, and pleas for mercy on TV to only further anger the cartel kidnappers. Their reaction is sending in goons to execute the family. Sean sees no other way but by trying to rescue his daughter and friend on his own. He contacts his former soldier bud Max Vohden (Cam Gigandet) for assistance and they plan to raid the Juarez compound of the cartel boss (Mauricio Mendoza). At this point I could swear I saw this rescue kidnapping film before.


Our hero is concerned if his daughter and her friend are still alive, and even if rescued might never be the same again.


The main villain is played by Guillermo Ivan.


Pay back comes in the third act, as I think the body count reaches 26. But who is counting!!!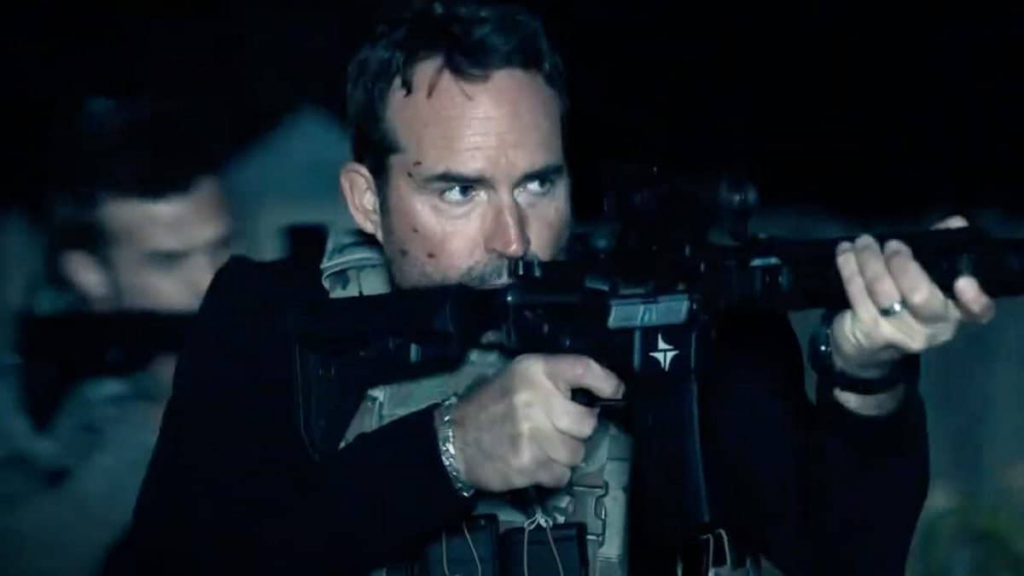 REVIEWED ON 8/8/2023  GRADE: C