SHE'S IN PORTLAND
(director/writer: Marc Carlini; screenwriter: Patrick Alexander; cinematographer: Devin Whetstone; editor: Marc Carlini/Greg O'Bryant; music: Mondo Boys; cast: Tommy Dewey (Wes), François Arnaud (Luke), Minka Kelly (Sarah), Rico Ross (Paul), Joelle Carter (Rebecca), Lola Glaudin (Ellen), Medalion Rahimi (Constance), Olivia Crocicchia (Bayla), Paige Spara (Mallory), Mouzam Makkar (Jennifer), Nicole Laliberte (Maggie), Alyshia Ochse (Sage), Augie Duke (Diedra); Runtime: 100; MPAA Rating: NR; producers: Jeremy Alter/Marc Carlini; Freestyle Digital Media; 2020)
"It's too bumpy to enjoy the ride."
Reviewed by Dennis Schwartz

The debut feature film of director Marc Carlini, who is co-writer with Patrick Alexander, seems as if it's a made for television film. It's an emotionally packed jejune road film that takes us to the Pacific West Coast, as the men leads head for Portland on a personal quest.
The well-off banker who moved to the east coast, Wes (Tommy Dewey), is being sent to the west coast by his company to complete a deal. While out there he plans on meeting in Los Angeles his school friend Luke (Francois Arnaud), now a struggling music film editor who is planning to return to his family home in Virginia and work for his dad's waste management business. The two are thirty-something college buddies who admire the lives of the other while feeling trapped in their own.

At the high school reunion where both attended, Luke is a no show. Wes attends with his wife Sarah (Minka Kelly). He's in a rocky relationship with his former college sweetheart. Wes meets there Maggie (Nicole LaLiberte). She's the dream girl that Luke once loved and is still single, working as a painter/bartender in Portland. When she inquires at the reunion about Luke, Wes takes it to mean she wants him to bring Luke to her (Maggie is the she in the title).

The scenery on the journey from L. A. to Portland is beautiful and is stunningly captured on camera, as the boys reunite and strain to talk about their discontent (one unhappily married with a pregnant wife and a daughter, the other lonely after rocked by a series of bad relationships and career failures).

Filled with surprises, we're left wondering what will happen when we get to Portland.  But it's too bumpy to enjoy the ride.

Along the way there are numerous episodic adventures. They encounter new people, mostly women, who help them discover more about themselves and about love. The best acted out ones are them partying with free-spirited college girls in SoCal and sharing a  dinner with a divorcée (Joelle Carter) and her friend (Lola Glaudin).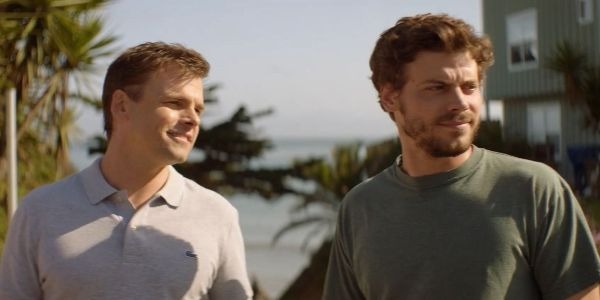 REVIEWED ON 9/16/2020 GRADE: C+