SHARPER
(director: Benjamin Caron; screenwriters: Brian Gatewood/Alessandro Tanaka; cinematographer: Charlotte Bruus Christensen; editor: Yan Miles; music: Clint Mansell; cast: Justice Smith (Tom), Brianna Middleton (Sandra), Julianne Moore (Madeline), Sebastian Stan (Max), John Lithgow (Richard Hobbes); Runtime: 116; MPAA Rating: R; producers: Erik Feig/Bart Freundlich/Brian Gatewood/Jessica Switch/Alessandro Tanaka; A24/Apple; 2023)
"Its fault is that it's manipulative, though it makes for classy entertainment if you can go along with its ruses."
Reviewed by Dennis Schwartz

A "sharper" is someone who lives by their wits.

TV director Benjamin Caron in his feature debut directs this slick, well-acted, psychological thriller, set among the devious (grifters) and wealthy New Yorkers. The workman-like nonlinear script is by Brian Gatewood and Alessandro Tanaka. Its fault is that it's manipulative, though it makes for classy entertainment if you can go along with its ruses.

It opens in an antiquarian Manhattan bookstore. The shy owner Tom (Justice Smith) works the counter reading Edgar Allan Poe, and greets the twentysomething charming customer Sandra (Briana Middleton), who asks for something by Zora Neale Hurston. She mentions she is in a PhD program in Black feminist studies; he then asks her to dinner. They soon become a couple.

When she receives a call from her brother that he's in debt to some bad guys, Tom offers to loan the money he will take from his father's hedge fund. She gratefully tells him "I'm going to pay you back, no matter how long it takes me."

The couple meet the charlatan sleazebag city slicker Max (Sebastian Stan), his wealthy socialite mother Madeline (Julianne Moore) and her bland billionare con artist husband (steals funds from the police department) Richard (John Lithgow).

Divided into chapters, we observe the main characters overlap as each character's back story and role in a grifting scheme is uncovered. We're never quite sure who is getting conned and who is doing the conning. What we become sure of is that all the characters are cold and hard to care for.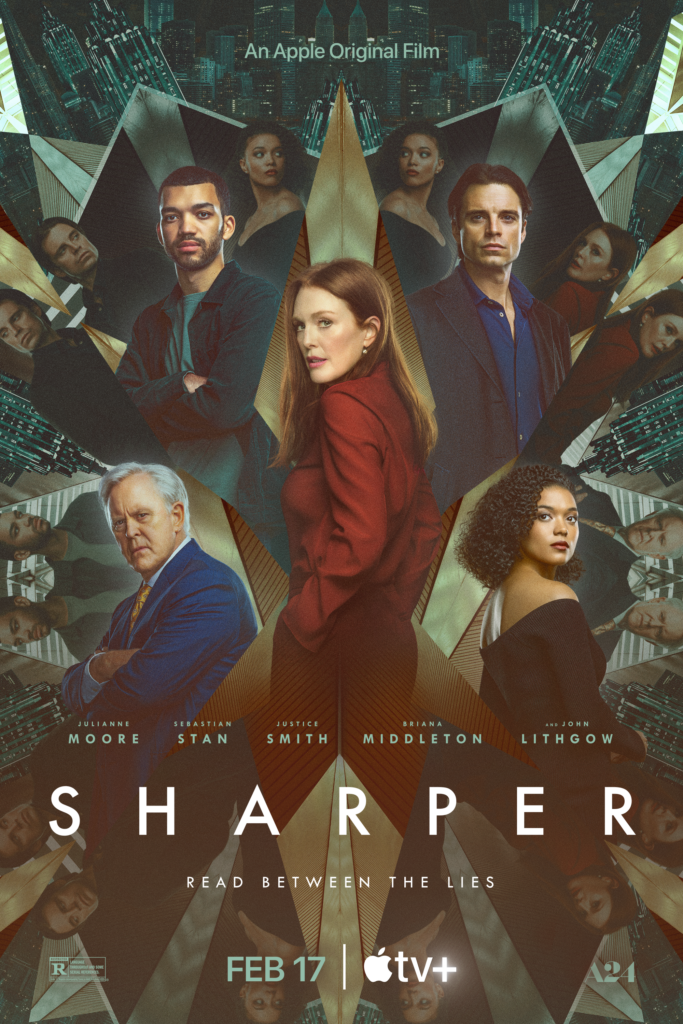 REVIEWED ON 2/17/2023 GRADE: B