SERPENT'S EGG, THE ( Das Schlangenei)
(director/writer: Ingmar Bergman; cinematographer: Sven Nykvist; editor: Petra von Oelffen; music: Rolf A. Wilhelm; cast: Liv Ullmann (Manuela Rosenberg), David Carradine (Abel Rosenberg), Gert Froebe (Inspector Bauer), Heinz Bennent (Hans Vergerus), Glynn Turman (Musician), James Whitmore (Priest), Toni Berger (Mr. Rosenberg), Christian Berkel (Student), Edith Heerdegen (Mrs. Holle, landlady); Runtime: 119; MPAA Rating: R; producer: Dino De Laurentiis; Paramount Pictures; 1977-West Germany/USA-dubbed in English)
Reviewed by Dennis Schwartz
"It's an awkward, damp and barren film with miscast stars and filled with pretentious dialogue."
A failure both at the box office and with the critics. The first film made outside of Sweden and the second English language film (The Touch being the first) by Swedish director Ingmar Bergman ("Crisis"/"Smiles of a Summer Night"/"A Lesson in Love"), who was in a self-imposed exile in Germany because of tax problems in his home country when he shot this film with an international cast and the ample backing of Hollywood producer Dino De Laurentiis.
It's an awkward, damp and barren film with miscast stars and filled with pretentious dialogue such as this line: "fear covered the city like vapor coming off the cobblestones." Bergman has overloaded it with his own paranoia and seems lost in a city and time he's only familiar with through other movies (he got his ideas of Berlin from Sternberg's The Blue Angel and Lang's M). In this studio-bound film (made at Bavaria Studios) that beautifully recreates (credit goes to production designer Rolf Zehetbauer) in Grand Guignol style a depressed, decadent and futile Weimar Berlin of 1923 (it's set specifically during an early week in November, a time when Hitler's bid for power failed in his first attempt on November 8th–which was known as the Munich Putsch), where anti-Semitism has reared its ugly head in the newspapers and in the streets, there's great unemployment and inflation, and law and order has been brushed aside by an impoverished and mismanaged city. Everything seems incredulous and strained, and little of the tragedy it seeks to comment on touches the heart or for that matter registers as anything but campy until a powerful ending that comes too late to save the film. To say the least, this film lacks the profundity of Bergman's greater works.
Bachelor, unemployed, expatriate Jewish-American, alcoholic, traveling circus trapeze artist Abel Rosenberg (David Carradine) is in the police station being questioned by an imposing Inspector Bauer (Gert Froebe) over his brother Max, his partner trapeze artist, blowing his brains out in the apartment they shared. After the police let him go, Abel visits his brother's estranged Mexican wife Manuela (Liv Ullmann) at the sleazy cabaret where she sings and dances by night. She also works as a prostitute from 9 A.M. to 3 P.M. at a mysterious whorehouse, later uncovered as a place of secret proto-Nazi experiments run by the villainous mad scientist Dr. Hans Vergerus (Heinz Bennent). The two innocents hook up together in her apartment, in a city that's rapidly deteriorating with fear, crime, corruption and poverty. The polite but menacing police inspector suspects Abel had something to do with his brother's death and with six other acquaintances of his found in the same area murdered. With the apolitical and self-absorbed Abel losing contact with reality and refusing to recognize the danger signs of a growing anti-Semitism, he also discovers that the unlisted whorehouse where Manuela works is a place that performs unauthorized Nazi human experiments. The film which covers a week in the life of Abel and Manuela trying to survive in the hellish Berlin, finally in its climax gets around to its theme: that Abel stumbled into a laboratory of the serpent's egg (it refers to "the thin membranes [through which] you can clearly discern the already perfect reptile"), the embryo that a decade later will hatch Hitler's evil "master race" theories and make them part of his Nazi party that gave the world such things as the Holocaust.
One of its problems, why the film stagnates, is that it has a bewildered looking and miscast Carradine asked to carry the pic when he's not believable as the apathetic character he's portraying; he gave me a sense of disbelief as he wanders around during the entire movie in an innocent stupor through a hostile boozy dark cabaret-like setting while trying to look the other way at all the violence, human suffering and anti-Semitism all around him. By the time the film hooks up with what it's driving at, it's too late to paste it together and make it cohesive. In all his films, Bergman has something worthwhile to say and this one is no exception; it's just too bad his thoughts never blossom here because the film is so clumsily put together.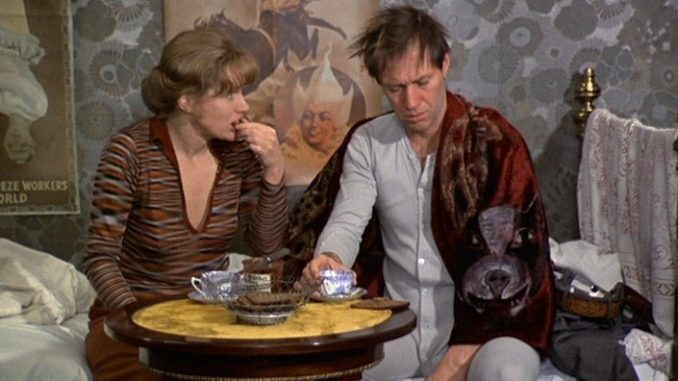 REVIEWED ON 9/14/2007 GRADE: C+