THE SERPENT AND THE RAINBOW
(director/writer: Wes Craven; screenwriter: Richard Maxwell/A.R. Simoun/inspired by the nonfiction book by Wade Davis; cinematographer: John Lindley; editors: Glenn Farr/Peter Amundson; music: Brad Fiedel; cast: Bill Pullman (Dennis Alan), Cathy Tyson (Marielle Celine), Zakes Mokae (Dargent Peytraud), Paul Winfield (Lucien Celine), Brent Jennings (Mozart), Conrad Roberts (Christophe), Badja Djola (Gaston), Michael Gough (Schoonbacher); Runtime: 98; MPAA Rating: R; producers: David Ladd/Doug Claybourne; MCA/Universal Pictures; 1988)

"A solid supernatural voodoo chiller that finely mixes fantasy with real terror to provide the required horror pic scares."
Reviewed by Dennis Schwartz
A solid supernatural voodoo chiller that finely mixes fantasy with real terror to provide the required horror pic scares. It's co-written and directed by Wes Craven("Shocker"/"A Nightmare on Elm Street"/"The Hills Have Eyes"), the horror pic maven, who sets it in Haiti (it was filmed on location). "Serpent" was inspired by Wade Davis' nonfiction book.The tantalizing screenplay is by Richard Maxwell and A.R. Simoun.
Harvard anthropologist Dennis Alan (Bill Pullman), working for an American drug company that's interested in making profits from a voodoo powder that simulates the creation of the undead, comes to Haiti to investigate if zombies can really be created by drugs. Dennis gets romantically involved with progressive psychiatrist Marielle Celine (Cathy Tyson), who is troubled by the country's belief in black magic and the widespread mental illness that it causes.
Opposing Marielle is the zealous reactionary police chief Dargent Peytraud (Zakes Mokae), who lights his stogie with a blowtorch and is at his acting best when torturing his enemies. When Dennis senses a scam mixed in with the truth about the powers of voodoo he finds himself in a deadly battle with the villainous police chief and the Tonton Macoutes, a thuggish goon squad sent by the country's evil ruler.
The special effects mainly work in keeping things creepy. There's something to it even if the thriller never gets too far in uncovering the pre-revolutionary country's penchant for voodoo. Craven offers a half-hearted attempt to give the voodoo climate a political subtext, but never has much to say about the country's 'reign of terror' under dictator "Baby Doc" Duvalier. Nevertheless the film is entertaining and atmospheric, and is an above average example of this genre.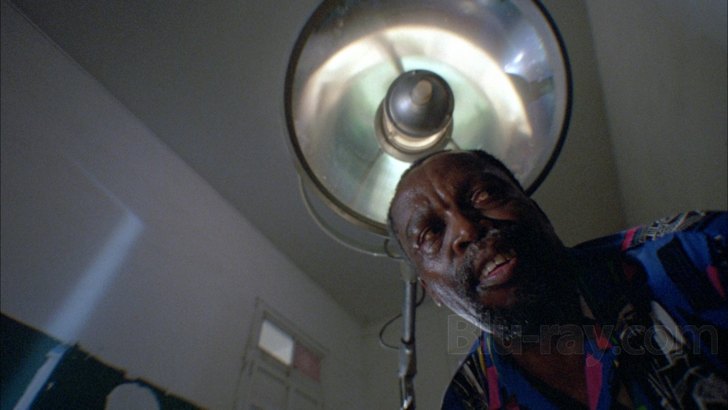 REVIEWED ON 2/26/2015 GRADE: B