SEARCH PARTY
(director/writer: Scot Armstrong; screenwriters: story & screenplayMike Gagerman/Andrew Waller; cinematographer: Tim Orr; editor: Sam Seig; music: Craig Wedren; cast:  Thomas Middleditch (Nardo), T.J. Miller Jason), Adam Pally (Evan), Shannon Woodward (Tracy), Alison Brie (Elizabeth),  Jason Mantzoukes (The Amazing Hugo), Krysten Ritter (Christy), J.B. Smoove (Berk), Lance Reddick (MacDonaldson);Runtime: 93 MPAA Rating: R; producers: Neal Moritz/Scot Armstrong/Paul Brooks/Ravi Nandan; Universal home entertainment;2014-in English and Spanish)
"Juvenile and predictable."
Reviewed by Dennis Schwartz

Los Angeles twentysomething nerdy bachelor friends, the career-minded corporate guy Evan (Adam Polly), the immature stoner man-child Jason (T.J. Miller) and the nervous upcoming groom Nardo (Thomas Middleditch), get high in a friend's van just before Nardo is to marry Tracy (Shannon Woodward). Jason believes that Nardo signaled them he wants the wedding called off when they were stoned and on the wedding day he stops the wedding. The agitated Tracy runs off by herself to their Mexican resort honeymoon spot, while the crushed Nardo rushes after her but gets carjacked and left naked in the rural Mexico night. Jason gets Nardo's call for help and coerces Evan to take his company car to rescue their pal.

The two rescuers get into numerous misadventures while the naked Nardo also deals with more trouble, as he pines for Tracy and in desperation tries to reach her without help from his pals. The characters and the story gratingly unfold following a trail of cliches and tiresome sight gags until the rescue is completed and everything turns out as fine as it can be for gringos roaming around in Mexico. It concludes with the couple reunited and the boys learning some valuable life lessons about growing up. Romance even comes to the socially awkward Evan, who wins over his sexy workplace colleague (Alison Brie) despite dragging her into his Mexico misadventures and not being able to talk to her without being insulting.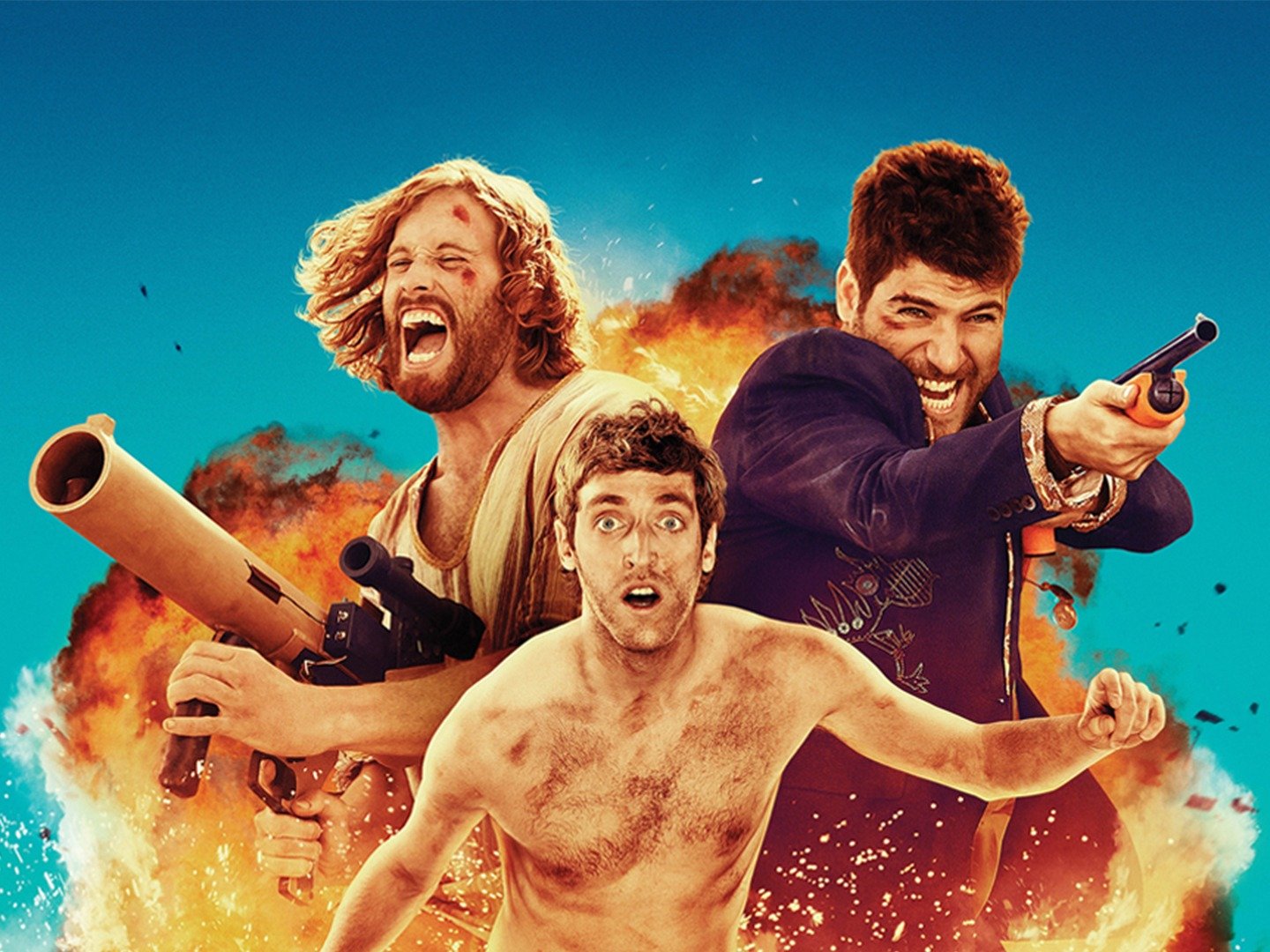 REVIEWED ON 10/24/2017 GRADE: C+