SCRAPPER
(director/writer: Charlotte Regan; cinematographer: Molly Manning Walker; editors: Billy Sneddon, Matteo Bini; music: Patrick Jonsson; cast: Harris Dickinson (Jason), Lola Campbell (Georgie), Alin Uzun (Ali), Cary Crankson (Mrs. Barrowclough), Carys Bowkett (Emily), Ambreen Razia (Zeph), Ayokunle Oyesanwo (Kunle), Ayobami Oyesanwo (Bami), Ayooluwa Oyesanwo (Luwa), Freya Bell (Layla); Runtime: 84; MPAA Rating: NR; producers: Theo Barrowclough; BFI/BBC Film; 2023-UK)
"The zany father-daughter combo was a trip."
Reviewed by Dennis Schwartz

The film is about the hard life of the Brit working class and in the ways some may survive. It's written and directed by the 28-year-old auteur Charlotte Regan, in her feature debut. It's a real hoot, and even if lightweight is a better film than most zany kid pics. It's a Ken Loach social realism film with lots of whimsical moments thrown in to make it more magical than social.

After her mom dies from an unknown illness, the film's titled scrapper, the 12-year-old Georgie (Lola Campbell), lives alone in her flat, located in the Limes Farm housing estate in Chigwell, Essex, and is doing rather well. She supports herself by stealing bikes with her friend Ali (Alin Uzun). When social services phone to check in, the cunning Georgie plays audio snippets recorded by a friendly shopkeeper pretending to be her uncle, and convinces them that this fictional uncle cares for her at home.
 
One day a young man boldly shows up by breaking into her flat, who claims to be her estranged father, Jason (Harris Dickinson). She's wary of trusting him and wonders why he has appeared after being a deadbeat dad all these years. Georgie learns he's been living in Spain.

Soon father and daughter realize they have much in common and bond. He even goes with her to steal a bike but can't pick the lock and the theft fails.

The film reminds me of similar-themed good films like Paper Moon (1973) and Aftersun (2022). The zany father-daughter combo was a trip, even if not entirely believable.

It played at the Sundance Film Festival.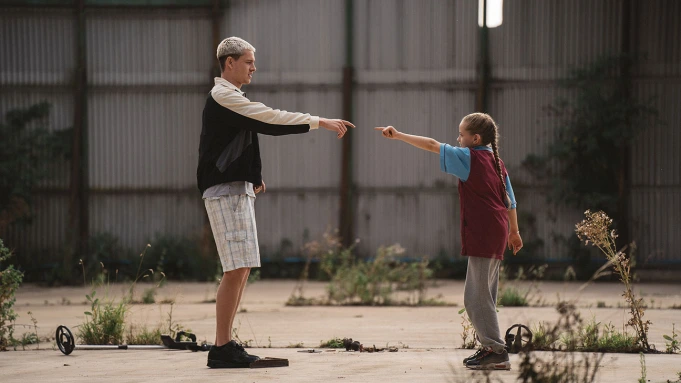 REVIEWED ON 6/11/2023  GRADE: B+