SAKRA (TIN LUNG BAAT BOU)
(director: Donnie Yen; screenwriters: based on the novel Demi-Gods and Semi-Devils by Louis Cha (pen name Jin Yong)/He Ben/Chen Li/Sheng Lingzhi/Lejing Shen/Xu Yifan/Wei Zhu; cinematographer: Chi-Yin Chan; editor: Ka-Wing Li; music: ; cast: Donnie Yen (Qiao Feng), Hua Yan (Bandit), Kengi Tanigaki (Outlooker), Chen Yuqi (Azhu), Eddie Chueng (), Grace Wong Kwan Hing (Mrs. Ma), Yuan Xiangren (); Runtime: 130; MPAA Rating: R; producers: Yue Cue/Zhuoqin Huang/Tao Lu/Ying Wang; Well Go USA; 2023-Hong Kong/China-in Chinese, Mandarin, Cantonese, with English subtitles)
"The storytelling is not so hot."
Reviewed by Dennis Schwartz

The China born actor-turned-director Donnie Yen ("Ballistic Kiss"/"Legend of the Wolf"), the Hong Kong superstar now 59 (playing a role written in the novel for someone 30), stars and helms this visually beautiful action-packed martial arts film, set in the 11th century of China. Its choreographed fight scenes are special. But the storytelling is not so hot. Yen adapts it to the screen from the popular 1960s wuxia novel Demi-Gods and Semi-Devils by Louis Cha (aka Jin Yong).

The story is set during the Song Empire. Qiao Feng (Donnie Yen) is the orphan leader of the Beggar's Sect. He's framed for murdering sect leader Ma Dayuan (Grace Wong Kwan Hing) and his adopted parents, and later on a Shaolin master in the temple. After its revealed he belongs by birth to the Song Empire's enemy, the Khitan, he's kicked out of the Song Empire.

The disgraced innocent then hunts for the real killer, but takes a break to unconvincingly fall in love with the master of disguises, Azhu (Chen Yuqi). What follows are long horse rides through the Chinese landscape. The stunt team proficiently performing the many martial arts scenes that follow and we're subject to some unfunny comedy of error scenes.

The problem in filming such an epic is that the novel offers too much material for a film and must be condensed, which wasn't handled right here. The first half devotes itself to developing Feng's character, while in the second half I couldn't make sense of its immense and meandering story and was left confused.

I saw the Cantonese subtitled version, there's also a version dubbed in English.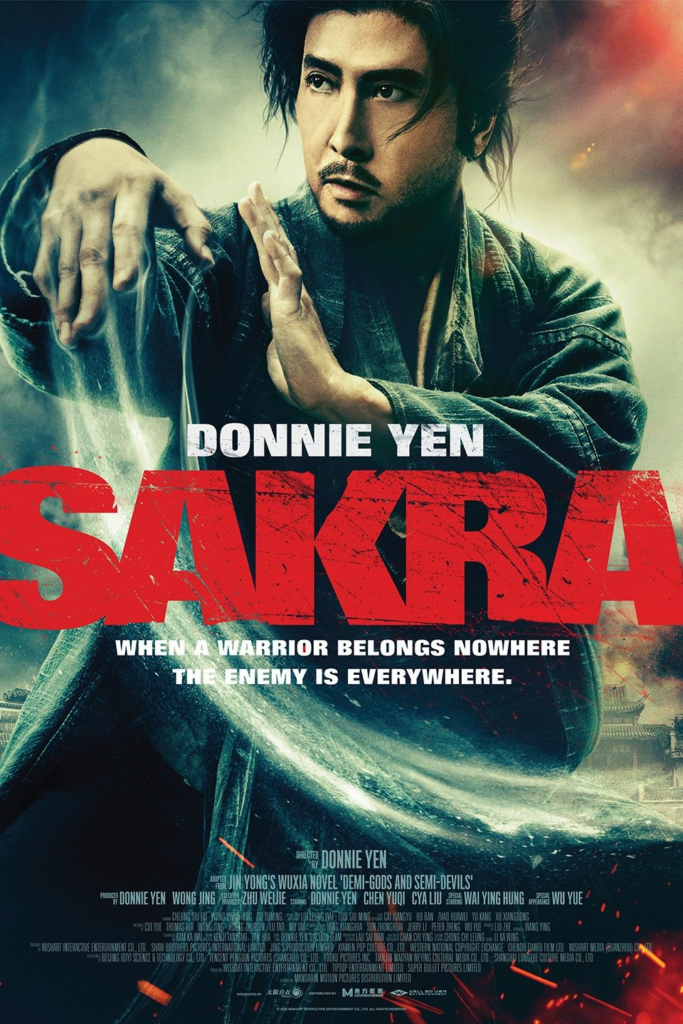 REVIEWED ON 4/23/2023  GRADE: C