RETURN TO SPACE
(director/writer: Elizabeth Chai Vasarhelyi and Jimmy Chin; cinematographer: Shana Hagan; editors: Dan Duran/Daniel Koehler/Phillip Schopper; music: Harry Gregson-Williams/Mychael Danna; cast: Elon Musk, Bob Benkhen, Doug Hurley, Lard Blackmore; Runtime: 128; MPAA Rating: NR; producers; Anna Barnes/Jimmy Chin/Elizabeth Chai Vasarhelyi: Netflix; 2022)
Reviewed by Dennis Schwartz

Co-directors and co-writers of this documentary about the latest news over commercial travel to space are the Oscar-winning married team of Elizabeth Chai Vasarhelyi and Jimmy Chin (" Free Solo" /" The Rescue"). Part of the film plays like an infomercial that tells of the world's richest man Elon Musk, the Tesla entrepreneur who's bankrolling the Space X program and its spacecraft, Dragon 2, and lets us see what he's up to when working on his hobby of space. The film flips out about the revolutionary steps taken of the corporate world moving full-steam ahead into space exploration.

The belief is that we're in the beginning of a new space age, as it showcases the revolutionary mission of the Space X engineers, after decades of experimenting. They successfully send two of NASA's astronauts, Bob Behnken & Doug Hurley, to the International Space Station, and then return them back to Earth, in their 62-day mission.

It's a conventional documentary, shooting for interviews, stock footage, animations and live reactions from various people to their program about the new age of space exploration. The gist of the film tells of the preparations made for the launch of the first crewed commercial mission to the International Space Station. The filmmakers dutifully explore the background stories behind the mission's two astronauts — Bob Behnken and Doug Hurley.

Of note, the Musk company received a $1.5 billion government contract to deliver rockets to NASA.

Musk's desire, that gets him all emotional, is to make mankind a multi-planetary civilization, starting with the colonization of Mars.

During an appearance on "SNL" Musk publicly acknowledged that he has Asperger's Syndrome. Which at least makes the guy with the large ego still seem human.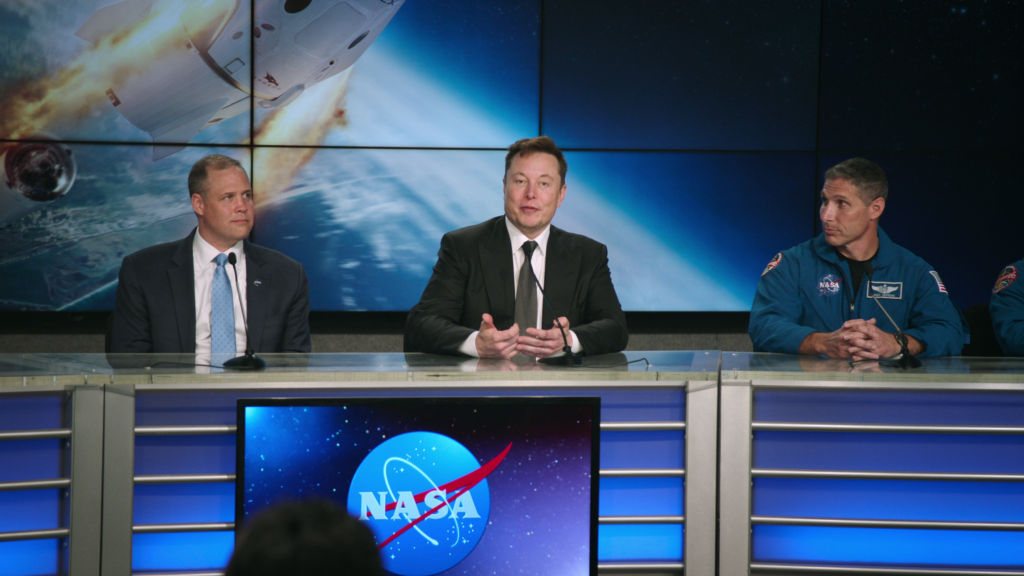 REVIEWED ON 4/21/2022 GRADE: B-