REBEL HEARTS
(director/writer: Pedro Kos; screenwriters: Erin Barnett/Shawnee Isaac Smith; cinematographers: Emily Topper/Clay Westervelt; editors: Ondine Rarey/Pedro Kos/Yaniv Elani/Erin Barnett; music: Ariel Marx; cast:  Corita Kent, Anita Caspry, Helen Kelley, Pat Reif; Runtime: 99; MPAA Rating: NR; producers; Judy Korin/Kira Carstensen/Shawnee Isaac Smith: Anchor Entertainment; 2021)
"In the 1960s, in Los Angeles, a feisty community of selfless nuns, The Sisters of the Immaculate Heart of Mary, had the Jesus spirit to stand up to the patriarchy of the Roman Catholic Church."
Reviewed by Dennis Schwartz

In the 1960s, in Los Angeles, a feisty community of selfless nuns, The Sisters of the Immaculate Heart of Mary, had the Jesus spirit to stand up to the patriarchy of the Roman Catholic Church, fighting for equality, their livelihoods, and their own freedom against the all-powerful Cardinal McIntyre who sought to keep them in their place.

This winsome documentary was directed with love by Pedro Kos ("Bending The Arc") and co-written by him, Erin Barnett and Shawnee Isaac Smith.

The gutsy nuns marched at Selma, protested the Vietnam War, and fought for their right to wear a more modern uniform.  One creative artistic nun became a world-renown artist, after forbidden from depicting religious figures by the authoritarian Archdiocese of Los Angeles.

Through archival footage, paper doll-esque animation and the usual talking-head interviews, the feel-good documentary traces the various rebellious activities of these brave nuns, whose social activism lets us see nuns who were not afraid or cloistered to keep the faith.

The joyous feeling to the film was reflected in the rock 'n' roll soundtrack by First Aid Kit and the closing zesty ballad of peace and love by Rufus Wainwright.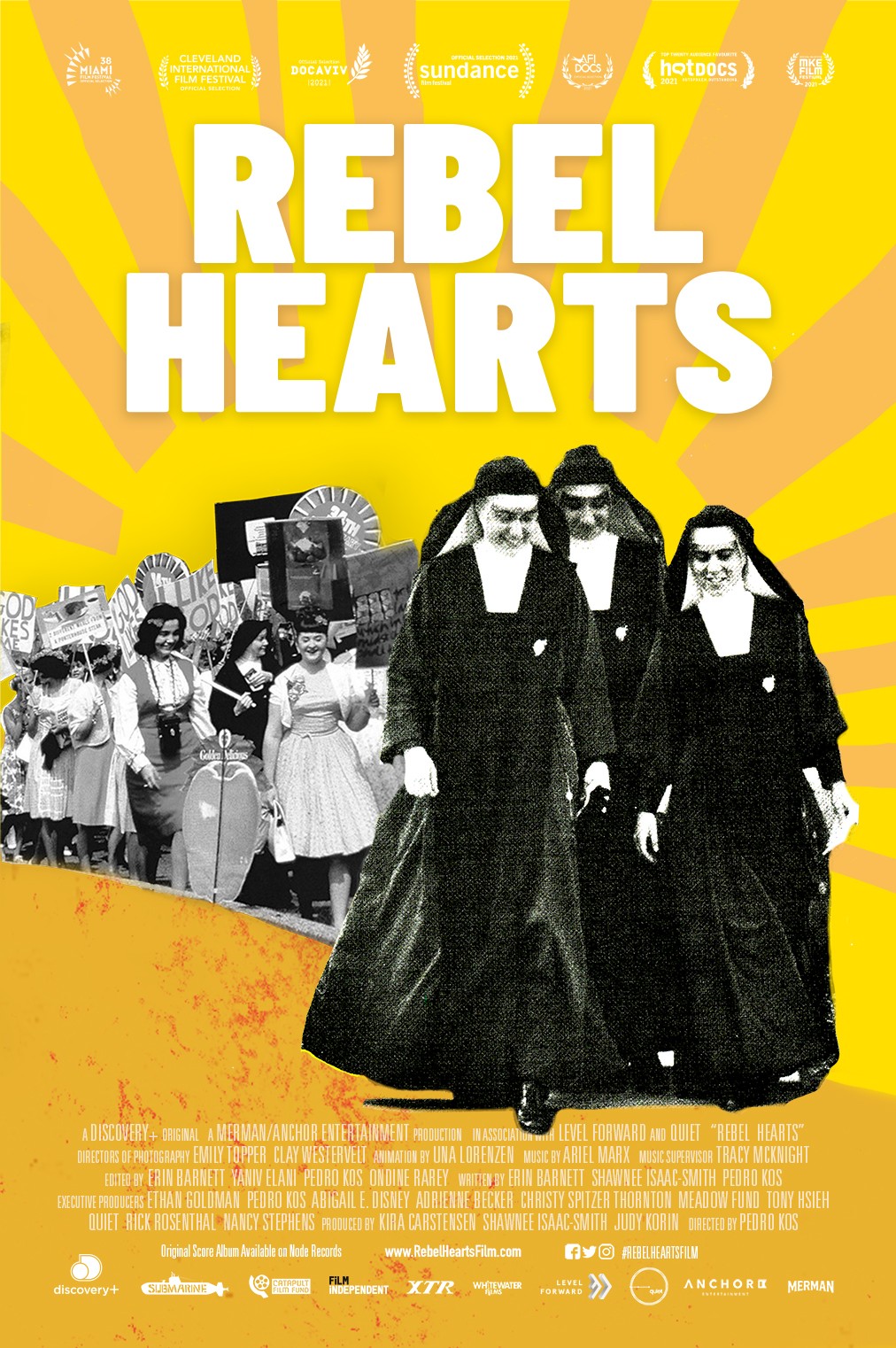 REVIEWED ON 7/16/2021 GRADE: A