QUEENS ON THE RUN (FUGA DE REINAS)
(director/writer: Jorge Macaya; screenwriter: Martha Higareda; cinematographer: Michelle Castro; editor: Elena Ruiz; music: Milo Coella/Joselo Higareda; cast: Martha Higareda (Paty Fenix), Valeria Vera (Estrella Solares), Paola Nunez (Famela Guerra), Claudia Pineda (hitchhiker), Enrique Arreola (The Hawk), Alejandra Ambrosi (Marilu Davila); Runtime: 96; MPAA Rating: NR; producers: Alexis Fridman/Martha Higareda/Miri Higareda; Netflix; 2023-Mexico-in Spanish with English subtitles)(director/writer: Jorge Macaya; screenwriter: Martha Higareda; cinematographer: Michelle Castro; editor: Elena Ruiz; music: Milo Coella/Joselo Higareda; cast: Martha Higareda (Paty Fenix), Valeria Vera (Estrella Solares), Paola Nunez (Famela Guerra), Claudia Pineda (hitchhiker), Enrique Arreola (The Hawk), Alejandra Ambrosi (Marilu Davila); Runtime: 96; MPAA Rating: NR; producers: Alexis Fridman/Martha Higareda/Miri Higareda; Netflix; 2023-Mexico-in Spanish with English subtitles)
"The lightweight comedy fails to be funny."
Reviewed by Dennis Schwartz

Jorge Macaya directs an action-comedy Mexican version of Thelma & Louise, that is much the lesser. The road movie is written by Martha Higareda, one of the stars. The lightweight comedy fails to be funny.

Four bored México City women, friends from high school —  Famela (Paola Nunez), Estrella Solares (Valeria Vera), Marilu Davila (Alejandra Ambrosi) and Paty Fenix (Martha Higareda), drive to Cancun in a '64 Ford Fairlane convertible named "Corcholata" (Bottle cap), owned by the pink-haired Estrella, the only single one of the friends, to disperse the ashes of Famela's mom.
Marilu is unhappy married to an absentee workaholic husband and has two kids. Famela is trying to have a baby, whose husband is in business with Marilu's husband. The attractive Paty is married to an ambitious politician, and takes botox to please him.

When the urn of Famela is stolen by a drug dealer called "the Hawk" (Enrique Arreola), she pulls out a gun to retrieve it as they chase the thief in her car. That scene is the highlight of the lady adventure film.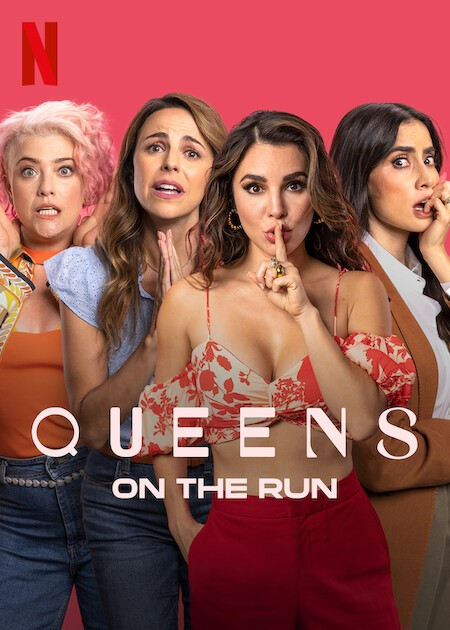 REVIEWED ON 4/20/2023  GRADE: C+