PROXIMA
(director/writer: Alice Winocour; screenwriter: Jean-Stéphane Bron; cinematographer: Georges Lechaptois; editor: Julien Lacheray; music: Ryuichi Sakamoto; cast: Eva Green (Sarah Loreau), Zélie Boulant (Stella Akerman Lorea), Matt Dillon (Mike Shannon), Lars Eidinger (Thomas Akerman), Sandra Hüller (Wendy Hauer), Aleksey Fateev (Anton Ocheivsky), Trond-Erik Vassal (Jurgen), Nancy Tate (Naomi Shannon); Runtime: 107; MPAA Rating: NR; producers: Isabelle Madelaine, Emilie Tisné; Vertical Entertainment; 2019-France/USA-French, English, German, Russian, with English subtitles)
"An earthbound space tale about dealing with the astronaut training quarantine and the bonds with the female astronaut's daughter."
Reviewed by Dennis Schwartz

The earthbound space film was shot on location in the actual training facilities in Europe, Russia and Kazakhstan. French filmmaker Alice Winocour ("Augustine"/"Disorder") shuffles the bland story between personal and space issues, making it resound as a tribute film for the dedicated self-sacrificing astronauts. Winocour co-writes it with Jean-Stéphane Bron.

Proxima is the name of an international space mission of the future.

Sarah (Eva Green) is a French astronaut fluent in English, German and Russian. She's proud that she was picked for the prestigious voyage to Mars mission, where she will be a year in space. Her fellow astronauts in the 3-month training program are the friendly Russian cosmonaut Anton (Alexsey Fateev) and the obnoxious sexist American Mike (Matt Dillon). What bothers the single mom most is to be separated so long from her little daughter, Stella (Zélie Boulant). Also revealed is her trying relationship with her aloof ex-husband, Thomas (Lars Eidinger).

The rigorous training program puts a psychological strain on her. She also has an undiagnosed infected skin wound and is being abused by the repulsive Mike.

What it all leads to, as things become increasingly sentimental and dull, is an earthbound space tale about dealing with the astronaut training quarantine and the bonds with the female astronaut's daughter. We're asked to judge how the astronaut handles her career aspirations that coincide with her role as a mother.

The film gets high marks for its super technology, great visuals from the photographer Georges Lechaptois and a heart-winning performance by Green.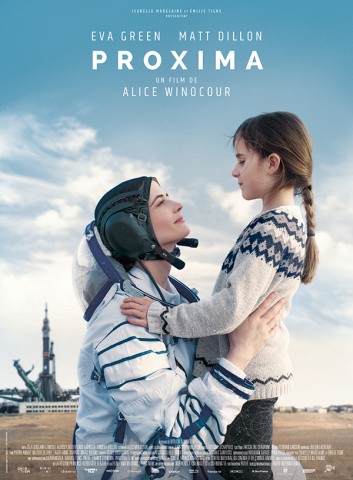 REVIEWED ON 11/9/2020 GRADE: B-