PROMISED LAND, THE (BASTARDEN)
(director/writer: Nikolaj Arcel; screenwriters: Anders Thomas Jensen, based on the novel "The Captain and Ann Barbara" by Ida Jessen; cinematographer: Rasmus Videbaek; editor: Olivier Bugge Coutte; music: Dan Romer; cast: Mads Mikkelsen (Ludvig von Kahlen), Simon Bennebjerg (Frederik De Schinkel), Amanda Collin (Ann Barbara), Kristine Kujath Thorp (Edel Helene), Melina Hagberg (Anmai Mus), Gustav Lindh (Anton Eklund, the Pastor), Søren Malling (Paulli), Morten Hee Andersen (Johannes Eriksen), Magnus Krepper (Hector), Thomas W. Gabrielsson (Bondo), Laura Bilgrau Eskild-Jensen (Anmai Mus); Runtime: 127; MPAA Rating: NR; producer: Louise Vesth; A Magnolia release; 2023-Denmark/Sweden/Norway/Germany-in Danish with English subtitles)
"A good-looking Nordic Western."
Reviewed by Dennis Schwartz

Nikolaj Arcel ("The Dark Tower"/"The Royal Affair") directs and co-writes this frontier drama set in 1755 in Denmark's hinterlands in the North. Arcel co-writes it with Anders Thomas Jensen. It's based on the 2020 novel "The Captain and Ann Barbara" by Ida Jessen.

The impoverished, stoic and laconic Ludvig Kahlen (Mads Mikkelsen) is a decorated army captain from humble roots who has risen through the ranks and now wants to transform the barren land in Denmark's Jutland Heath, using his army pension to finance his project of making it into a rich farm area and thereby getting the King, who owns it, to grant him a noble title and an estate with servants for building a profitable colony for him.

The Western drama covers a wide range of themes such as class, race, labor exploitation, and misogyny.

In the Northern Heath, Ludvig sleeps in a tent, has a horse and a pick for farming, and is armed with a pistol to protect himself from bandits. He also must deal with the hostility from the wealthy wannabe aristocrat, a county judge, the landowner Frederik De Schinkel (Simon Bennebjerg), who prevents him from cultivating the land as the rivals heatedly disagree on who owns the land.

The penniless Edel (Kristine Kujath Thorp) is at the Heath, as her father is forcing her into a loveless marriage with the vile Frederik. She has a laugh when Ludvig tells the obnoxious Frederik, whom she can't stomach, that the king owns the land, not him.   

Ludvig needs laborers, but Frederik prevents him for employing them. When Frederik's runaway servants, Johannes Eriksen and Ann Barbara (Morton Hee Andersen and Amanda Collin), are brought to him by the young pastor (Gustav Lindh), they work without pay for Ludvig and are happy to be free of the cruel Frederik. Ludvig will also employ the outlaws operating in the woods, including the dark-skinned gypsy orphan girl, Anmai Mus (Melina Hagberg), who the racist peasants ostracize.


Ludvig staves off his piggish rival, as he's a true believer in what he stands for and is not intimidated by his brutish rival.

It's a good-looking Nordic Western, as shot by the cinematographer Rasmus Videbaek. His use of  widescreen compositions and shots of the rugged landscape, are brilliant.

It played at the Venice Film Festival Festival.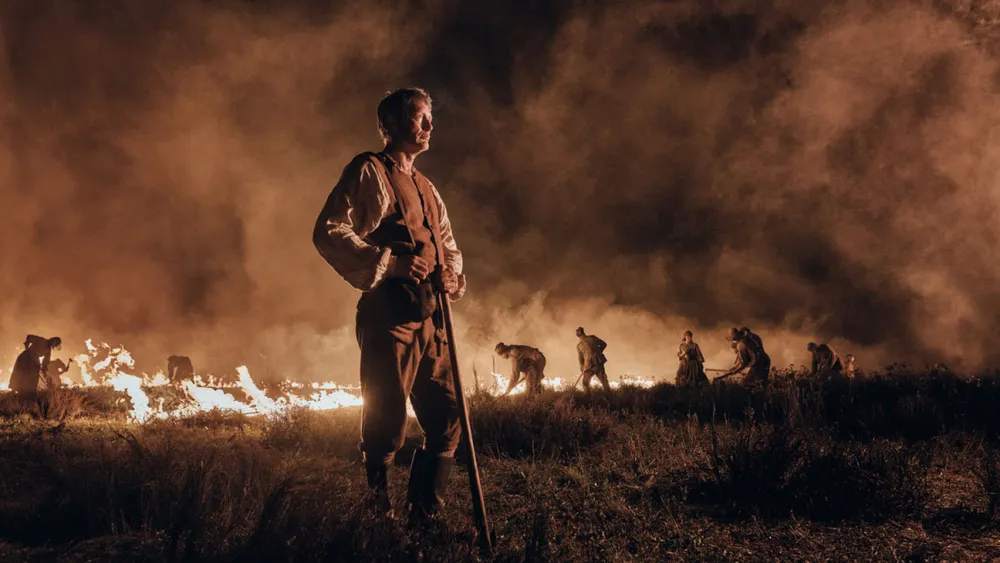 REVIEWED ON 11/20/2023 GRADE: B