POT-AU FEU, THE (LA PASSION DE DODIN BOUFFANT)
(director/writer: Tran Anh Hung; screenwriter: based on the book The Life and Passion of Dodin-Bouffant, Gourmet by Marcel Rouff; cinematographer: Jonathan Ricquebourg; editor: Mario Battistel; cast: Juliet Binoche (Eugenie), Benoit Magimal (DODIN BOUFFANT), Galatea Bellugi (Violette), Jean-Marc Roulot (Augustin), Emmanuel Salinger (food helper), Patrick D'Assumçao (food helper), Jan Hammenecker (food helper), Frédéric Fisbach (food helper); Runtime: 134; MPAA Rating: NR; producers: Olivier Delbosc; Curiosa Films; 2023-France-in French with English subtitles)
"It's a plotless movie all about the food–and that's either too filling or not filling enough, depending on one's taste."
Reviewed by Dennis Schwartz

South Vietnam-born filmmaker Tran Anh Hung's ("The Scent of the Green Papaya"/"Norwegian Wood"), who has lived in France since 1993, charming but slight foodie romance film is set in the late 19th century (1885). Tran adapts it from the 1924 novel The Life and Passion of Dodin-Bouffant , Gourmet by Marcel Rouf. It's partly based on the legendary real-life gastronome Jean Brillat-Savarin.

The English title "The Pot au Feu" relates to the classically rustic French dish of boiled meat and vegetables.

 Dodin Bouffant (Benoît Magimel) is called "The Napoleon of Gastronomy." He and his helper cook, Eugénie (Juliette Binoche), his sleep-in maid for twenty years (who he is secretly in love with), are dedicated gourmands. They live in Dodin's  fancy house in France's Loire Valley. The film stars were a former real-life couple.


Dodin is wealthy enough not to work and do nothing all day but think about cooking and eating quality meals. His reputation as a fine cook is well-known in the area. Eugénie is also much admired as a cook. The maid's mousy helper is Violette (Galatea Bellugi), while his helpers are all men (Emmanuel Salinger, Patrick D'Assumçao, Jan Hammenecker).

In this slow paced film there are many shots of exotic food being prepared and looking delicious when served. We see shots of Dodin's close male friends coming over to his house to eat the special haute cuisine meals he cooks, while the shy Eugénie eats alone in the kitchen.

One evening, a pompous foreign nobleman from Estonia invites Dodin and his crew for dinner and tries to impress him with a meal that doesn't work because it's too lavish. Dodin then invites the aristocrat to his house for dinner and serves him the simple  "Pot-au-Feu."

When Eugénie appears to be ill, we wonder if Dodin will now ask for her hand in marriage.

It's a plotless movie all about the food–and that's either too filling or not filling enough, depending on one's taste.

There was no musical score, as the director might think music and food are not a good mix.

It played at Cannes.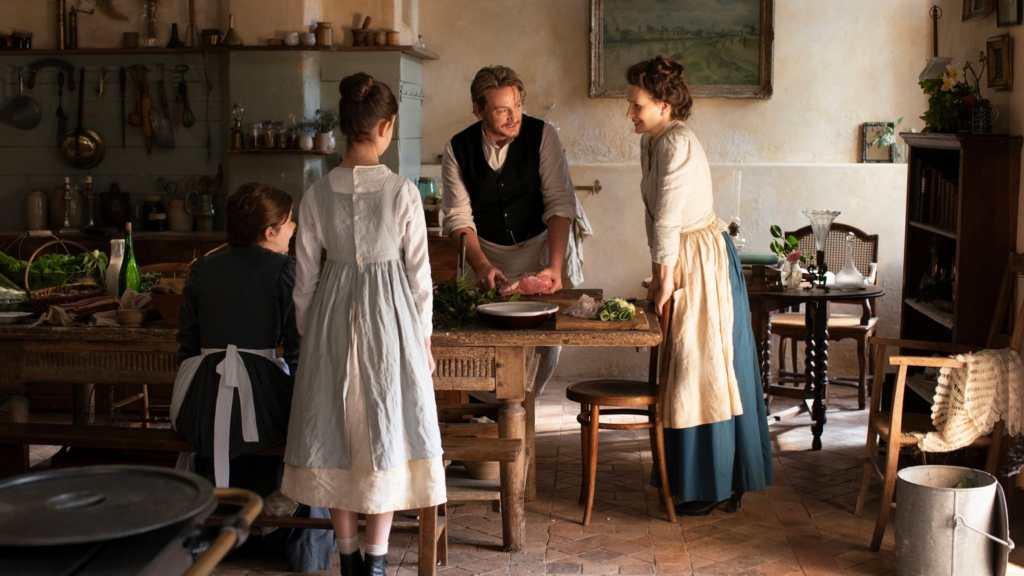 REVIEWED ON 6/8/2023  GRADE: B-