PERFECT CANDIDATE, THE
(director/writer:Haifaa Al-Mansour; screenwriter: Brad Niemann; cinematographer: Patrick Orth; editor: Andreas Wodraschke; music: Volker Bertelmann; cast:Mila Al Zahrani (Dr. Maryam Alsafan), Dae Al Hilali (Selma), Nora Al Awad (Sara), Khalid Abdulraheem (Abdulaziz), Shafi Alharthy(Mohammed), Tareq Al Khaldi (Omar), Khadeeja Mua'th (Khadeeja), Hamad Almuzainy (Abu Musa), Rakan Abdulrahman (Majid), Bandar Hadadi (Dr. Ghazi), Ahmad Alsulaimy (Rashid); Runtime: 101; MPAA Rating: NR; producers: Haifaa Al-Mansour, Gerhard Meixner, Brad Niemann, Roman Paul; Razor Film/The Match Factory; 2019-Saudi Arabia/Germany-in Arabic with English subtitles)
"Snappy soap opera story about female empowerment."
Reviewed by Dennis Schwartz

Saudi filmmaker Haifaa Al-Mansour ("Wadjda"/"Mary Shelley"), with Wadjda (2012) became the first Saudi woman director. She returns to her homeland after making the English-languish biopic Mary Shelley (2017) for this snappy soap opera story about female empowerment, as her ultra-religious repressed country is slowly and reluctantly changing its rigid ways of the past (but not fast enough for the filmmaker). In this one, a young woman doctor decides to run for a local office and shake things up. Al-Mansour passionately and comically co-writes it with Brad Nieman.

While Dr. Maryam (Mila Al Zahrani) works as a doctor in a regional hospital, treating patients while wearing her niqab, some devout elderly men openly are hostile to being treated by a woman doctor.

The Kingdom last year eased its "male guardianship" laws – which used to mean all women needed a man's permission, a father or a husband, if they wanted to travel, marry or obtain family documents. The film shows us how repressive that law was before it was recently removed. While the doctor's musician father (Khalid Abdulrahim) is out of town on a concert tour playing the oud, she needs to obtain certain documents to travel to Dubai for a work-related medical conference and asks a family member for his help.
The politically motivated cousin mistakenly thinks she wants to run for office in the local municipal council elections and through a clerical error her name is entered as a candidate. The headstrong doctor accepts the challenge, hoping to bring more rapid reform to her backward country. Her single issue platform calls for the Kingdom to fix the muddy road that is a hazard for visitors to her underfunded clinic. 
There are set pieces showing her on TV interviews interviewed by male hosts who ask dumb questions and want her to champion issues that interest only women—like gardens.

Recently women were allowed to drive cars in Saudi Arabia, which is celebrated here by the doctor driving around town.  

The filmmaker assures us 'change is around the corner.' For that rosy message alone, the feel-good film is worth checking out for an inside view on the current Saudi Arabia.


Maryam's younger sisters, Selma and Sara (Dhay and Nora al-Awad), are the vibrant younger females of the country hoping for big changes in the country by the time they grow up.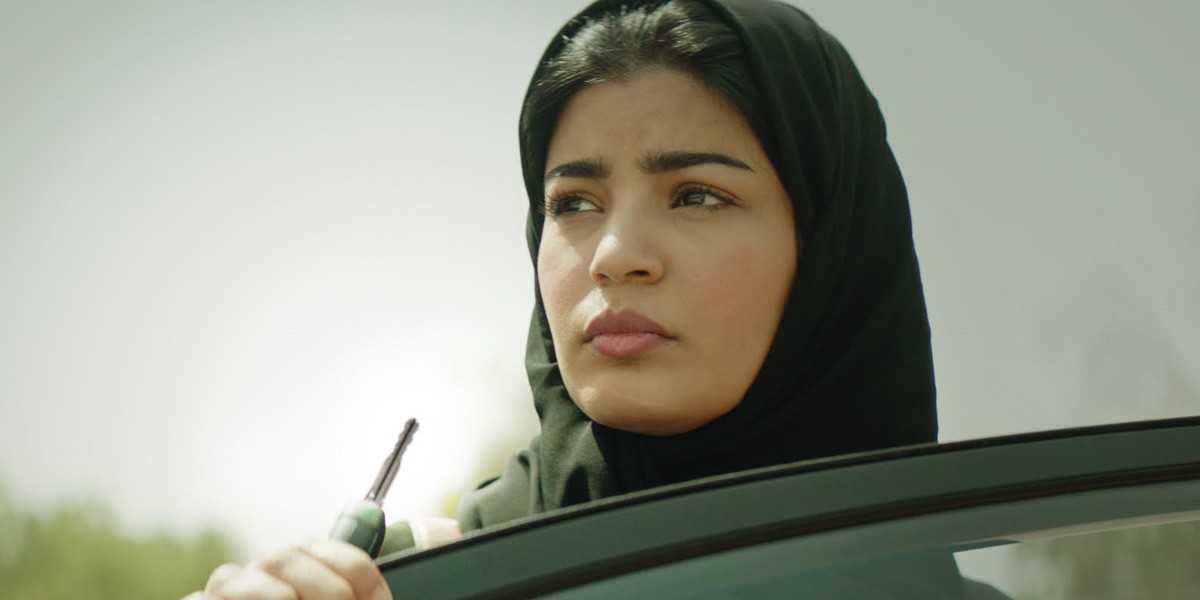 REVIEWED ON 5/26/2021 GRADE: B-