PASSING
(director/writer: Rebecca Hall; screenwriters: based on the novella by Nella Larsen; cinematographer: Eduard Grau; editor: Sabine Holland; music: Devonté Hynes; cast: Tessa Thompson(Irene), Ruth Negga (Clare), André Holland (Brian), Bill Camp (Hugh), Ashley Ware Jenkins (Zu), Alexander Skarsgård (Jack), Gbenga Akinnagbe (Dave), Antoinette Crowe-Legacy (Felise); Runtime: 98; MPAA Rating: PG-13; producers;Nina Yang Bongiovi, Forest Whitaker, Margot Hand, Rebecca Hall: Film4/Sweet Tomato films; 2021-black & white)
"Despite its rushed ending,  I wouldn't be passing on Passing–it's an uncanny thought-provoking film on racial matters."
Reviewed by Dennis Schwartz

A fine directorial debut by the actress turned filmmaker, Rebecca Hall (whose stark connection to the film is that her mother was bi-racial and many of her generations have "passed" for white). It's based on the 1929 novella by Nella Larsen about mixed-race Blacks living in racist America. The subdued and slow moving identity drama is set in the 1920s, during the Jazz Age in Harlem. It's filmed in an elegantly robust black & white by DP Eduard Grau.

There's this chance meeting in a fancy Manhattan hotel tearoom by two married and comfortable living light-skinned mixed-race Black women in their thirties who haven't seen each other in ages, since they were children in Harlem. One of the woman, the gregarious Clare (Ruth Negga), now 'passes' as white to almost everyone she meets, even to her odious racist white husband, Jack (Alexander Skarsgård).

Instead of focusing on Clare, and her false life, the drama turns its attention to the other woman, Irene (Tessa Thompson), who accepts her blackness (even as she wonders what it would be like to pass for white) and resides in Harlem where she has become a pillar of the black community due to her marriage to a loving Black doctor (André Holland) and raising two kids. Though she does not let her friend back into her life they form an awkward friendship that develops over some time, as Clare makes several visits to her Harlem townhouse as she tries to envision how she would be now if Black. While Irene is horrified of the newspaper's accounts of the violence against Blacks in the country, and wonders if the country would ever change and if being Black in white America makes her a target.

The first act has a strong passion about the identity problem stated, but the film becomes increasingly plodding and its slow pace is of no help. It becomes tedious when it is only able to feed us the same impressions we already got from the first scene, and when the film's tragic conclusion comes it only overwhelms us because we're not ready for it. It leaves us with too many unanswered questions it could have brought up and the story could have been more emotional instead of so flatly played out.

But there's no disputing the magnificent performances by Ruth Negga and Tessa Thompson, who knowingly get into the heart of things as their characters delicately explore matters of racial, gender and sexual identification and do so without making it the racial film it portends to be.

Despite its rushed ending,  I wouldn't be passing on Passing–it's an uncanny thought-provoking film on racial matters.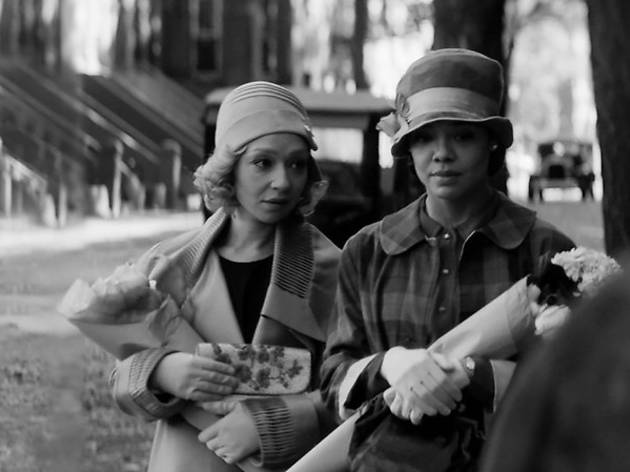 REVIEWED ON 7/11/2021 GRADE: B