PARALLEL MOTHERS
(director/writer:Pedro Almodóvar; cinematographer: José Luis Alcaine; editor: Teresa Font; music:Alberto Iglesias; cast: Aitana Sánchez-Gijón (Teresa), Milena Smit (Ana), Penelope Cruz (Janis),  Israel Elejalde (Arturo), Julietta Serrano (last link to a slaughter civil war family), Rossy de Palma (Elena); Runtime: 120; MPAA Rating: NR; producers; Agustin Almodóvar/Esther García: Sony Pictures Classics; 2021-Spain-in Spanish)

"A striking bittersweet melodrama."
Reviewed by Dennis Schwartz

The 71-year-old Spanish auteur Pedro Almodóvar  ("Pain and Glory"/"All About My Mother") dredges up a striking bittersweet melodrama about absent fathers and the perils of motherhood, which includes a background story of political motifs.

In 2016, the 40-year-old successful Madrid commercial photographer, Janis (Penelope Cruz), named for Janis Joplin, asks forensic anthropologist Arturo (Israel Elejalde), whom she meets at a photo shoot, to help her get a project going to dig up a mass grave site in her hometown where her great-grandfather was buried after being murdered by the Falangists in the 1930s. Arturo tells her she would need a committee to assist in funding this project, which usually take years. Arturo begins an affair with Janis and knocks her up, but the 'decent' guy won't leave his cancer-stricken  wife. In any case, the independent-minded Janis decides she will raise the child as a single parent, and the lovers split for good.

At the hospital, the joyful Janis, feeling grateful to have the baby, befriends another destined to be single mother, her more withdrawn and depressed teenage ward roommate, Ana (Milena Smit). She's there with her neglectful theater actress mother Teresa (Aitana Sanchez-Gijon). Teresa promises to help raise the unwanted baby, but true to her flawed nature deserts the baby and Ana, leaving them to be cared for by a housekeeper, as she trots off to Madrid to act in a play she always wanted to be in. 

Months pass after Janis gives birth to Cecilia (named after her grandmother who raised her when her hippie mom died at a young age), but because the child doesn't look like either of her parents she suspects something is not kosher. A DNA test confirms she is not the biological mother. The frazzled Janis must deal with the reality of the situation, but is fortunate to be helped by her agent and friend Elena (Rossy de Palma).

The film's craftsmanship is terrific, Antxón Gómez's production designs stand-out,  the deep-focus photography by DP José Luis Alcaine is a visual treat, the emotionally moving turn in the finale (when back at the site of Janis' rustic birthplace) works because it seems sincere. The convincing performance by Cruz makes her role speak both softly and loudly for her maternal instincts and her ability to cope with loss.

The delightful film opens the 78th Venice Film Festival.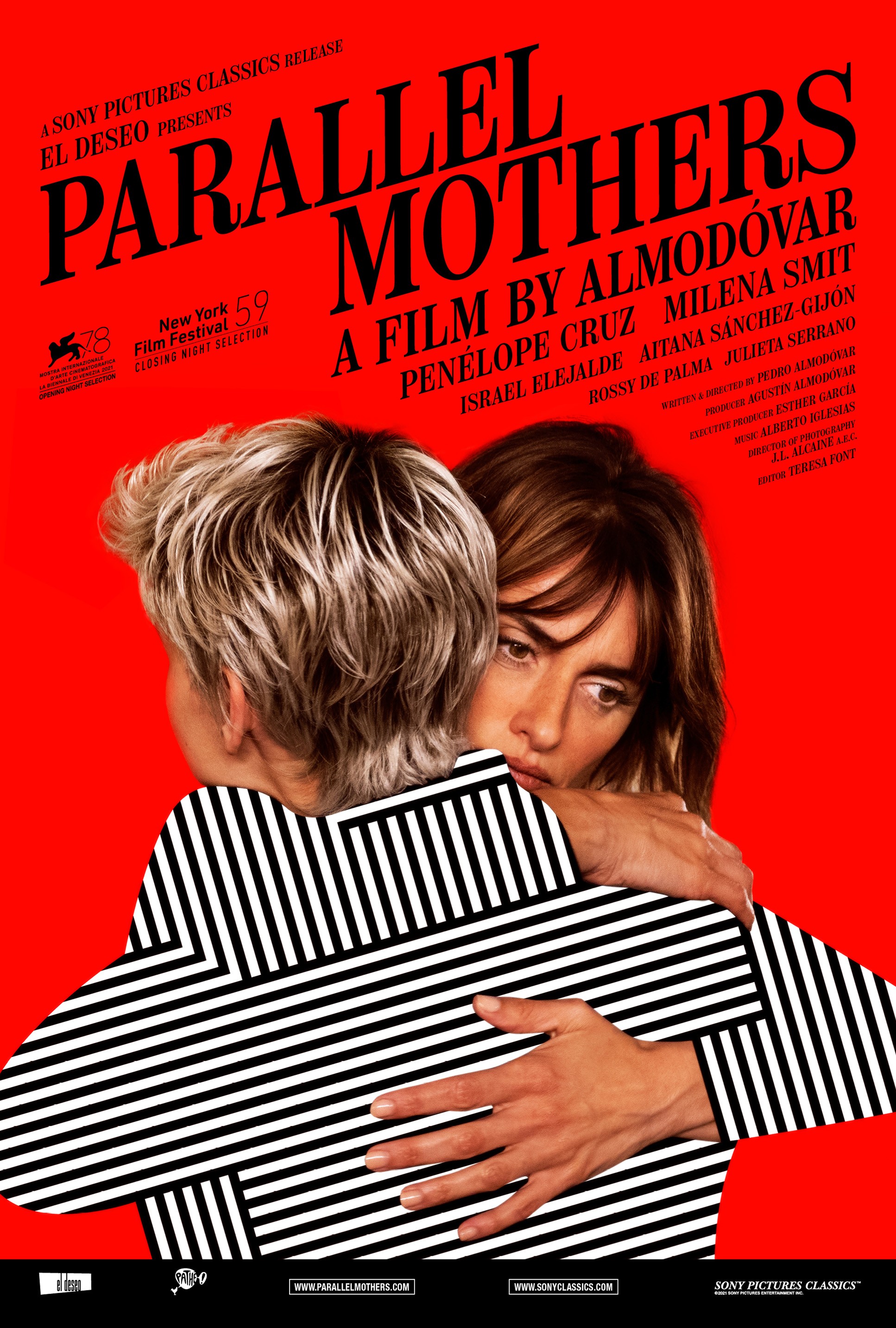 REVIEWED ON 10/1/2021 GRADE: A-