OUT-LAWS, THE
(director: Tyler Spindel; screenwriters: Evan Turner/Ben Zazove; cinematographer: Michael Bonvillain; editors: Phillip Kimsey/Ian Kezsbom; music: Rupert Gregson Williams; cast: Adam Devine (Owen Browning), Nina Dobrev (Parker McDermott), Ellen Barkin (Lilly McDermott), Pierce Brosnan (Billy McDermott), Michael Rooker (Agent Oldham), Poorna Jagannathan (Rehan), Lil Rel Howrey (Tyree), Julie Haggerty (Margie Browning), Lauren Lapkin (Phoebe King), Richard Kind (Neil Browning); Runtime: 95; MPAA Rating: R; producers: Adam Sandler/Adam Devine; Netflix; 2023)
"Filled with too many limp dick jokes."
Reviewed by Dennis Schwartz

A cutesy Western heist/comedy directed by the actor turned director Tyler Spindel ("The Wrong Missy"/"Deported"). The material is so cringe-worthy that I can't recall any of the sight gags or one-liners without wincing.

It's produced by Adam Sandler's Happy Madison production company, part of his lucrative deal with Netflix to evidently make worse films than the usual lame ones he's in. The co-writers are Evan Turner and Ben Zazove, who apparently have no problem creating such second-rate stuff.

In this contemporary Western town, the nerdy bank manager Owen (Adam Devine), with a shrill voice, is set to marry the yoga instructor Parker (Nina Dobrev). Just before they wed, he meets for the first-time her intimidating parents, the brogue talking Billy (Pierce Brosnan) and the crass Lilly (Ellen Barkin), arriving from South America as supposedly missionaries. Thereby Billy crudely kisses Owen on the lips and Lilly pats him on the ass.

Owen suspects that the masked robbers of his bank are his future bride's parents.

Speaking of bad parents, in one segment Owen tells us how badly his parents (Julie Hagerty, Richard Kind) treated him with utter disdain. In another scene, mom tells Owen of her time at an orgy.

The film is filled with too many limp dick jokes. The gist of the story is when the nerd grows a pair of balls to go after the bad guys, and the dumb film morphs into an even dumber action venture.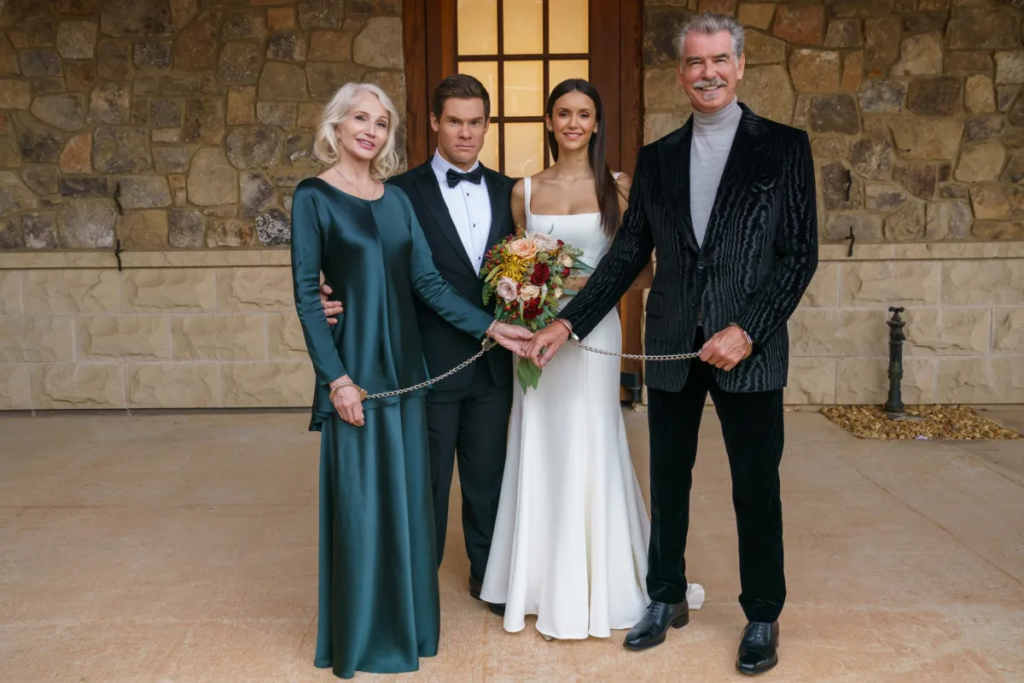 REVIEWED ON 7/12/2023  GRADE: C-