NORTHMAN, THE
(director/writer: Robert Eggers; screenwriter: Sjón; cinematographer: Jarin Blaschke; editor: Louise Ford; music: Robin Carolan/Sebastian Gainsborough; cast: Alexander Skarsgård (Amleth). Nicole Kidman (Queen Gudrún), Claes Bang (Fjölnir the Brotherless), Bjork (Seeress), Ethen Hawke (King Aurvandil War-Raven), Phill Martin (Hallgrimr Half-Troll), Elliott Rose (Gunnar), Willem Dafoe (Heimir the Fool), Anya Taylor-Joy (Olga of the Birch Forest), Ralph Ineson (Captain Volodymyr), Kate Dickie (Halldora the Pict); Runtime: 137; MPAA Rating: R; producers; Lars Knudsen, Mark Huffam, Robert Eggers, Alexander Skarsgård, Arnon Milchan: Focus Features; 2022)
"Bloody but brilliant medieval vengeance tale."
Reviewed by Dennis Schwartz

Bloody but brilliant medieval vengeance tale by the American writer/director Robert Eggers ("The Lighthouse"/"The Witch") and his Icelandic poet/novelist co-writer Sjón. Its story is based on both Norse myths and Icelandic family sagas, especially evoking the Scandinavian legend of Amleth that inspired Shakespeare's Hamlet.
There are beautiful visuals, fine long takes, long sequences capturing the strange looks of that period of time, witches casting spells, an enthralling atmosphere, superb dream sequences, brutal fight scenes and implicit demands are made on details for both campy and accurate dialect in speech (the use of Old Norse), and is helped considerably by its rapid pace (making it an easy watch). Cult filmmaker Eggers never made such a pic before and wisely uses this one's whopping budget of $90 million to make it look good. With the help of production designer Craig Lathrop and costumer Linda Muir, the film gives us the 10th century looking as savagely and violently as possible.
Think Hamlet, as the tale follows the young Viking, Prince Amleth (Alexander Skarsgård), a Hamlet figure who seeks to avenge the murder of his loving tribal chief father, Aurvandil (Ethan Hawke), after witnessing as a young boy of ten his Uncle Fjolnir (Claes Bang) murder him and run off with his unwilling mother, Queen Gudrún (Nicole Kidman), draped screaming over his shoulders. The boy escapes by boat and vows to rescue his mom and kill his father's assassin.
Growing up to be a great fighter, we see him eighteen years later capturing slaves for Russian troops.
Then he meets in the forest the feral Olga (Anya Taylor-Joy), and falls for her. Also there is the seeress (Björk), who directs him to avenge his father by killing his murderer uncle. The prince gets back on track with his vengeful life mission, and chooses to torture uncle before killing him and then his army goes to battle with the enemy.
The warrior is a conflicted man, filled with raging hate for his enemy and love for Olga and his kin. 
It has star power (with an exceptionally good physical performance from Skarsgård and a demure one from Taylor-Joy). It compares favorably with Richard Fleischer's less hysterical Viking epic, The Vikings (1958). At times overwrought with a violence that seems cartoonish, it nevertheless is a fully composed traditional saga that is both awesome and commands respect for its cinematic accomplishments. It allows us to see how the Vikings behaved back then. The visuals by DP Jarin Blaschke are immensely powerful and the musical score by Robin Carolan and Sebastian Gainsborough has a chilling effect when played so proficiently on the original Viking instruments of the birch horn and bone flute.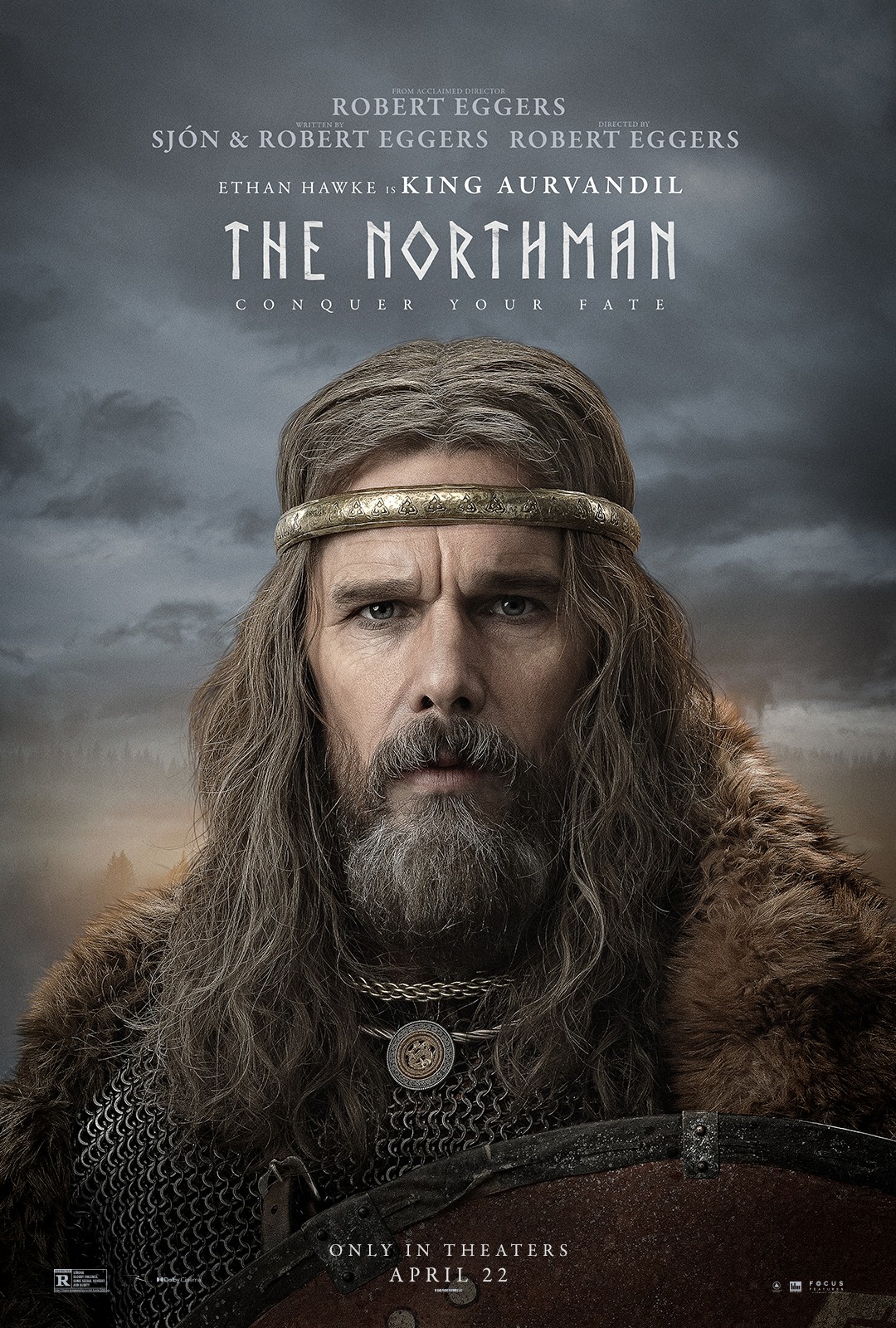 REVIEWED ON 4/14/2022  GRADE: B+