NEXT GOAL WINS 
(director/writer: Taika Waititi; screenwriters: Iain Morris, based on the documentary Next Goal Wins; cinematographer: Lachlan Milne; editors: Tom Eagles, Yana Gorskaya, Nat Sanders, Nicholas Monsour; music: Michael Giacchino; cast:  Michael Fassbender (Thomas Rongen), Oscar Kightley (Tavita), David Fane (Ace), Taika Waititi (American Samoa Priest), Elisabeth Moss (Gail), Rachel House (Ruth), Will Arnett (Alex Magnussen), Kaimana (Jaiyah), Beulah Koale (Daru), Rhys Darby (Rhys Marlin), Luke Hemsworth (Keith), Angus Sampson (Angus Bendleton); Runtime: 104; MPAA Rating: PG-13; producers: Taika Waititi, Jonathan Cavendish, Garrett Basch, Mike Brett, Steve Jamison; Searchlight Pictures; 2023-UK/USA)
"It's a manipulative film that should have been better made."
Reviewed by Dennis Schwartz

An inspirational underdog true story sports drama comedy regarding a losing soccer team from Samoa, that's filmed in the usual way such formulaic films are filmed but without inspiring me.

Kiwi filmmaker Taika Waititi ("Jojo Rabbit"/"Tama Tu") directs and co-writes it with Iain Morris. The film has finally been made after a long delay. It's based on the 2014 documentary of the same name. Waititi also has a role in it as an American Samoan priest, who at times serves as the narrator.

Michael Fassbender, after a long absence from the screen, is cast against type in a sports comedy. He's the aggressive soccer coach, Thomas Rongen, who has been pulled from his coaching job by the team boss (Will Arnett). The boss, by the way, is dating Thomas's ex-wife (Elisabeth Moss).

Thomas, nursing a drinking problem, is assigned in 2014 to be the coach of a dreadful American Samoa soccer team, who are a laughing stock after losing 31-0 to Australia in a FIFA qualifying match. The team's boss, Tavita (Oscar Kightley), pleads with his new coach to see to it the team scores at least one goal when it plays in the qualifying rounds.

 Most of the cast are Samoans. Beulah Koale plays the team's star, the son of the team boss and his fun-loving wife (Rachel House). The transgender actress Kaimana, the real-life Polynesian trans champ, plays Jaiyah.

It's a manipulative film that should have been better made. Though there's some fun in its story, it offers nothing new in the long cinema tradition of sports underdog films.But, at least, Fassbender gives his usual great performance.

It played at the Toronto Film Festival.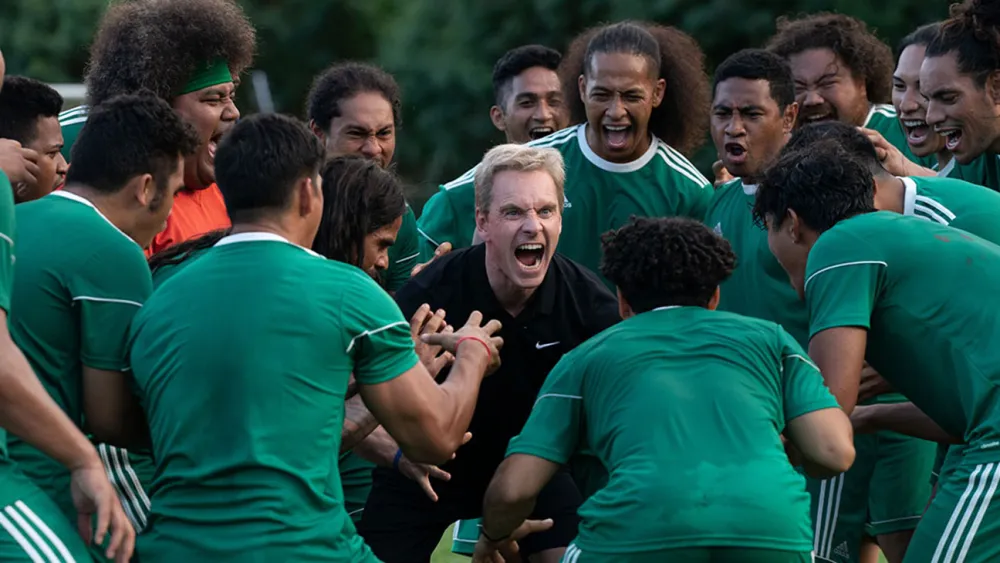 REVIEWED ON 11/21/2023  GRADE: C+