NANDOR FODOR AND THE TALKING MONGOOSE
(director/writer: Adam Sigal; cinematographer: Sara Deane; editor: David Freeman; music: Bill Prokopow; cast: Simon Pegg (Nandor Fodor), Minnie Driver (Ann), Christopher Lloyd (Dr. Harry Price), Paul Kaye (Maurice), Gary Beadle (Errol), Ruth Connell (Margaret), Tim Downie (Mr. Irving), Jessica Balmer (Voirrey), Edward Kingsley (Harry Houdini), Neil Gaiman (Gef-elf voice); Runtime: 96; MPAA Rating: PG-13; producers: Sasha Yelaun, Karl Hall, Dominic Burns, Jack Christian, Robert Paschall Jr.; Saban Films; 2023)
"It turns on the sentiment that being happy should be the goal of every belief system."
Reviewed by Dennis Schwartz

Adam Sigal ("Sargasso"/"Chariot") is writer and director of this fictional 'believe or not' tale, that competes with the Loch Ness tale as the most outlandish of myths.

It's based on a story from 1931, taking place on the British Isle of Man, whereby those on the Irving farm claimed they came upon a creature looking like a mongoose, who they named Gef (voiced by Neil Gaiman), that supposedly could talk like a human.  

Scientists investigated. But we still don't know the truth.

Intrigued by the story, brought the skeptical renown Hungarian-American  parapsychologist Nandor Fodor (Simon Pegg) to the farm to see for himself.  Nandor is accompanied by his assistant Anne (Minnie Driver), who is open to believing in the supernatural. Meanwhile Nandor becomes hostile during his investigation that anyone could believe in such nonsense.

The film is quirky, and plays best as a theological allegory. It turns on the sentiment that being happy should be the goal of every belief system, and if it makes people happy to encounter a talking creature, then why dispute it when science can't.

But the film drags in parts and is flat, and the only part that got my attention was Neil Gaiman's mongoose speak.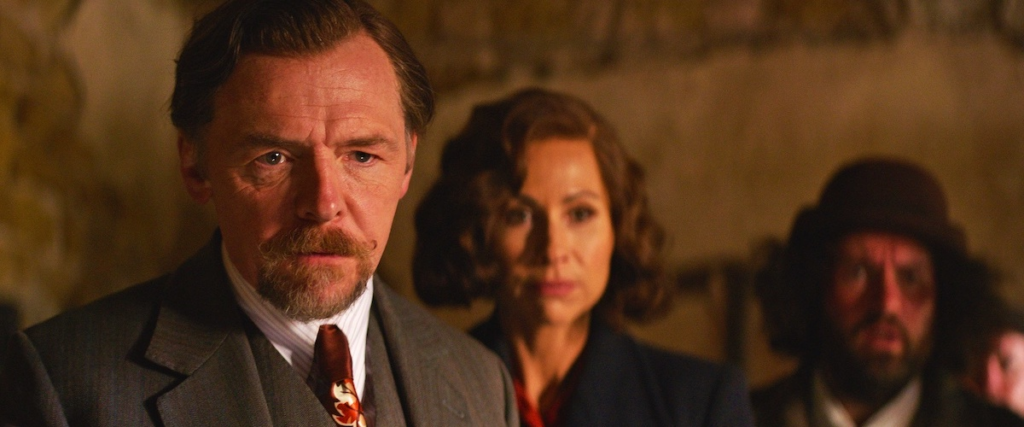 REVIEWED ON 9/6/2023  GRADE: C+