MY POLICEMAN
(director: Michael Grandage; screenwriter: Ron Nyswaner/based on the book by Bethan Roberts; cinematographer: Ben Davis; editor: Chris Dickens; music: Steven Price; cast:  Harry Styles (Young Tom), Emma Corrin  (Young Marion), David Dawson (Young Patrick Hazelwood), Rupert Everett (Patrick), Gina McKee (Marion), Kadiff Kirwan (Nigel), Maddie Rice (Jackie Stewart), Dora Davie (Sylvie), Jack Bandeira (Leonard); Runtime: 113; MPAA Rating: R; producers: Greg Berlanti/Sarah Schecter/Robbie Rogers/Cora Palfrey/Philip Herd; Amazon Studios; 2022-UK/USA)
"An overhyped and drab pedestrian presentation of a prestige gay romance film."
Reviewed by Dennis Schwartz
An overhyped and drab pedestrian presentation of a prestige gay romance film. It's directed by the English theater director, Michael Grandage ("Genius"). He could have developed the story further if it had more depth to the Tom character to express his shame at his youthful gay experience, which is not expressed until its too late to matter in the third act. My Policeman is based on the 2012 book by Bethan Roberts, and is scripted by Ron Nyswaner. The melodrama explores in a conventional way a forbidden love triangle relationship that took place in England when the participants were youths and England was a hostile country to gays (outlawing gay sex). The film's handsome pop singer star, Harry Styles, disappoints with an uninspiring performance as the film's star–a gay policeman who marries a woman teacher and questions his sexuality.

It depicts England in the 1950s as a homophobic country. There are flashbacks, with different actors playing the younger and older versions of themselves.

It's set primarily in Brighton during the 1950s. Later on it's set in the Brighton of the 1990s.

The cop, Tom Burgess (Harry Styles), loves the museum curator Patrick Hazelwood (David Dawson). They are sex partners even as Tom marries an innocent schoolteacher named Marion Taylor (Emma Corrin), who suspects her hubby might be gay and thinks he is being led on by Patrick.

In the 1990s, Patrick (Rupert Everett) is a stroke victim in a wheel-chair, who is cared for by the retired Marion (Gina McKee) in the Brighton  home she shares with the retired Tom (Linus Roache). She prods Tom to speak again to his former lover, a rather unpleasant sort. Thereby the past and present come together as the threesome has to deal with all the social issues raised, and all the emotional pain they have suffered.

It played at the Toronto International Film Festival.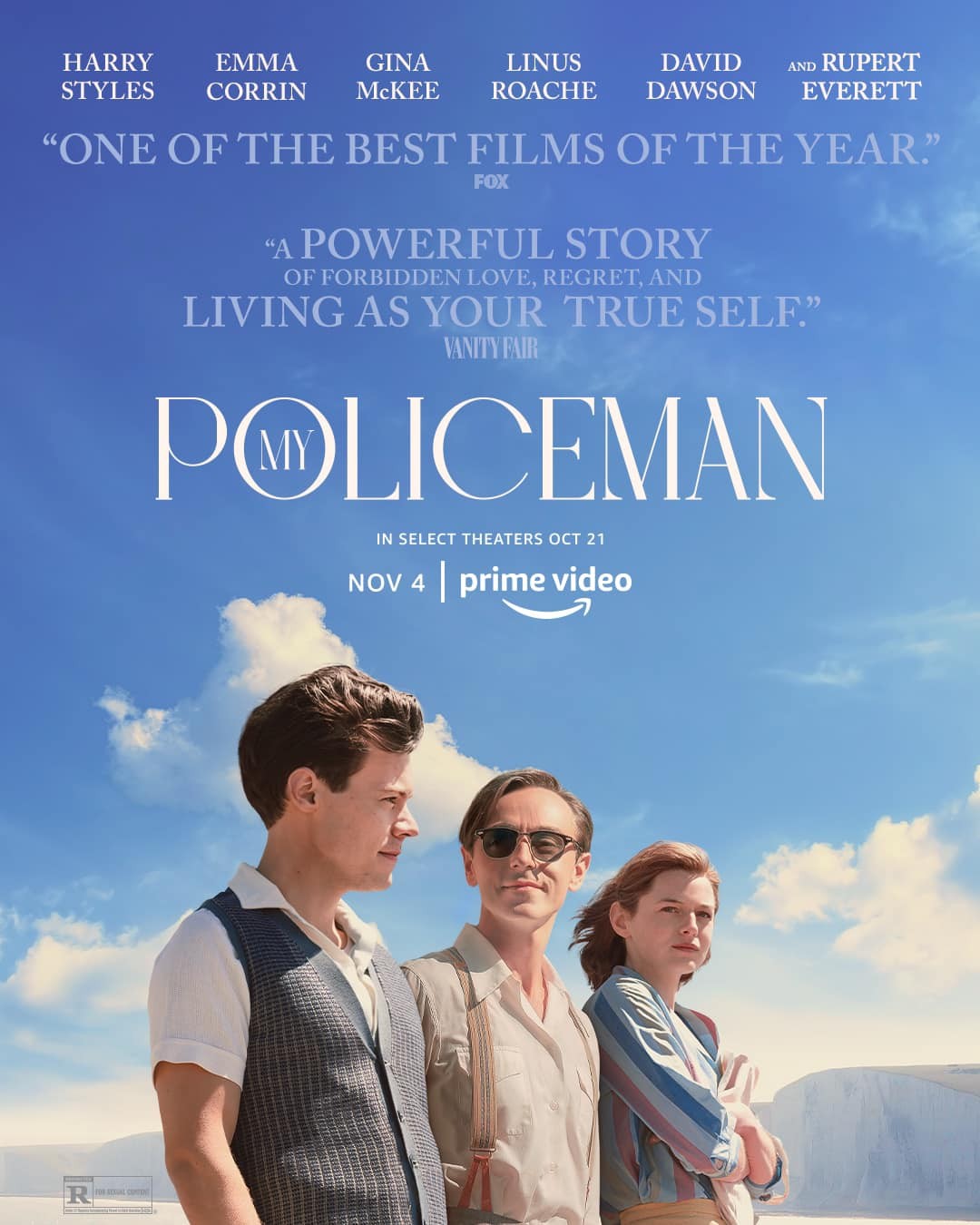 REVIEWED ON 10/21/2022  GRADE: C+