MURDER, SHE SAID
(director: George Pollock; screenwriters: David Osborn, David Pursall, Jack Seddon, based on the 1957 novel 4.50 from Paddington by Agatha Christie; cinematographer: Geoffrey Faithfull; editor: Ernest Walter; music: Ron Goodwin; cast:  Margaret Rutherford (Miss Jane Marple), Arthur Kennedy (Dr. Quimper), Muriel Pavlow (Emma Ackenthorpe), James Robertson-Justice (Ackenthorpe), Thorley Walters (Cedric Ackenthorpe), Charles 'Bud' Tingwell (Inspector Craddock), Ronnie Raymond (Alexander), Conrad Phillips (Harold), Lucy Griffiths (Lucy), Ronald Howard (Eastley), Joan Hickson (Mrs. Kidder), Michael Golden (Hillman), Gerald Cross (Albert), Gordon Harris (Bacon), Barbara Leake (Mrs. Helen Stainton), Stringer Davis (Stringer); Runtime: 86; MPAA Rating: NR; producers: George H. Brown; MGM/Warner Home Video; 1961-B/W-UK)
"Rutherford is a treat."
Reviewed by Dennis Schwartz

The debut feature film for Brit filmmaker George Pollock is the first of four Christie novels made into film during the 1960s and it might be the best one in the series. It was a box-office hit. The 1961 Christie's "4.50 From Paddington" was followed in 1963 by Murder at The Gallop, in 1964 by Murder Ahoy and Murder Most Foul. Rutherford is a treat, playing the amateur detective, aging and frumpy Miss Jane Marple (Margaret Rutherford) with an eye for comedy.


On a train as a passenger, Miss Jane Marple witnesses a woman being strangled by a man on another train and informs the police, telling them where the body was tossed. When they find no corpse, they're not sure if old lady witnessed a murder. Feeling slighted by their dismissal of her report, on her own she goes to the Ackenthorpe estate where  the body was thrown from the passing train and gets hired as a maid. When snooping around, she recovers the body of the dead woman by the estate's barn and calls the police.

The body supposedly belongs to a French woman, who was married to an Ackenthorpe killed in World War II. The police believe the murder suspect is one of the wealthy ailing aged patriarch's (James Robertson-Justice) cynical four adult sons (Conrad Phillips, Ronald Howard, Gerald Cross, & Thorley Walters), who anxiously await their inheritance from dad. Things get dicy when one of the sons is poisoned to death and another is killed but his death is made to look like a suicide. The chief investigator (Charles 'Bud' Tingwell) fears that Miss Marple could be in grave danger in that house and urges her to leave. Meanwhile Dr. Quimper (Arthur Kennedy) is in the house on regular doctor visits and is secretly courting the patriarch's only daughter Emma (Muriel Pavlow), while treating the patriarch with injections for his supposed ailments.

Miss Marple sets a trap for the inheritance killer, who she believes is in the house, and the cops catch him when he takes the bait of her clever trap.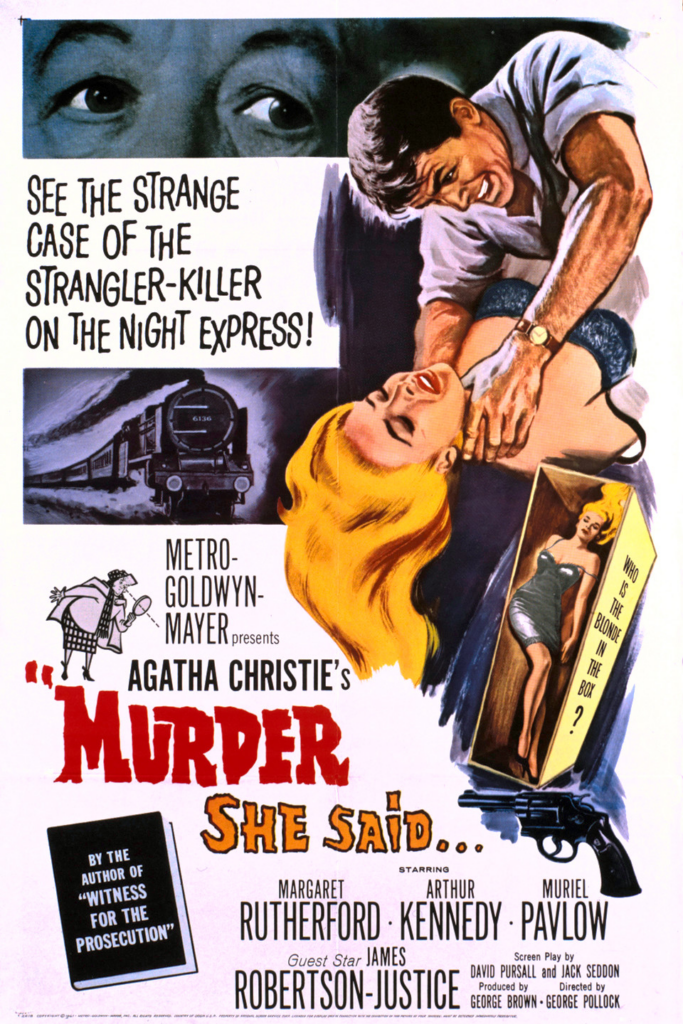 REVIEWED ON 6/16/2023  GRADE: B