MONTANA STORY
(director/writer:Scott McGehee, David Siegel; screenwriter: story by Mike Spreter, McGehee, Siegel; cinematographer: Giles Nuttgens; editor: Isaac Hagy; music:Kevin Morby; cast: Haley Lu Richardson (Erin), Owen Teague (Cal), Gilbert Owuor (Ace), Kimberly Guerrero (Valentina), Eugene Brave Rock (Mukki), Asivak Koostachin (Joey), Rob Story (Wade), Kate Britton (real estate agent); Runtime: 113; MPAA Rating: NR; producers; Jennifer Roth, Scott McGehee, David Siegel: Big Creek/Bleecker Street; 2021)
"Well-crafted and modest conventional modern day Western family drama."
Reviewed by Dennis Schwartz

The film was screened at the Toronto Film Festival.

Scott McGehee and David Siegel ("Suture"/"The Deep End") direct and write this well-crafted and modest conventional modern day Western family drama from a bleak story they wrote with Mike Spreter about the resiliency of love.

On the Montana ranch home where they were raised as children, in the American frontier, the estranged half-siblings Erin (Haley Lu Richardson), who ran away from home at 18 some 7 years ago, and her twenty-something younger brother Cal (Owen Teague), meet again on their visit to their comatose, dying father, Wade (Rob Story). Both siblings have had complicated (bad) relationships with their villainous dad, and still have differences with him that will probably never be ironed out.

Cal greets the housekeeper Valentina (Kimberly Guerrero) with warmth but is stressed at the presence of the hospice nurse (Gilbert Owuor), who is there because of his dad's critical condition. There's also the stressful matter of the father's impending bankruptcy (Cal as a result has been entrusted to put down the old family horse Mr. T, that is, until Erin insists on taking the horse back with her to NY).

The emotional distress of the family is contrasted with Montana's beautiful vistas, as wonderfully photographed by DP Giles Nuttgens.

The young sibling characters give tense and commanding performances that are touching, as they try to recover from their childhood psychological wounds. The singer/songwriter Kevin Morby's original score reflects the film's theme of trying to accept the bad with the good in order to evolve, with more hope for the future.

It's an easy indie to lay back and chill with its familiar intimate tale, even if it comes with a somber ending. It's a story which more than likely is the way it is with many American families at a time when many families live apart for various reasons.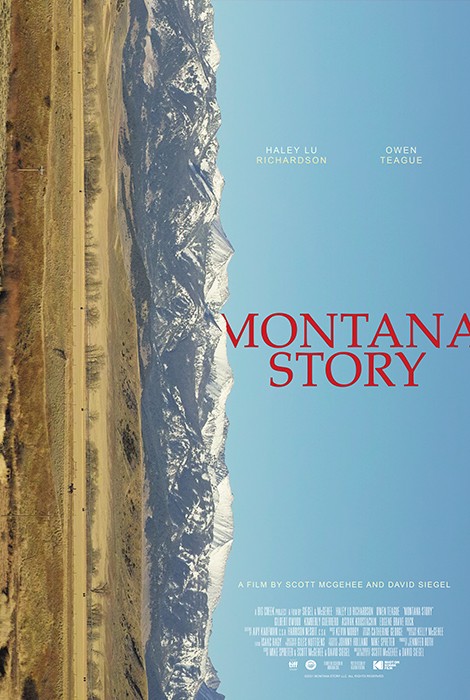 REVIEWED ON 11/11/2021 GRADE: B