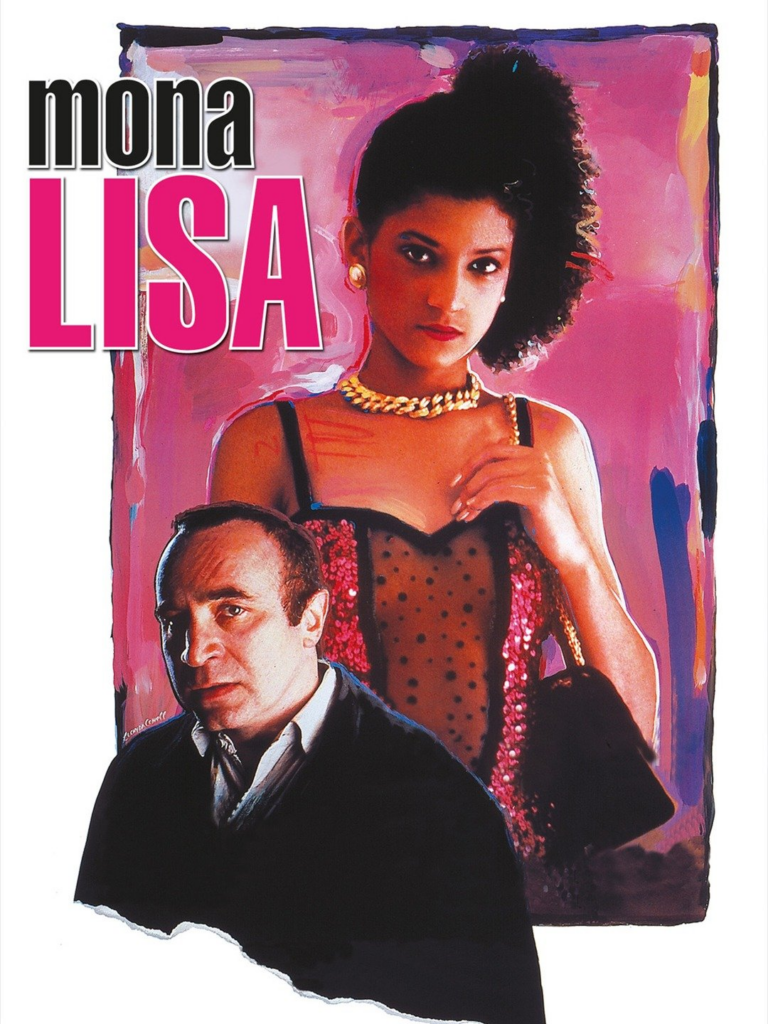 MONA LISA
(director/writer: Neil Jordan; screenwriter: David Leland; cinematographer: Roger Pratt; editor: Lesley Walker; music: Michael Kamen; cast: .Bob Hoskins (George), Cathy Tyson (Simone), Michael Caine (Mortwell), Clarke Peters (Anderson), Kate Hardie (Cathy), Robbie Coltrane (Thomas), Zoe Nathenson (Jeannie), Sammi Davies (May), Rod Bedall (Terry), Joe Brown (Dudley) Pauline Melville (Dawn), David Halliwell (Devlin), Pauline Melville (George's Wife); Runtime: 106; MPAA Rating: R; producers: Patrick Cassavetti/Stephen Woolley; Handmade Films release through Island Pictures; 1986-UK )

"A dreary but compelling romantic crime thriller about love being the important ingredient in life."
Reviewed by Dennis Schwartz
A dreary but compelling romantic crime thriller about love being the important ingredient in life. It's set in London, and is stylishly helmed by the esteemed Irish filmmaker Neil Jordan("Ondine"/"Breakfast on Pluto"/"In Dreams"). Jordan co-writes the screenplay with David Leland. The film's title is lifted from one of Nat King Cole's songs, a song the film's main protagonist loves.
The divorced, hot tempered, obtuse, racist, overweight, short, flunky mob criminal George (Bob Hoskins) has been released from prison after seven years and gets rebuffed by his ex-wife (Pauline Melville) when he tries to visit his daughter (Zoe Nathenson). He loves his daughter more than any other person in the world, and only wishes to be reconciled with her. After that futile visit George gets hired by the sinister vice king mobster chief Mortwell (Michael Caine) as a chauffeur for classy West End black prostitute Simone (Cathy Tyson). We also learn that the ordinary guy, a sentimental romantic, took the prison rap for his crooked boss Mortwell.
The pic takes its sweet time building up the relationship between the opposites George and Simone, who is compared to the Mona Lisa painting. Their worlds are alien to each other, but nevertheless an implausible love strikes up in George and he ironically tells his friend (Robbie Coltrane) he fell in love with the tart because she's a lady–ignoring the irony of what he said, to his friend's consternation. Eventually the melancholy prostitute persuades him to help her find the 15-year-old prostitute named Cathy (Kate Hardie), who had mysteriously disappeared in London and explains they became close when they hustled in the streets together. George takes to this quest as if it were a holy mission of rescue, and risks his life in a hunt for her through London's dangerous and seamy vice underworld. When she is found George is left disillusioned that Cathy is the love partner of Simone and that he's in over his head mixing it up with ruthless mobsters.
Hoskins gives a great screen performances. It lifts the film out of the doldrums.
REVIEWED ON 10/5/2014 GRADE: B