MINOTAUR, THE, THE WILD BEAST OF CRETE (TESEO CONTRO IL MINOTAURO)
(director: Silvio Amadio; screenwriters: Sandro Continenza/Daniel Mainwaring/Gian Paolo Calligari; cinematographer: Aldo Giordani; editor: Nella Nannuzzi; music: Carlo Rustichelli; cast: Bob Mathias (Theseus), Rosanna Schiaffino (Princess Fedra / Arianna), Alberto Lupo (Chirone), Rik Battaglia (Demetrio), Carlo Tamberlani (Minosse, Re di Creta), Nico Pepe (Gerione), Susanne Loret (Anfitrite), Nerio Bernardi (Re di Atene), Paul Muller (Medico di Corte), Tiziana Casetti (Illia, figlia di Xanto), Alberto Plebani (Xanto), Tina Lattanzi (Queen Pasiphae), Milo Malagoli (Il Minotauro) ; Runtime: 92; MPAA Rating: NR; producers: Giorgio Agliani, Gino Mordini, Rudolphe Solmesne; Illiria; 1960-Italy-dubbed into English from Italian)
"As mediocre as it was, it could have been a lot worse."
Reviewed by Dennis Schwartz

The Sword and Sandal costume drama stars former USA Olympic gold medalist Bob Mathias as Theseus (He seems like an OK guy even if he can't act and only made one more film before becoming a congressman). The relatively unknown Italian filmmaker Silvio Amadio ("War Gods in Babylon"/"Wolves of the Deep") directs as if afraid too much Greek myth will give him indigestion. The story revolves around the myth of the Minotaur as a legendary half-man, half-bull who lived on Crete and who demanded the sacrifice of human virgins. The writers are Sandro Continenza, Daniel Mainwaring and Gian Paolo Calligari, who give the classic myth a shallow modern take.

Theseus (Bob Mathias), the son of King Aegeus of Athens, is asked by a dying Queen Pasiphae (Tina Lattanzi) to go into the labyrinth to slay the Minotaur and rescue one of her twins separated at birth, a power-hungry princess (Rosanna Schiaffino). The other twin was a commoner, unaware of her royal birth, (also Rosanna Schiaffino). Both were secretly hidden from the monster to protect them. We don't get a full view of the monster until 5 minutes before the end, but get to watch a village wiped out and quite a few dance routines.

The minotaur appears wearing an over-sized puppet head and was played by the 7 foot Italian boxer Milo Malagoli.

As in the Greek legend, the Athenian hero Theseus slays the minotaur on Minoan Crete, located under the royal palace, around 1500 or 1450 BC.

Strongman Mathias must also resolve that 2 sexy queens want to marry him and that wicked rulers act bad.

It makes for schlocky entertainment and a narrative filled with cliches. As mediocre as it was, it could have been a lot worse.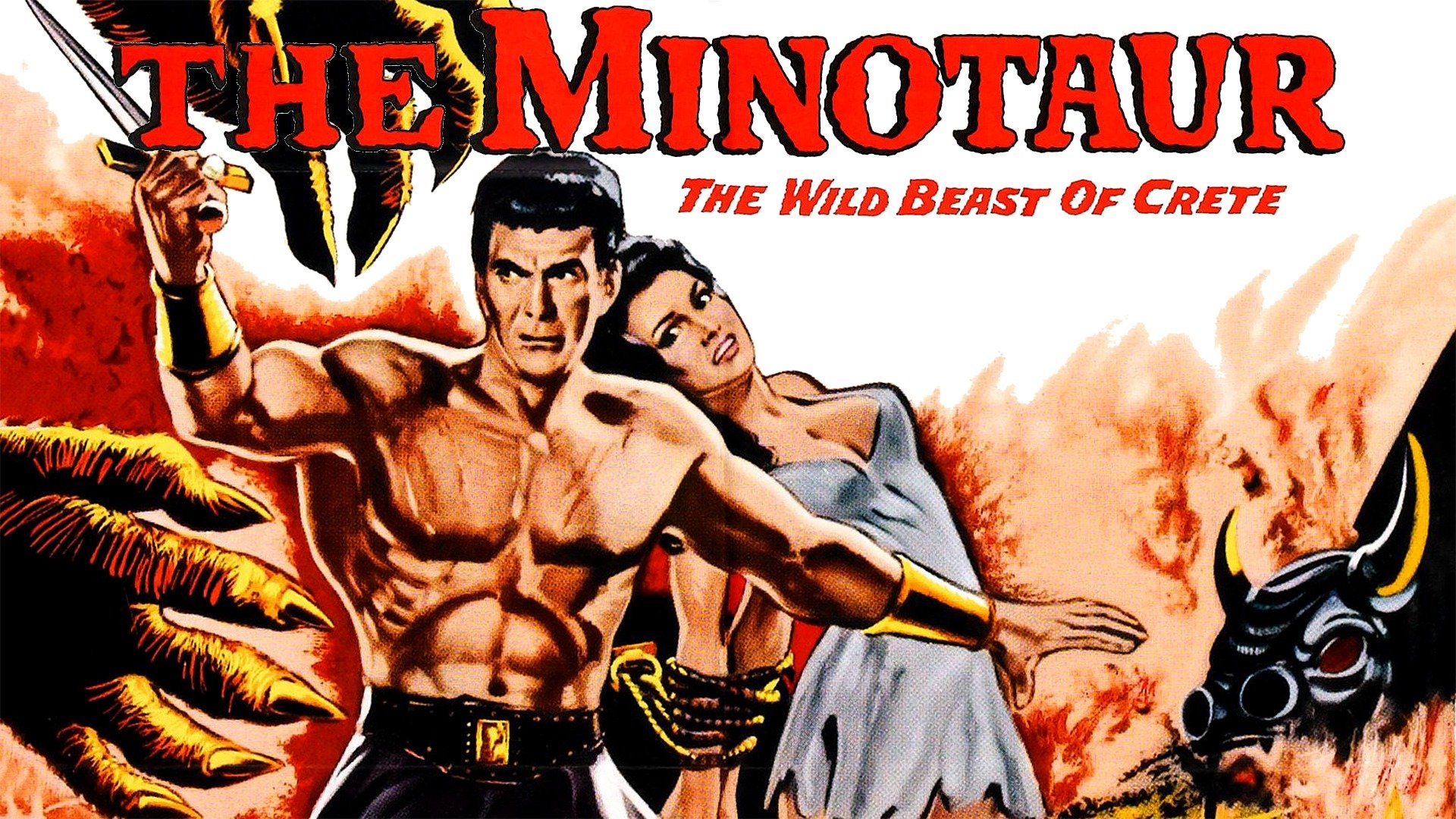 REVIEWED ON 1/1/2019 GRADE: C+