MELT GOES ON FOREVER, THE: THE ART AND TIMES OF DAVID HAMMONS
(directors: Harold Crooks/Judd Tully; screenwriter: Harold Crooks; cinematographers: Chris Wairegi; editor: Martin Paradis; music: Ramachandra Borcar; cast: David Hammons; Runtime: 101; MPAA Rating: NR; producer: Judd Tully; Greenwich Entertainment; 2022)
"Lively artist biopic documentary on the little known reclusive and unique Black artist David Hammons."
Reviewed by Dennis Schwartz

The title is derived from what an art scholar said during filming.

The filmmaker Harold Crooks ("The Price We Pay"/"Surviving Progress") and the journalist Judd Tully co-direct this lively artist biopic documentary on the little known reclusive and unique Black artist David Hammons. The filmmakers use archival footage and interviews with art historians, artists and art collectors to tell his story. But no interviews with Hammons, who frowns upon giving interviews.


During the 70s and 80s Hammons was making sculptures. We learn little about his private life except he has a grown daughter Carmen, as he will tell us only how he functions as an artist.


The eccentric's art work is motivated by his skin color and political experience, expressing his critical thinking over various racial and class issues.

The man has done some unusual projects, like a sculpture made from African-American hair, selling snowballs in the winter of 1983 in New York City's East Village, a sculpture made out of glass bottles glued together and bottle caps nailed onto tall poles (in order to create "Higher Goals"), and his strung together multiple Louis Vitton bags on a statue of a woman (which appeared at the Casinò Fantasma exhibition at the 44th Venice Biennale).

Hammons has gone from the Watts rebellion era '60s L.A. to recognition in today's global art world.

The film is essentially about his provocative artistic take on being Black in white America.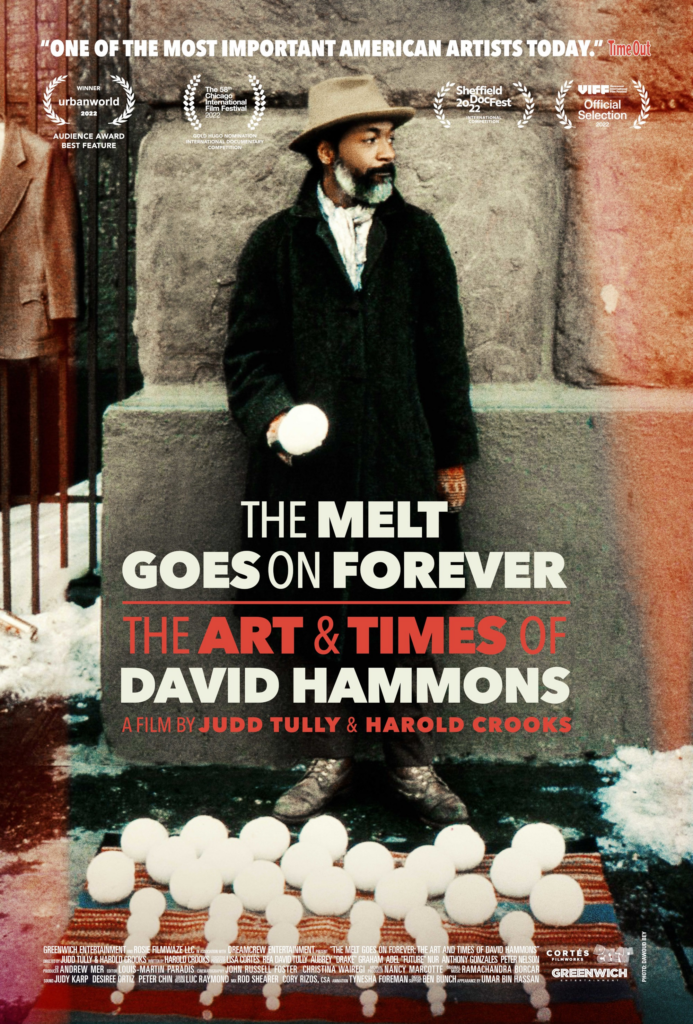 REVIEWED ON 5/20/2023  GRADE: B