MAYA AND HER LOVER
(director/writer: Nicole Sylvester; cinematographer: Dylan Verrechia; editor: Veronique Doumbe; music: Camilo Rodríguez; cast: Ashanti J'Aria (Maya Trudeau), Faiven Feshazion (Tracey), Shomari Love (Kaseem), Al Thompson (Babatunde), Madelie Grey DeFreece (Zoe), Roland Sands (Fred Ross), Hisham Tawfiq (Maya's father), Johnath Davis (Phillip); Runtime: 106; MPAA Rating: NR; producers; Alisa Lomax, Trevite Willis: No Evil Entertainment/A 1091 release; 2021)
"The thin story nevertheless quietly has something worthwhile to say about middle-aged Black women on the dating circuit."
Reviewed by Dennis Schwartz

Filmmaker Nicole Sylvester("The Owner"/"Layla's Girl") is the writer and director of this personal romantic drama about a free-spirited single 39-year-old Brooklyn Black woman who lives alone in a well-kept brownstone (it was shot in the director's apartment). Her name is Maya (Ashanti J'Aria). She's introverted and somewhat fucked-up over the memories of being raised by her overbearing late father (Hisham Tawfiq), but is a well-educated college grad, financially secure and independent-minded. She spends her free time on a website that focuses on women with unfashionable bodies, and openly and refreshingly has conversations about men with her sassy girlfriend Tracey (Faiven Feshazion)–the film's best scenes.

Maya has recently dumped an older lover because he didn't satisfy her.

She meets in her neighborhood an uneducated bold Black 22-year-old pizza deliveryman, Kaseem (Shomari Love), who might be a bit awkward and too outspoken but satisfies her sexually. Kaseem is full of vinegar and pushy over his new conversion to the Muslim religion, in which he's annoyingly dogmatic about in his belief. The relationship works in bed, but outside the bed it doesn't. When she finds out ugly things about him he never disclosed, she's forced to dump him.

The drama builds on her unplanned pregnancy.

The thin story nevertheless quietly has something worthwhile to say about middle-aged Black women on the dating circuit. The supporting actors add some color to this realistic story: Al Thompson is a wake-up call as the neighborhood coffee shop owner, Madeline Grey DeFreece is a recognizable figure as the coed niece and Roland Sands is a hoot as the lecherous old man next door.
 
It played in Miami at the 2021 American Black Film Festival.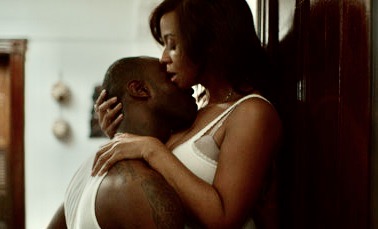 REVIEWED ON 12/29/2021 GRADE: B-