MARVELS, THE
(director/writer: Nia DaCosta; screenwriters: Zeb Wells, Elissa Karasik, Megan McDonnell; cinematographer: San Bobbitt; editors: Catrin Hedström, Evan Schiff; music: Laura Karpman; cast: Brie Larson (Carol Danvers aka Captain Marvel),Tayonah Paris (Monica Rambeau), Lashana Lynch (Maria Rambeau), Iman Vellani (Kamala Khan, Ms. Marvel), Zenobia Shroff (Muneeba Khan, Kamala's mom), Mohan Kapur (Yusuf, Kamala's dad), Saagar Shaikh (Aamir Khan, Kamala's older brother), Zawe Ashton (Dar-Benn), Park See-joon (Prince Yan), Samuel L. Jackson (Nick Fury), Gary Lewis (Emperor Dro'ge), Abraham Popoola (Dag); Runtime: 105; MPAA Rating: PG-13; producer: Kevin Feige; Walt Disney Pictures; 2023)
"Disjointed sequel."
Reviewed by Dennis Schwartz

This disjointed sequel to the 2019 Captain Marvel film version, also a sequel to various Captain Marvel television programs. The movie is the 33rd entry to the Marvel universe. It has too many underdeveloped subplots and expositions on the story to keep it viable. It tries to revive a long-running but flagging MCU franchise, but it flubs because its story hardly makes sense. Also its formulaic filming methods never allow the film to astonish us with sequences of inspired lunacy.

Though superficially entertaining, the mediocre sci-fi Marvel Comics superhero thriller and comedy as directed and written by Nia DaCosta ("Little Woods"/ "Candyman") and co-scripted with many rewrites by Zeb Wells, Elissa Karasik and Megan McDonnell, is a bottom-level sci-fi film.

The filmmaker might employ some cool CGIs and offer some goofy and funny moments, some dazzling visual spaceflights and some adequately choreographed fight sequences, which take place between warring alien rivals called Skrulls and Krees. But despite these pluses, it still ends up a bore with a clunky executed story about Carol, who by accident extinguished the sun, which led to the planet of Hala, home of the blue-skinned Kree people, being nearly completely destroyed, as well as also making the planet of the Skrulls barely livable.

But her boss handler, the former "S.H.I.E.L.D" leader, Nick Fury (Samuel L. Jackson), operating out of a top-secret space station, calls Carol back to service to repair a space portal, which is called here a "jump point."

Carol is joined in this mission by the astronaut fighter-pilot Monica Rambeau (Teyonah Parris), Carol's estranged niece, and there's a strange intergalactic connection through teleporting with a Jersey City Pakistani-American teen-ager, Kamala Khan (Iman Vellani), who is the daughter of Carol's fighter-pilot friend Maria Rambeau (Lashana Lynch). The daydreaming Kamala is a fangirl of Captain Marvel comic books, who lives with her well-meaning but clueless parents (Zenobia Shroff and Mohan Kapur) and older brother (Saagar Shaikh). Kamala is Carol's third partner, who also has secret superpowers and possesses one of the two "quantum bands" that for whoever possesses both "quantum bands" would have enormous power. When becoming one of The Marvels, Kamala's given the name Ms. Marvel.

The other "quantum band," found on a remote planet, is in the possession of the new Kree fanatical leader, Dar-Benn (Zawe Ashton), who wishes to retaliate against the party who nearly destroyed her planet and brings chaos to Earth by punching holes in the space-time line.

Because the "jump point" has been messed with, The Marvels, connected through their light force powers, get bounced around and change locations against their will because their light force has been corrupted.

The funniest scene has The Marvels visit Planet Alanda, where everyone sings instead of speaks.
 
The popcorn space war film, made for $250 million-dollars, was ruined by interfering studio heads more motivated by box office than in making a good film.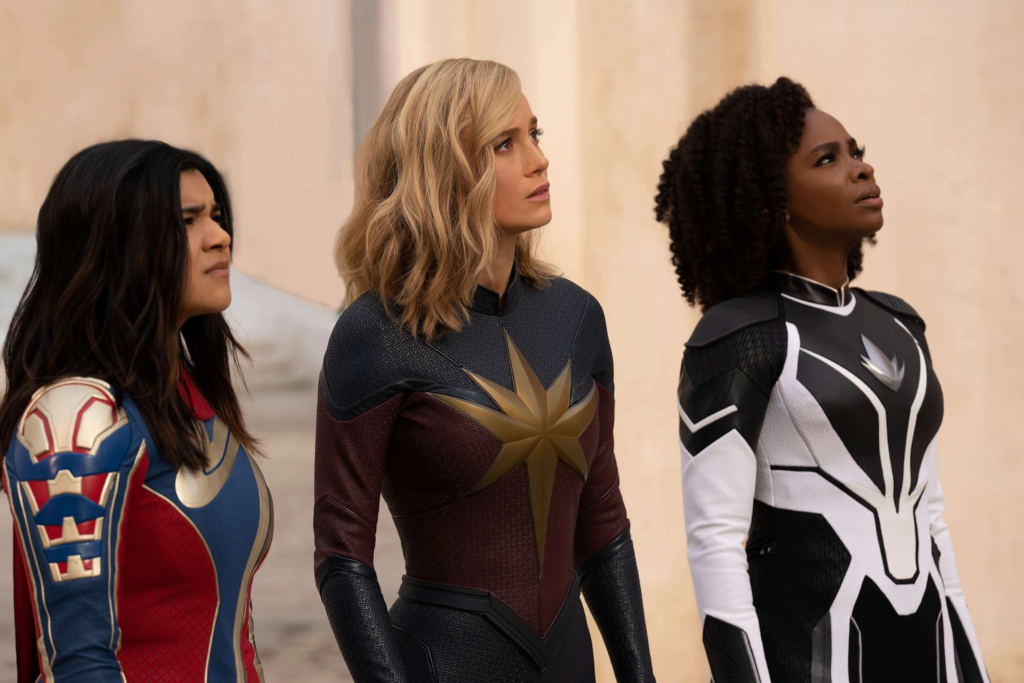 REVIEWED ON 11/10/2023 GRADE: C