MANK
(director: David Fincher; screenwriter: Jack Fincher; cinematographer: Erik Messerschmidt; editor: Kirk Baxter; music: Trent Reznor/Atticus Finch; cast: Lily Collins (Rita Alexander), Tuppence Middleton (Sara Mankiewicz), Gary Oldman (Herman J. Mankiewicz), Tom Burke (Orson Welles), Amandra Seyfried (Marion Davies), Charles Dance (William Randolph Hearst), Ferdinand Kingsley (Irving Thalberg), Arliss Howard ( Louis B. Mayer), Joseph Cross (Charles Lederer), Monika Gossmann (Fräulein Frieda), Toby Leonard Moore (David O. Selznick), Jamie McShane (Shelly Metcalf ), Tom Pelphrey (Joe Mankiewicz), Sam Troughton (John Houseman); Runtime: 131; MPAA Rating: R; producers: Ceán Chaffin, David Fincher, Eric Roth, Douglas Urbanski; Netflix; 2020-B/W)
"It's a behind- the- scenes look on the making of Orson Welles' "Citizen Kane" (1941)."
Reviewed by Dennis Schwartz

David Fincher ("The Social Network"/"Zodiak") directs this fine B/W drama. It's a behind- the- scenes look on the making of Orson Welles' "Citizen Kane" (1941). which amazingly did not win the Oscar for Best Picture. It's written by Fincher's late father Jack, and is filmed in B/W by cinematographer Erik Messerschmidt.

The writer of "Citizen Kane" was a misanthropic alcoholic named Herman J. Mankiewicz (Gary Oldman), a NYC playwright, known affectionately as Mank.

The story is juicily told through flashbacks that revolve around Mank's relationship with the newspaper tycoon William Randolph Hearst (Charles Dance) and the actress Marion Davies (Amanda Seyfried), his much younger mistress. The generous lover, Hearst, is nicknamed by her Pops. It tells of the stormy weeks Mank spent finishing his Citizen Kane script for Orson Welles, while sequestered in the Mojave Desert. The film aims to restore the reputation of the often overlooked writer of the classic. It also casts some damning aspersions over the innovative and corrupt 1930s Hollywood at a time when the Screen Writers Guild was in its infancy and writers were not as respected or paid as much as they should have been.

The 24-year-old narcissistic wunderkind Orson Welles (Tom Burke), surprisingly has a small part.

Also featured are MGM's noted executives Irving Thalberg (Ferdinand Kingsley) and Louis B. Mayer (Arliss Howard). Mayer playfully says "Movies are a memory, but we own the product." The tycoons partner with Hearst to spread "fake news" to make sure the 1934 California gubernatorial candidate, the socialist/novelist Upton Sinclair, loses.

This pisses off Mank, who says the difference between socialism and communism is: "In socialism, everyone shares the wealth. In communism, everyone shares the poverty."

Enlivened by the jazzy music of Trent Reznor & Atticus Ross, the crisp acting of the ensemble cast, the superb photography by Erik Messerschmidt paying homage to Citizen Kane's great cinematographer Greg Toland and a provocative narrative that has a lot to say about making art films. Mank is an example of Hollywood craftsmanship at its best, and this is a wonderful film that lets a lot of secrets out of the bag kept for 80 years.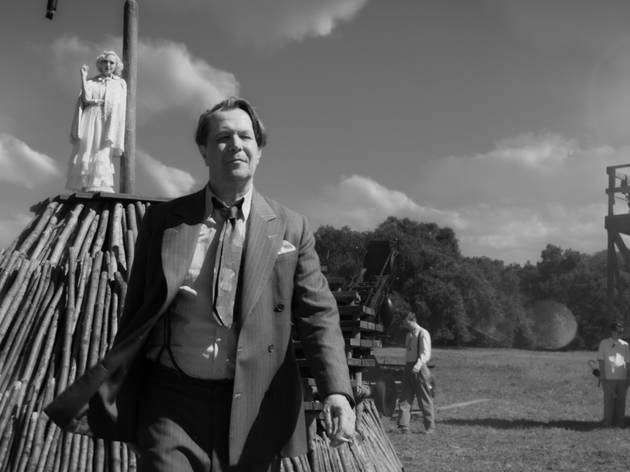 REVIEWED ON 11/20/2020 GRADE: A-