LUZZU
(director/writer: Alex Camilleri; cinematographer: Léo Lefèvre; editor: Alex Camilleri; music: Jon Natchez; cast: Jesmark Scicluna (Jesmark), Michela Farrugia (Denise), David Scicluna (David), Frida Cauchi (Carmen), Uday Maclean (Uday), Stephen Buhagiar (Jesmark's boss); Runtime: 95; MPAA Rating: NR; producers; Rebecca Anastasi, Ramin Bahrani, Alex Camilleri, Oliver Mallia: Kino Lorber; 2021-Malta-in Maltese with English subtitles)
"The fisherman Jesmark Scicluna plays himself and is good at it."
Reviewed by Dennis Schwartz

The debut film of the Maltese-American filmmaker Alex Camilleriis a sharp-edged neo-realist film (all those cast as fishermen are real-life fishermen) set on the small Mediterranean island of Malta, near Sicily. The title refers to the island's brightly blue colored hand-crafted luzzu fishing boats.

The story focuses on a struggling young fisherman Jesmark (Jesmark Scicluna, non-professional actor), who has trouble making a living as a fisherman and is in a deeper hole when the wooden luzzu boat he inherited from his fishermen ancestors has sprung a leak and grounds him as he takes it in for repairs (forcing him to go out fishing with his friend David Scicluna, his real-life cousin). His upset wife Denise (Michela Farrugia) gives him the fish eyes as she worries there will be no money for their new born son to receive needed medical treatment, and moves in with her interfering mother.  The mother-in-law nags Jesmark to quit fishing, which is the only thing he knows how to do. She lets him know he should get work that pays better so he can raise a family that is not wanting in the basics. But he vows never to give up the tradition his family was born into and has done so for generations despite the obstacles imposed on the fisherman in the modern world (the European Union actively tries to reduce how many can fish in Malta, as his country has no voice in that decision since becoming a member of the EU).

Jesmark loves being a fisherman and works hard to sell his daily catch. He frowns on a fellow fisherman who receives a buy-out for his boat from a government program trying to reduce the amount of fishermen. He tells himself he will not be corrupted and will fish the way his ancestors always have. But the truth might be easier to say than do.

The fisherman Jesmark Scicluna plays himself and is good at it. We empathize with him when he tells us climate change and other environmental factors added to other obstacles have made traditional fishing almost obsolete, and many of the fishermen he grew up with have moved on. We see through him how things are changing rapidly, as a way of life that goes way back in time is coming to an end and his days as a traditional fisherman seem numbered if he can't adapt to the new conditions. The question becomes will he feel so boxed in by circumstances that he will take the bait and hook up with those involved in the black market.
The beauty of the simple but touching film is that Camilleri shows us not only the beauty of Malta but shows us what a difficult task it is to continue the fishing tradition if on the low end of it, especially in a world that is rapidly changing (and not for the better).
The film was produced by Ramin Bahrani (Iranian-American auteur), who used Camilleri as an editor for his great art-house New York-based films he directed: Man Push Cart and Chop Shop.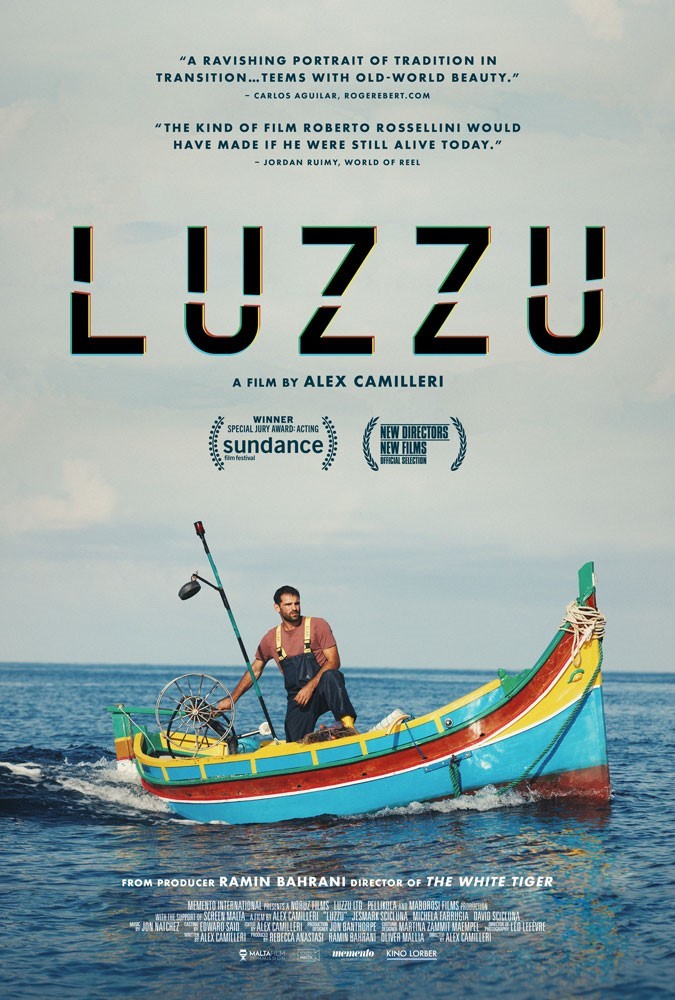 REVIEWED ON 10/13/2021 GRADE: A-