LUX AETERNA
(director/writer:  Gaspar Noé; cinematographer: Benoit Debie; editor: Jerome Pesnel; music: Pascal Maye; cast: Béatrice Dalle, Charlotte Gainsbourg, Abby Lee, Frédéric Cambier, Félix Maritaud, Karl Gusman; Runtime: 51; MPAA Rating: NR; producers; Anthony Vaccarello, Gary Farkas, Olivier Muller, Clement Lepoutre, Gaspar Noe: Yellow Veil Pictures; 2019-France-in French with English subtitles)
"Though only 51 minutes, the film is still way too long. It could have covered everything it wanted in 2 or 3 minutes, the length of a TV commercial."
Reviewed by Dennis Schwartz 

A rather gimmicky and slick experimental drama (which can be viewed as a mockumentary about witches, chaos on a film set, and sexism in the movie industry). The odd plotless film is directed by the renown French auteur, Gaspar Noé("Climax"/"Vortex"), known as a movie provocateur. The novelty film, viewed by some as merely a commercial for the fashion house of Yves Saint Laurent (its new creative director Anthony Vaccarello financed the film), is shot with split-screen techniques, strobe lights and stylishly in neon as an acid trip venture. It's promoted as "a vibrant essay on respect for beliefs, the actor's craft, and the art of filmmaking." Noé enlists the daring French movie icons to be in his film–Béatrice Dalle, who plays an unhinged director and Charlotte Gainsbourg, who plays an actress. Both actresses play false versions of themselves, in which they improvise throughout. In one scene where her leading lady is to burn at the stake, the lighting set-up goes awry — as the red-blue-green strobe lights appear so fast as to trigger epileptic fits.

Karl (Karl Glusman) plays a cocky young director who corners Gainsbourg to pitch another project, something about "the recognition I deserve."

There's the assistant director (Félix Maritaud) who fails to honor a co-star's nudity clause. There's the producer (Yannick Bono) who conspires to let the veteran male DP (Maxime Ruiz) steal Dalle's big set-piece and direct the film himself. 

There's a great deal of babble in the form of great classic filmmakers like Dreyer quoted as saying "We filmmakers have a great responsibility. It is up to us to raise the film from an industry to an art."

But for me, the entertaining film that wishes to promote film as art is less an art film than a self-serving rant attacking those who sell out their art for commercialism. This, with all due respect, seems to be exactly what the trickster Noé has done.

Though only 51 minutes, the film is still way too long. It could have covered everything it wanted in 2 or 3 minutes, the length of a TV commercial. For most viewers it's a love it or hate it film, in which I take the middle-ground.
It premiered at Cannes Film Festival.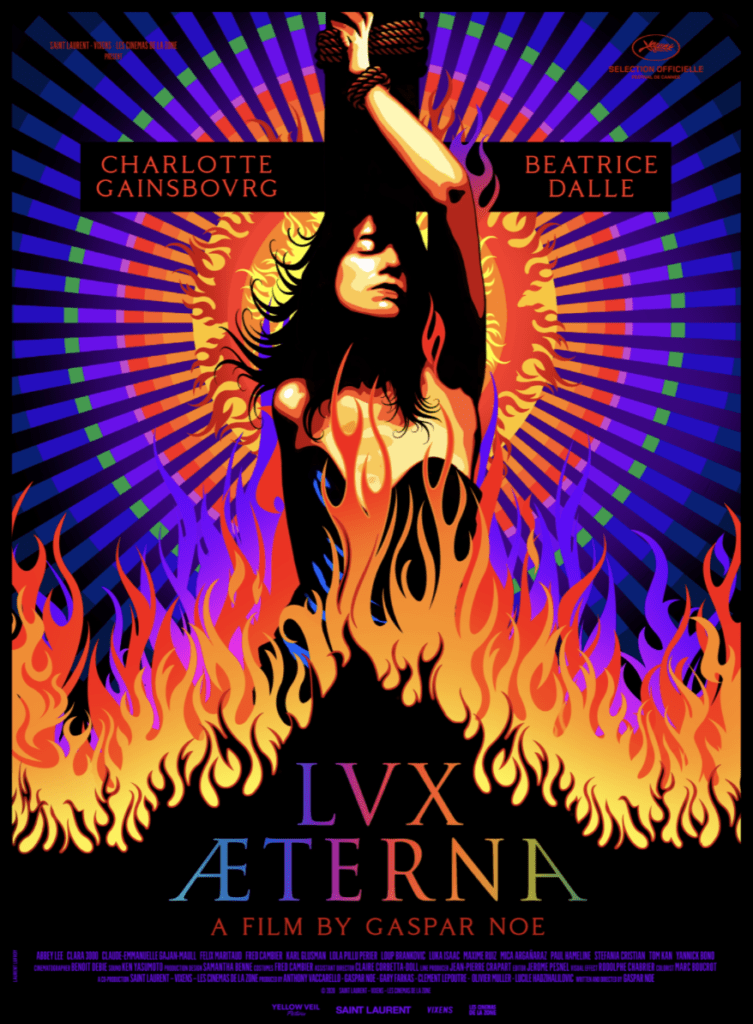 REVIEWED ON 5/18/2022 GRADE: B-