LOVE AT FIRST SIGHT
(director: Vanessa Caswill; screenwriters: Katie Lovejoy, based on the book 'The Statistical Probability of Love at First Sight" by Jennifer E. Smith; cinematographer: Luke Bryant; editors: Joe Klotz, Michelle Harrison; music: Paul Saunderson; cast: Haley Lu Richardson (Hadley), Ben Hardy (Oliver), Sally Phillips (Tessa Jones), Jameela Jamil (Narrator), Dexter Fletcher (Val), Rob Delaney (Andrew Sullivan); Runtime: 90; MPAA Rating: PG-13; producer: Matthew Kaplan; Netflix; 2023)
"Left me grounded."
Reviewed by Dennis Schwartz

A generic, derivative, lightweight airport Y.A. rom/com directed by veteran TV director but first-time feature film director Vanessa Caswill. It's based on the 2012 Y.A. book "The Statistical Probability of Love at First Sight," by Jennifer E. Smith, and is scripted by Katie Lovejoy.

A flirty pair meet on the cute at the airport.

The 20-year-old college student Hadley (Haley Lu Richardson) is flying to London for the wedding of her divorced father Andrew Sullivan (Rob Delaney) to his second wife. The college student Oliver (Ben Hardy), a math whiz, is returning home to London for a family gathering (Shakespearean-themed living memorial for his dying mother (Sally Phillips)). Oliver is seated next to Hadley on the plane. They hit it off during the flight from New York's JFK, but on the ground the couple have difficulty making a love connection during a hectic 24-hour period and their romance is uncertain.

Jameela Jamil is a fairy-like narrator,who pops up frequently, and in a voice-over tells us what's transpiring according to statistics (which make no sense) for this romance to endure.

The story left me grounded. It lives on its charm and sincerity. The middle-part followed each character reacting with their family. During the course of time with their folks their lives are presented more fully. We're left with the impression that if they remain a couple after London, it's up to fate and not statistics.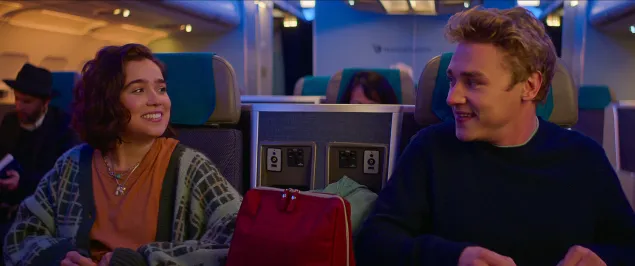 REVIEWED ON 9/23/2023  GRADE: C+