LOVE AGAIN
(director/writer: Jim Strouse; screenwriter: based on the novel by Sofie Cramer "Text For You"/Andrea Wilson/Maite Welding/Karoline Herfurth/Sophie Kluge/Anika Decker; cinematographer: Andrew Dunn; editor: Jessie Gordon; music: Kegan DeWitt; cast: Priyanka Chopra Jonas (Mira Ray), Russell Tovey (Billy Brooks), Steve Oram (Richard Hughes), Omid Djalili (Mohsen "Mo"), Sam Heugan (Rob Burns), Lydia West (Lisa Scott), Celia Imre (Gina Valentine), Arinzé Kene (John), Celine Dion (herself), Sofia Barclay (Suzy Tay); Runtime: 104; MPAA Rating: PG-13; producers: Basil Iwanyk/Erica Lee/Esther Hornstein; Sony Pictures; 2023)
"The presence of Celine Dion, who provides the soundtrack with new songs besides her presence, helps to make this too syrupy flick at least a reason to watch."
Reviewed by Dennis Schwartz

A screen adaptation of the German novel "Text For You" by Sofie Cramer, as disappointingly directed by Jim Strouse ("People, Places Things"/"The Incredible Jessica James") and written by Andrea Wilson, Maite Welding, Karoline Herfurth, Sophie Kluge and Anika Decker. It's a retro romcom that could just as well be a promotional film for the 55-year-old Canadian pop superstar Celine Dion, her first time on film and working since the death of her husband/manager Réné Angélil from cancer, as she makes her comeback after a period of retreat.

Mira (Priyanka Chopra Jonas) is a NYC residing children's book illustrator, who lives with her sister, Suzy (Sofia Barclay). She still has not recovered from the tragic death of her boyfriend, John (Arinze Kene), struck down in her presence by a drunk driver two years earlier before he was set to propose. In a moment of grief, she puts her feelings into a text she sends to John's old cell phone. The work phone currently belongs to NYC music critic Rob Burns (Sam Heugan). Through that text they somehow meet at the opera of Orpheus and Eurydice and start dating, without her realizing he is on the receiving end of her personal text messages to John.

Rob seems like a jerk for withholding from Mira he is receiving her meant to be private John texts, but the filmmaker still makes him into a nice guy (which was hard to fathom).
Rob is writing an article for work on Celine Dion, with her  there.  He thereby gets counsel from her on how to help him in his budding romance. Celine, by coincidence,  also happens to be an admirer of  Mira's work.  This affair also provides an outlet for his co-workers Billy (Russell Tovey) and Lisa (Lydia West) to comically meddle in his love life, which injects the film with some humor.

It tries to be a film that understands Mira's grief, as it gives hope that one can recover from a lost love by finding 'love again.' OK, I can buy that, but can't buy how cheesy it is and how paper thin are the lovers.

The presence of Celine Dion, who provides the soundtrack with new songs besides her presence, helps to make this too syrupy flick at least a reason to watch.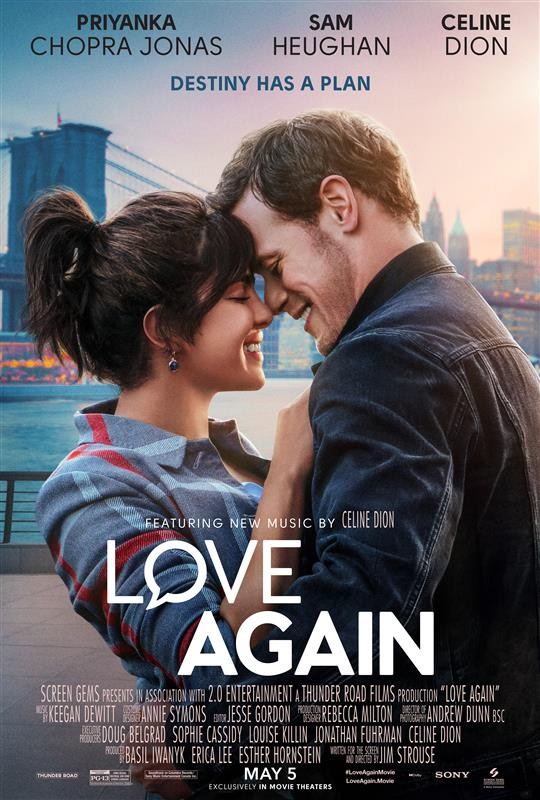 REVIEWED ON 5/7/2023  GRADE: B-