LEAVE THE WORLD BEHIND
(director/writer: Sam Esmail; screenwriter: based on the novel by Rumaan Alam; cinematographer: Tod Campbell; editor: Lisa Lassek; music: Max Quayle; cast: Julia Roberts (Amanda Sandford), Ethan Hawke (Clay Sandford), Mahershela Ali (G.H. Scott), Myha'la Herrold (Ruth Washington), Charlie Evans (Archie), Farrah Mackenzie (Rosie), Kevin Bacon (Danny); Runtime: 140; MPAA Rating: R; producers: Julia Roberts, Sam Esmail, Chad Hamilton, Lisa Gillan, Marisa Yeres Gill, Barack Obama, Michelle Obama; Netflix; 2023)
"If nothing else, the film is both well-acted and well-crafted."
Reviewed by Dennis Schwartz

Sam Esmail ("Deep Down in Florida"/"Comet") directs and writes this overlong futuristic psychological thriller that depicts a possible doomsday scenario that affects two diverse families. It's adapted from the best-seller novel by Rumaan Alam. Esmail is celebrated for writing and directing the Mr. Robot TV series. If nothing else, the film is both well-acted and well-crafted.
 
The married couple Amanda and Clay Sandford (Julia Roberts and Ethan Hawke), on a whim, answer an ad that says "Leave the world behind" and they leave their New York City home in Park Slope with their two teenage children, Rosie and the older Archie (Farrah Mackenzie and Charlie Evans), and go on a weekend vacation to a rental beach house at Point Comfort (The Hamptons) in Long Island.

On the beach, the family notice an oil tanker in the water and find it strange that it lands on the beach near where they are sitting.

After settling into the rental, the well-dressed Black house owner, G.H. Scott (Mahershala Ali), surprisingly arrives with his sassy 20-something daughter, Ruth Washington (Myha'la Herrold), and tells them that a cyber-attack knocked out the power in the city but not completely in the country, and asks to stay with the family. The couple are upset by this development, especially Amanda, but seem to have little choice but let them stay in the basement.

Soon a series of strange things happen regarding the outage.

Appearing at the beach house with guns and a huge American flag is Danny (Kevin Bacon), a survivalist just coming from stock-piling goods at the grocery store. He goes off verbally blasting both the Koreans and Chinese for being a threat to America, and blaming them for the outage.

Indicating something sinister is up, there are normally passive animals like deer now staring menacingly at people. There's also the Sandford's kid Archie who mysteriously finds his teeth falling out for no reason.

Roberts gives a fine performance going against type as a privileged middle-class white woman, who in her Brooklyn apartment shouts out in anger "I fucking hate people."

The pessimistic theme suggests there's a divisive mood in a divided America that's bound to destroy the country.

I wasn't ever fully on board with its heavy-handed doomsday message, even if in the real world the message might have some traction.

Its most enjoyable scene comes in the final act,  when the Sandfords drive back to the city and get stuck because the expressway has a pile-up of self-driving cars.
 
It played at the AFI festival.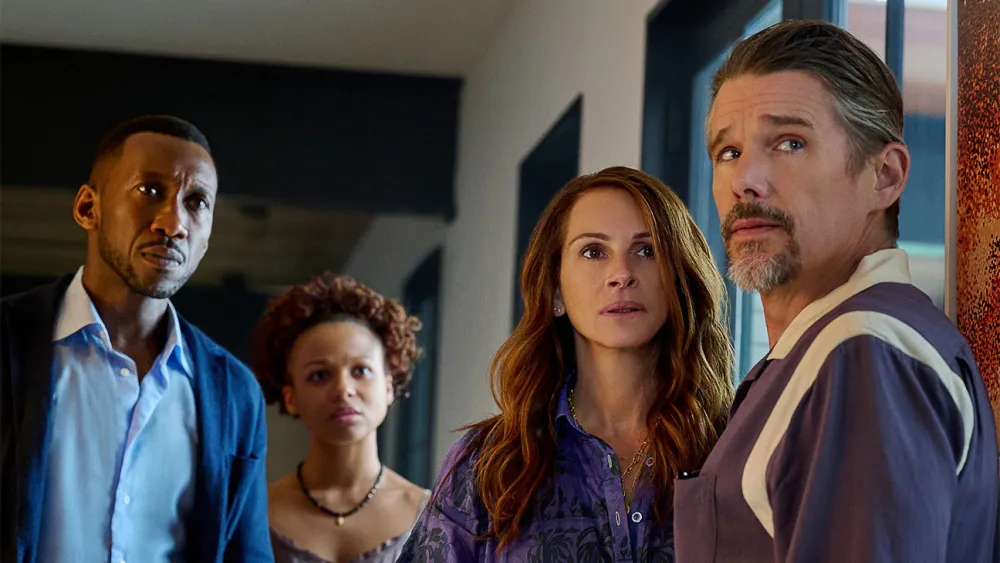 REVIEWED ON 11/15/2023  GRADE: B-