LEA AND DARIJA (LEA I DARIJA)
(director/writer: Branko Ivanda; screenwriter: Drago Kekanovic; cinematographer: Mirko Pivcevic; editor: Marin Juranic; music: Alfi Kabiljo; cast: Klara Naka (Lea Deutsch),  Tamy Zajec (Darija Gasteiger), Zrinka Cvitesic (Ivfka Deutsch),  Linda Begonja (Melita), Sebastian Cavazza (Stjepan Deutsch), Vedran Zivolic (Tadija Kukic); Runtime: 101; MPAA Rating: NR; producer:Lidija Ivanda; Ars Septima; 2011-Croatia-in Croatian, German, French, with English subtitles)
"The powerful music gives it a lift, helping it become cheerful as an escapist fantasy despite such grim circumstances."
Reviewed by Dennis Schwartz
A moving real-life story made as a musical drama. It's based on the experiences of two 13-year-old girls in Zagreb, one a Jewish singer named Lea Deutsch (Klara Naka ), "the Croatian Shirley Temple," and the other a blonde German gentile tap dancer named Darija Gasteiger (Tamy Zajec). Their families hooked them up as musical partners, and they worked for a children's theater in Zagreb.
They toured all over that part of Europe and became a popular act during the late 1930s. But on the eve of WW II, they faced the horrors of the war. Their popularity failed to protect them from the Nazi regime, as Darija was forced to stop performing outside of Germany, while the Jewish Lea was sent to Auschwitz.

The story is told in a confusing way by the elderly Lea, a survivor, from her home in Innsbuck, Austria. But the powerful music gives it a lift, helping it become cheerful as an escapist fantasy despite such grim circumstances.

It's directed with passion by Branko Ivanda ("The Horseman"), who tries to keep it upbeat, and is co-written by him and Drago Kekanovic. Branko was born in 1941 in Split, Croatia.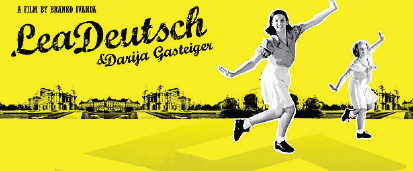 REVIEWED ON 2/6/2021  GRADE: B-