LAST VOYAGE OF THE DEMETER, THE
(director: Andre Øvredal; screenwriters: Bragi F. Schut, Stefan Ruzowitz, Zak Olkewicz, inspired by a Bram Stoker story from 1890; cinematographers: Roman Osin/Tom Stern; editors: Julian Clarke, Patrick Larsgaard, Christian Wagner; music: Bear McCreary; cast: Liam Cunningham (Captain Eliot), Corey Hawkins (Clemens), Woody Norman (Toby), Aisling Franciosi (Anna), Jon Jon Briones (cook), Stefan Kapicic (Olgaren), Javier Botet (Dracula), David Dastmakchian (Wojchek); Runtime: 118; MPAA Rating: R; producers: Bradley J. Fischer, Mike Medavoy, Arnold Messer; Universal Pictures; 2023)
"There are too many other good Dracula films to watch other than this flawed one."
Reviewed by Dennis Schwartz

The latest Dracula pic has the vampire in a crate on a ship to London from Romania. It's directed by Andre Øvredal ("Mortal"/"Trollhunter") and written by Bragi F. Schut, Stefan Ruzowitz, and Zak Olkewicz. If anything, the horror pic is well-executed even if parts of it are awkwardly delivered. If you've seen Alien, you'll note the film follows the same structure. It's inspired by a Bram Stoker story from 1890 set in London, as it uses one chapter from that book, The Captain's Log, to tell its doomed bloody story (in the book everyone dies but Count Dracula).

The film was in the planning stage for the last 20 years and finally got released after many re-writes.

Clemens (Corey Hawkins) is an English Black doctor who is hired on the Demeter after saving the life of Toby (Woody Norman), the young son of Captain Eliot (Liam Cunningham). The ship is transporting 50 wooden crates to London, whose contents have not been revealed, but one crate has the mark of a dragon on it. The first-mate Wojcheck (David Dastmakchian) has been promised by the shippers a bonus if the crates are delivered on time and in good condition.


Aisling Franciosi as Anna, a Romanian stowaway, takes up time in this lengthy 2 hour slog, before Dracula emerges to make mince meat of the ill-fated crew, the livestock and snack on Anna.


The cinematography of Roman Osin and Tom Stern captures the look and feel of the 1890s. The film's production design is a work of art. The recreations of the ship and costumes are terrifically detailed. Javier Botet makes for a chill Dracula. But the acting from the ship's crew is weak, the dialogue is clunky and the narrative is nothing special.

There are too many other good Dracula films to watch other than this flawed one. But if you're a Dracula completest and must see it, this film probably ranks in the middle of the 80 or so Dracula pics out there. As for me, give me the classic Bela Lugosi version from the Tod Browning Dracula of 1931.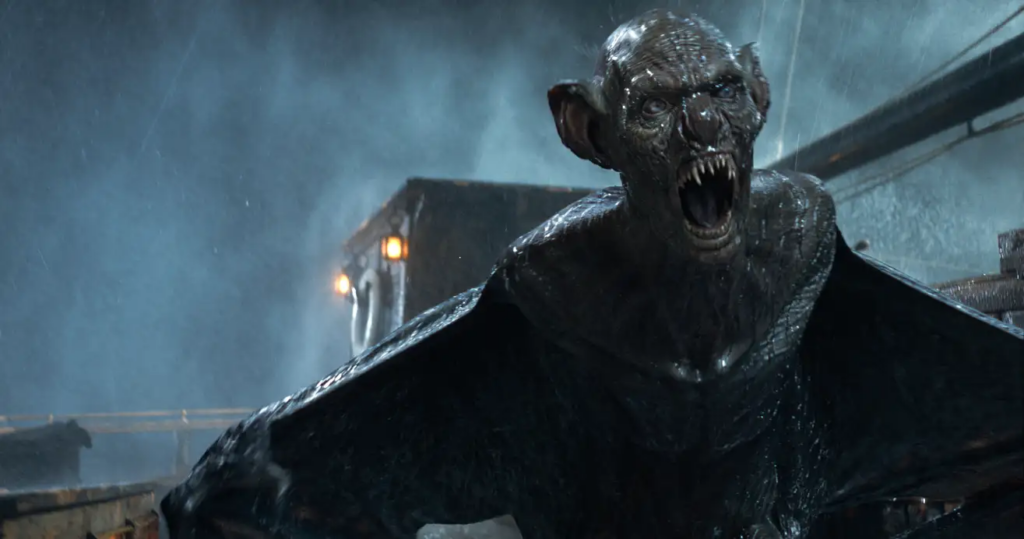 REVIEWED ON 8/15/2023  GRADE: B-