LAST SON, THE
(director/writer: Tim Sutton; screenwriter: Greg Johnson; cinematographer: David Gallego; editor: Kate Abernathy; music: Phil Mossman; cast: Sam Worthington (Isaac LeMay), Thomas Jane ( Sheriff Solomon), Heather Graham (Anna),  Machine Gun Kelly-Colson Baker (Cal),  James Landry Hébert (Grayton Willets), Emily Marie Palmer (Megan), Kendra Alaura (Claire), Kim DeLonghi (Grace), Jeremy Gauna (Lakota Warrior), Hiram A Murray (Logan), Alex Meraz (Patty); Runtime: 98; MPAA Rating: R; producers; Steven Luke, Todd Lundbohm, Jib Polhemus, Andre Relis, Gore Verbinski: A Redbox Entertainment release/VMI Worldwide/Vudu; 2021)
"It can be viewed as a high-concept Western, but with a scenario that's darker than most Westerns."
Reviewed by Dennis Schwartz

Tim Sutton ("Dark Night"/"Donnybrook") directs his first Western. It's a violent one with familiar tropes, like ones with unresolved father-son problems and hookers with hearts of gold being taken advantage of. Greg Johnson writes most of the screenplay, and writes it as if a Greek tragedy. It's told in chapters, with an opening voice-over. It can be viewed as a high-concept Western, but with a scenario that's darker than most Westerns–one that gets over because of its stunning visuals, its messaging of animals as figures of innocence, by pointing out that American violence is triggered by its inability to keep guns out of the hands of killers and its generally solid performances.

In the late 1800s, in Sierra Nevada, the outlaw Isaac LeMay (Sam Worthington, Aussie actor, gives a terrific performance) gets the following bad prophecy for his sins against the Indians, during the war years when he was in the Army, from a Cheyenne tribal elder: That one of his children will murder him.

This prompts LeMay, the gruff, bearded and grizzled ex-army vet, a believer in Indian curses, who did harm to the Cheyenne as an Indian fighter, to obsessively search the western plains for all his sons, all born from prostitutes (this film wants you to believe prostitutes don't know how to protect themselves from pregnancy), as he plans to shoot them all.

LeMay's last son that's still alive is the notorious volatile killer bank robber Cal (Machine Gun Kelly, actor/rapper, with the real name of Colson Baker).

His son's gentle mom, Anna (Heather Graham), at her whorehouse residence,  pleads with LeMay not to kill him like he just killed his twin brother. From Anna we learn that she did not want Cal to be raised in a brothel, so he was sent at an early age to live in a boys' home. When grown he left there to join the army, and became an expert at firing the Gatling gun. Disillusioned with life and having no proper guidance, he thereby became an outlaw. He despises people, but loves animals–refusing to harm them while he has no problem killing people. Refusing to run away to Canada to escape from his relentless killer dad, when warned by mom, he instead kills some soldiers to get their Gatling gun and prepares to confront dad when well-armed with a machine gun–after all he is Machine Gun Kelly.

Meanwhile searching for the wanted killer, LeMay, are a few bounty hunters and they're joined by the lawman Solomon (Thomas Jane), who was raised by the Cheyenne and has a past relationship with Anna. But the outlaw dispatches all of them.

Adding nicely to the supporting characters is Lemay's quiet, likable, religious daughter, Megan (Emily Marie Palmer), the film's narrator and eventual heroine, living in seclusion in the woods with her reformed whore mom now a regular churchgoer, Claire (Kendra Alaura), and her nice guy stepfather–someone LeMay ruthlessly kills for no reason (meant as a telling comment on America's random violence).

Some of the film's problems are that it's too slow paced and the story has so many baddies it never makes me care who dies. To its credit it's a film that leaves us thinking the American cycle of violence will continue because we're a cursed country, having committed Indian genocide, and guns have become an integral part of our culture. In recent real-life times we see how the divide in American politics will not allow our lax gun laws to be changed even if most of the population wants to.

Things perk up in the third act when the charismatic leader of the Willets gang, Grayton Willets (James Landry Hébert), arrives to help Cal to try and kill his madman father. His presence gave the flick a needed spark.
The twist comes in how the last son is killed, indicating violence begets violence.

We're left with the thought that the LeMay character is a possible stand-in for the dark side of America.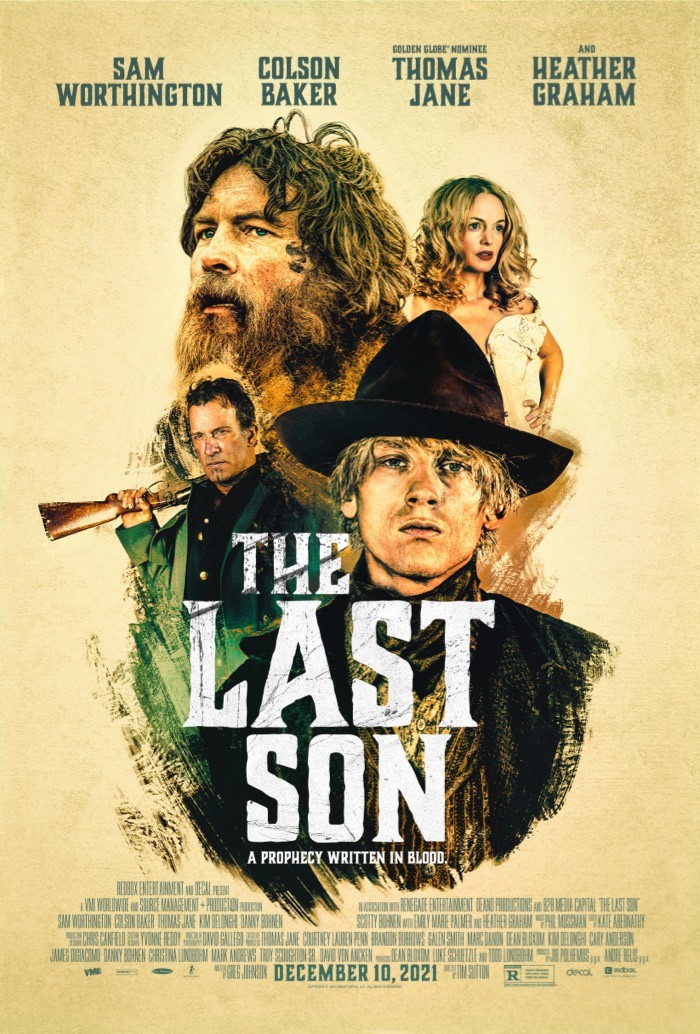 REVIEWED ON 12/31/2021 GRADE: B