LAST SHIFT, THE
(director/writer: Andrew Cohn; cinematographer: W. Mott Hupfel III; editor: Mindy Elliott; music: Mark Orton; cast: Richard Jenkins (Stanley), Shane Paul McGhie (Jevon), Da'Vine Joy Randolph (Shazz), Birgundi Baker (Sidney), Allison Tollman  (Mrs. Kelly), Ed O'Neill (Dale), Alex Stein (Rich); Runtime: 90; MPAA Rating: R; producers: Albert Berger/Sam Bisbee/Bert Kern/Alex Lipschultz/Ron Yerxa; Sony Pictures Releasing Stage 6 Films; 2020)
"It gets the usual good performance from the character actor Richard Jenkins."
Reviewed by Dennis Schwartz
Documentary filmmakerAndrew Cohn ("Night School"/"Medora"), in his fiction debut, has a promising premise that's not fulfilled with character development, as it tries to be more than a mismatched buddy comedy but goes nowhere with that as it hits a snag bringing up a racial incident over bigotry that it handles in a tone deaf manner. But it gets the usual good performance from the character actor Richard Jenkins. This is his first leading role since his Oscar-nominated role in the 2008 "The Visitors."

The  schlub Stanley (Richard Jenkins) is ready to retire and live near his nursing home residing mother in Florida after working for 38 years as the night manager at Oscar's Chicken and Fish fast-food restaurant in Albion, Michigan, working the graveyard shift for $13.50 an hour. The high school drop out was a dependable worker, who followed the rules religiously and always did his job.

His no-nonsense manager Shazz (Da'Vine Joy Randolph) assigns him on his last week to train the new worker Jevon (Shane Paul McGhie), a young father and ex-con. He did time in prison for foolishly vandalizing a federal monument, and gets this break that if he keeps a job, his probation officer, Mrs. Kelly (Allison Tolman), tells him, he will stay out of being locked up for the 10 remaining months of his sentence. The young adult Jevon is an aspiring writer, and thinks the work is beneath him, but it's better than prison.

There's a racial element that keeps the Black man from connecting with the dull old white man, who hides a latent racist attitude and a racial incident carried over from his youth. Stanley is still single, lives with two deadbeat crack-smoking roommates, has no social life and doesn't drive.

That both men are responsible for their actions is made clear, as they converse with each other on all topics.

In a half-joking manner, Jevon tells Stanley "If I'm still here at your age, put me out of my misery, please."

The film goes wrong when it tries to put the workers on equal footing. These are different individuals and have different issues to deal with.

As both men can articulate who they are, but life is not a picnic for either one and they can't see what the other sees about them.

The drama works fine if you can accept it as capturing the struggles ordinary folks have; and, though not telling us anything deep, it paints a grim picture of life that smacks of reality for some folks who are unaware of themselves.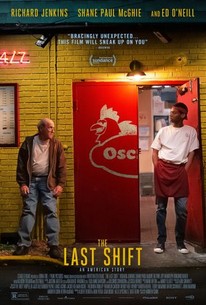 REVIEWED ON 2/28/2021  GRADE: B-