LAST NIGHT IN SOHO
(director/writer:  Edgar Wright; screenwriters: Krysty Wilson-Cairns/story by Wright; cinematographer: Chung-hoon Chung; editor: Paul Machliss; music: Steven Price; cast: Anya Taylor-Joy (Sandie), Jessie Mei Li (Lara), Thomasin McKenzie (Eloise-Ellie), Matt Smith (Jack), Diana Rigg (Miss Collins), Rita Tushingham (Peggy Turner), Kassius Nelson (Cami), Synnøve Karlsen (Jocasta), Rebecca Harrod (Ashley), Aimee Cassettari (Ellie's Mother), Michael Ajao (John,student lover of Ellie), Terence Stamp (Barfly); Runtime: 116; MPAA Rating: NR; producers; Nira Park, Tim Bevan, Eric Fellner, Laura Richardson, Edgar Wright: Focus Features; 2021-UK)
"The elusive dreamy flick was more a fun watch than a scary horror pic."
Reviewed by Dennis Schwartz

A gaudy stylish time-travel horror pic, filled with nostalgia, and a bevy of pop songs from the likes of female artists such as Dusty Springfield, Cilla Black, Sandie Shaw and Petula Clark. Brit director and writer Edgar Wright ("Baby Driver"/"The Sparks Brothers") co-wrote it with Krysty Wilson-Cairns. They keep it mostly a feminist tract that follows a pop song chart list of the hits from the 1960s, as it veers off to darker and more seedy times the longer it reflects on 'Swinging London.'

Gen Z fashion student at the London College of Fashion, Eloise Cooper (Thomasin McKenzie) is an orphan since the age of seven when her mentally disturbed mom (Aimee Cassettari) took her life. Eloise comes from Cornwall to London in 1965, leaving behind her kindly doting grandma Peggy Turner (Rita Tushingham), who gives Eloise her blessing to go to London. After hating life at the college dorm because of a mean roommate Jocasta (Synnøve Karlsen ), the sweet Eloise moves into an old Bloomsbury house run by a cranky working-class landlady (Diana Rigg, who died right after the film wrapped). London is swinging during this period, as a Cilla Black ballad 'You're My World' entertains the thrilled sophisticated nightclub crowds at the Café de Paris and in Leicester Square the cinema is showing the popular James Bond film Thunderball.

At night Eloise acts out the dreams of her alter-ego and becomes or fantasizes becoming the aspiring cabaret singer Sandie (Anya Taylor-Joy), whose handsome agent (Matt Smith) and savior lover turns out to be a son-of-a-gun trying to be her pimp.
Eloise's world darkens and crazy thoughts fill her, as she wonders if she'll crack like her mom or somehow survive these dark times unlike Sandie who was murdered (we're never quite sure here if Eloise became Sandie or reality was blurred to make it seem she became the singer–though logic tells us Sandie was another person).

In this slight film, goofy like most of its featured pop songs are, things don't add up or make much sense, and it gets too corny as its third act becomes filled with hysteria (as the past and present merge when Eloise has nightmares of a grisly scene that happened in the past in her apartment) and the initially glamorous London scene turns seedy and disappointing.

One of my favorite Brit actors from the 1960s was Terence Stamp. Here he plays a mysterious barfly who always seems to be around the bar when Eloise is working there at her part-time job and always has something smart to convey to her when spotting her on the street.

No matter how much of a misfire, the elusive dreamy flick was more a fun watch than a scary horror pic. It seems to want to get off its chest that the glamor of the period might have been appealing but it wasn't all it was cracked up to be.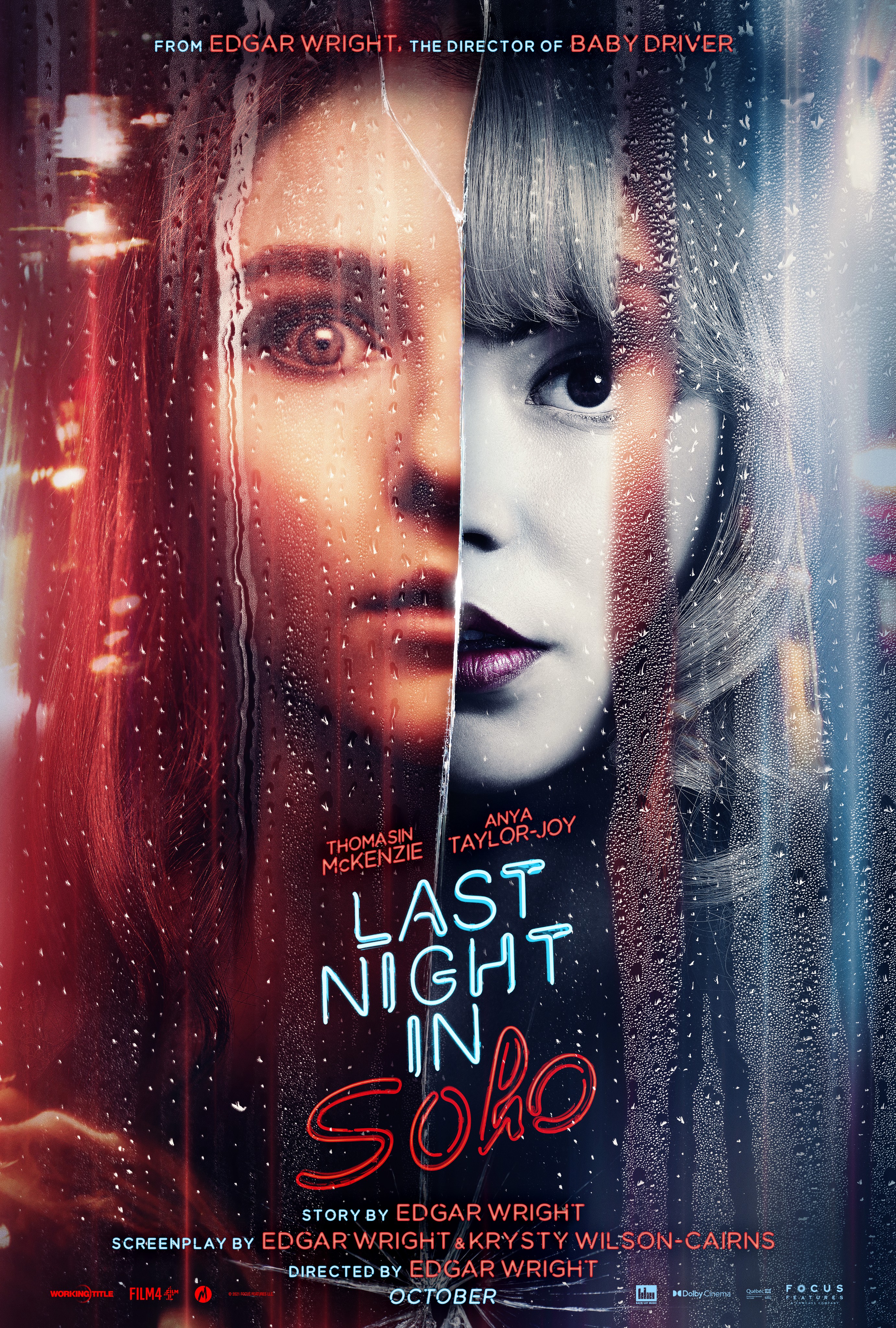 REVIEWED ON 9/6/2021 GRADE: B-