LANDSCAPE WITH INVISIBLE HAND
(director/writer: Cory Finley; screenwriter: based on the book by M.T. Anderson; cinematographer: Lyle Vincent; editor: Louise Ford; music: Michael Abels; cast: Kylie Rogers (Chloe Marsh), John Newberg (Mr. Stanley), Tiffany Haddish (Beth Campbell), Asante Blackk (Adam Campbell), Josn Hamilton (Mr. Marsh), Tony Vogel (Brett), William Jackson Harper (Mr. Campbell), Brooklynn MacKinzie (Natalie Campbell),Michael Gandolfini (Hunter Marsh); Runtime: 94; MPAA Rating: R; producers: Dede Gardner/Jeremy Kleiner; MGM; 2023)
"It enticingly sets a strange tone."
Reviewed by Dennis Schwartz

A quirky alien invasion tale written and directed by Cory Finley ("Bad Education"/ "Thoroughbreds"). It's based on the National Book Award-winning 2017 novel by M.T. Anderson. It tells of humans under the influence of the superior alien invaders.


Five years ago the Earth made first contact with an alien invader known as The Vuvv– a species of hyper-intelligent and soulless beings who outdo humans in commerce and technology, making humans subject to their control. The aliens, who look like turkeys, make it so the humans can't get work.  Meanwhile the wealthy humans have abandoned the Earth to live with the aliens.

The less fortunate once thriving Campbell family: the unemployed lawyer mother Beth (Tiffany Haddish), the amateur artist painter teenage son Adam (Asante Blackk), and youngest daughter Natalie (Brooklynn MacKinzie) struggle to live on Earth and are actually squatting in their own big house. Their dad ( William Jackson Harper) has not been heard from since going to California for a job.


Adam's classmate, Chloe (Kylie Rogers), is a scavenger for anything she can find in the sky cities she thinks she can sell. She lives with her grumpy brother (Michael Gandolfini) and father (Josh Hamilton). Though the two clans clash after the Adam's clan invites the Marsh's clan to move into their spacious house, a sweet romance develops between Chloe and Adam. They opt to perform sex for the asexual Vuvv, who will pay dearly to eavesdrop on rituals such as their dating, holding hands and attending the prom.

A number of ridiculous subplots are introduced that are not as funny as intended–just ridiculous.

The director throws a lot of things against the wall to see what sticks and most don't. But what sticks is what Finley shows he has a good grasp on, such as class differences being a major division in the world and the bad effects social media has on us. It gets over because of its unpredictability and it enticingly sets a strange tone that makes us curious about what it wants to say.
 

It played at the Sundance Film Festival.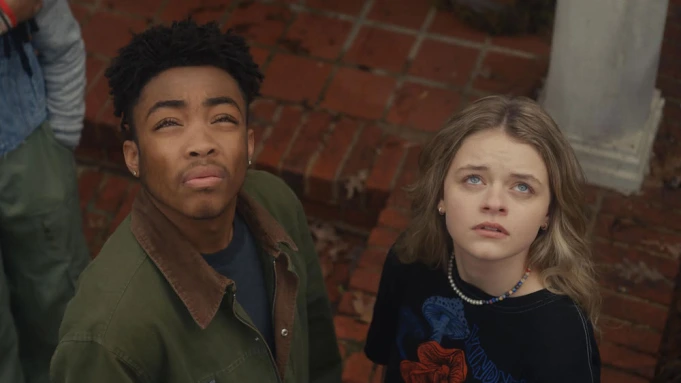 REVIEWED ON 3/25/2023  GRADE: B-