JUNIPER
(director/writer: Matthew Saville; cinematographer: Marty Williams; editor: Peter Roberts; music: Marlon Williams, Mark Perkins; cast: Charlotte Rampling (Ruth), George Ferrier (Sam), Marton Csokas (Robert), Edith Poor (Nurse Sarah), Cameron Carter-Chan (Shaggas); Runtime: 94; MPAA Rating: NR; producers: Angela Littlejohn, Desray Armstrong; Greenwich Entertainment; 2021-New Zealand)
"It's a cynical and unconvincing film about the bonding between generations."
Reviewed by Dennis Schwartz

The drama is set in New Zealand, in the 1990s, and is directed and written by the Kiwi filmmaker and former actor Matthew Saville, in his debut feature. It's a cynical and unconvincing film about the bonding between generations. The story is supposedly derived from Saville's childhood.


The former English photographer, Charlotte Rampling's prickly Ruth, is an elderly dying alcoholic wheelchair-bound granny, minding her morose, motherless (mom died) grandson Sam (George Ferrier), a boarding-school kid, who was sent to her rural home by his dad as a punishment.


Both of the alienated lead characters are flawed. The kid's suicidal, the haughty granny drinks to escape from life.


Eventually granny eases off taunting her grandson, even buying him clothes so he can hang out with his teen friends.


That things get better for both never seems convincing, as sentimentality drives the narrative and both characters are as compromised as the film.

Screen legend Charlotte Rampling gives this emotionally stunted film a little buzz, though it still needed more to make a go of its dark comical study on grief.

It played at the Santa Barbara International Film Festival.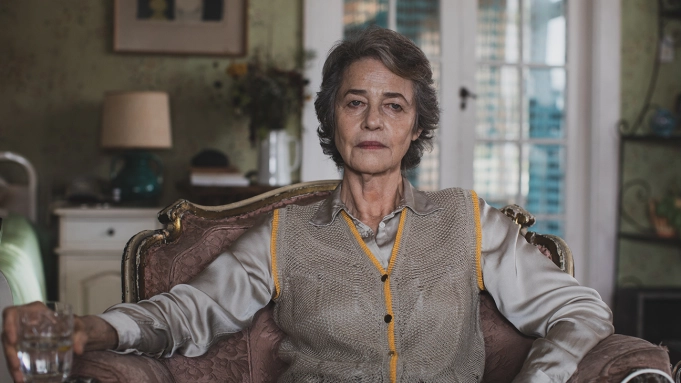 REVIEWED ON 7/13/2023  GRADE: B-