JOHNNY BELINDA
(director:Jean Negulesco; screenwriters: Irma Von Cube/Allen Vincent/based on an Elmer Harris play; cinematographer: Ted McCord; editor: David Weisbart; music: Max Steiner; cast: Jane Wyman (Belinda McDonald), Lew Ayres (Dr. Robert Richardson), Charles Bickford (Black MacDonald), Jan Sterling (Stella McCormick), Agnes Moorehead (Aggie MacDonald), Dan Seymour (Pacquet store-owner), Stephen  McNally (Locky McCormick); Runtime: 102; MPAA Rating: NR; producer; Jerry Wald: Warner Bros.; 1948-B/W)
"It's an old-fashioned melodrama that worked as a tear-jerker."
Reviewed by Dennis Schwartz

Jean Negulesco ("How to Marry a Millionaire"/"Humoresque") sets this humanistic B/W filmed drama in the quiet fishing community of Pacquet, on the Canadian small island of Cape Breton Island near Nova Scotia. It's based on the play by Elmer Harris and written by Irma Von Cube and Allen Vincent. Jane Wyman won an Oscar for Best Actress for playing a deaf-mute.

The kind new bachelor doctor in town, Dr. Robert Richardson (Lew Ayres), is brought by Aggie McDonald (Agnes Moorehead) to her humble farm so he can help deliver a calf. Aggie lives there in poverty with her brother Black (Charles Bickford) and Black's deaf-mute daughter Belinda (Jane Wyman) whose mom died at child-birth. The doctor takes a liking to Belinda and returns to the farm to teach her sign language.

The doctor's helper Stella (Jan Sterling) breaks up with the volatile worker Locky (Stephen McNally). Locky goes out to Black's farm to buy flour, and while drunk rapes Belinda. She becomes withdrawn and tells no one of the rape. When Robert brings Belinda to town to see a doctor, it's discovered that she's pregnant. Robert tells this to Aggie, but fears telling this to Black because of his violent temper. Eventually Belinda has the child and names him Johnny.

The locals believe the doctor made her pregnant and treat him as an outcast. He thereby asks to marry her. The townies don't believe Belinda is capable of caring for the child and try to give the child to the newly married Stella and Locky, who reconciled. When Stella sees how much Belinda likes her Johnny, she refuses to take the child. When Locky tries to take the child from Belinda, she kills him with her rifle.

At her murder trial, after at first remaining silent, Belinda is then acquitted after telling about the rape.

It's an old-fashioned melodrama that worked as a tear-jerker, and made a big star of Jane. She also divorced hubby Ronald Reagan at about this time because the actor was becoming too political for her.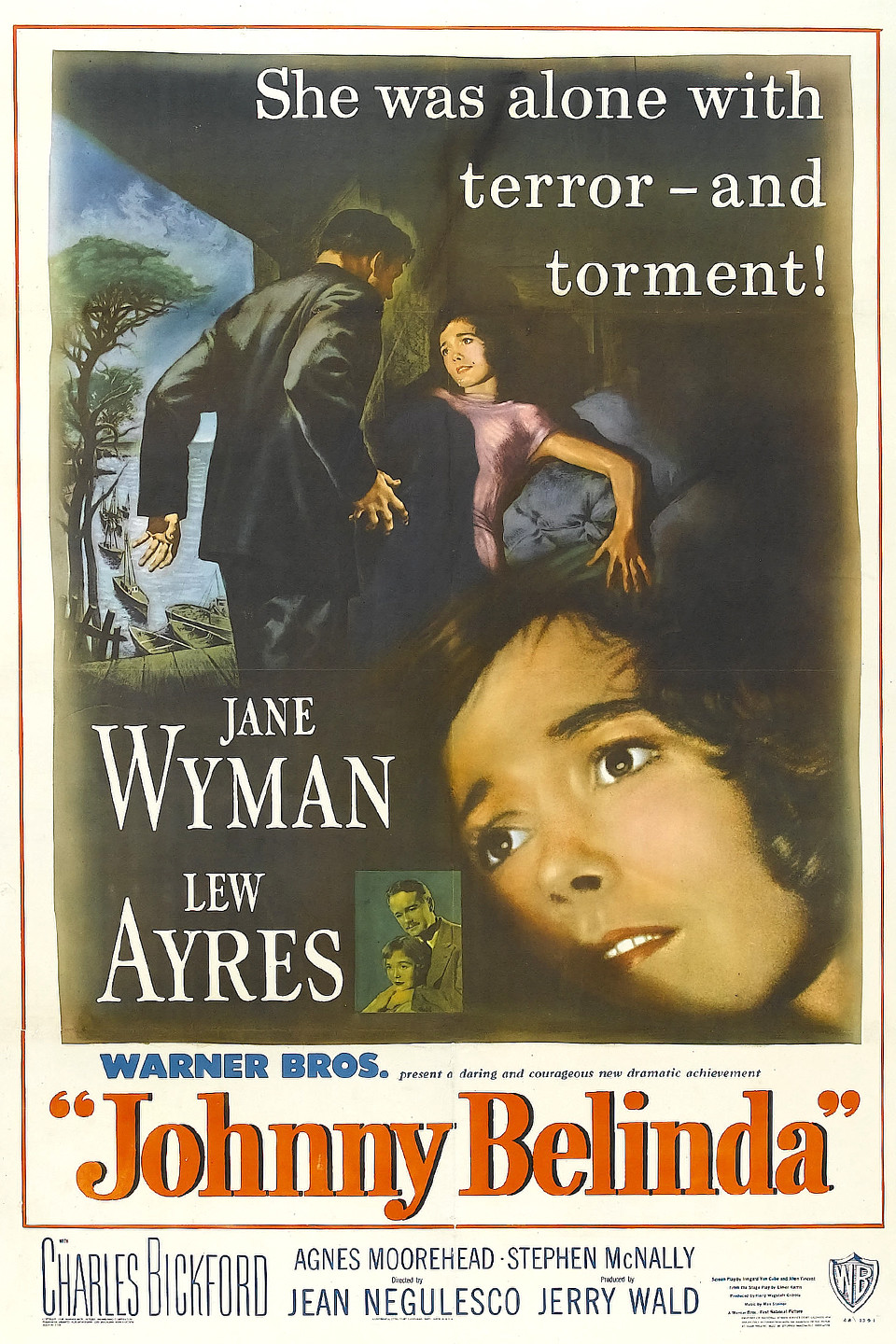 REVIEWED ON 8/29/2021 GRADE: B