JOHN DIES AT THE END
(director/writer: Don Coscarelli; screenwriter: based on the novel by David Wong; cinematographer: Michael Gioulakis; editors: Donald Milne, Don Coscarelli; music: Brian Tyler; cast: Chase Williamson (David Wong), Rob Mayes (John Cheese), Paul Giamatti (Arnie Blondestone), Glynn Turman (Detective Lawrence Appleton), Clancy Brown (Dr Marconi), Fabianne Therese (Amy), Johnny Weston (Justin White), Doug Jones (Roger North), Tai Bennett (Robert Marley), Allison Weissman (Shelly), Daniel Roebuck (Largeman), Jimmy Wong (Fred Chu) Runtime: 108; MPAA Rating: R; producers: Don Coscarelli, Brad Baruh, Andy Myers, Roman Perez; Magnet Releasing; color/B/W 2012)
"I wouldn't count on the title giving you a leg up on the film's outcome."
Reviewed by Dennis Schwartz

An off-beat mind-altering druggie sci-fi comic horror pic directed and written by Don Coscarelli ("The BeastMaster"/ "Phantasm") in a somewhat awkward trippy and ultra-violent manner. It's based on the novel by David Wong, as the film originated as a serialized Web novel first published online. It's a waste of time to see such a bad film in a theater, but as a home movie it can be a goof watching it with friends when high and horsing around.

Two twentysomething slackers (David Wong-Chase Williamson and John Cheese-Rob Mayes), calling themselves investigators of the paranormal, take the gooey hallucinogenic drug called "soy sauce," which when injected allows you to travel in space to a different dimension and thereby to read the minds of others, predict the future and detect who are the monsters trying to take over the world.

The intake of the drug also leads the slackers into being attacked by an assortment of slithering creatures.

In flashback, we hear the story Dave told in a diner to Arnie Blondestone (Paul Giamatti), a nerdy newspaper reporter, who hears from Dave on how John was snatched but replaced by another John.

It's a badly executed film by an underwhelming director, who shoots it in a garish style and leaves us with an unrewarding anticlimactic ending considering all the effort it takes in following its save the world tale about a destructive body snatching monster from another planet called Korrok.

Of note, I wouldn't count on the title giving you a leg up on the film's outcome.
 
It played at the Sundance Film Festival.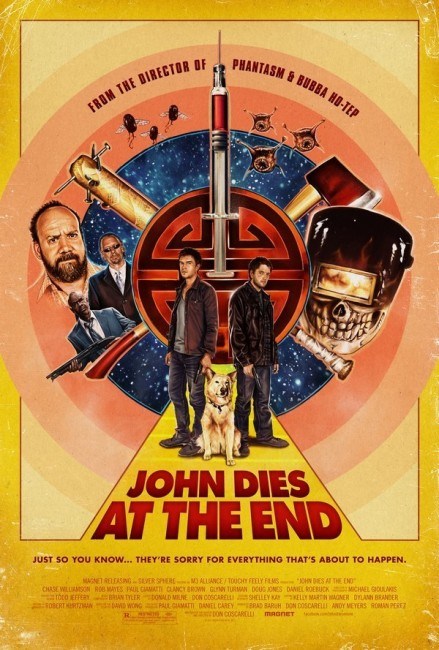 REVIEWED ON 7/30/2023  GRADE: C