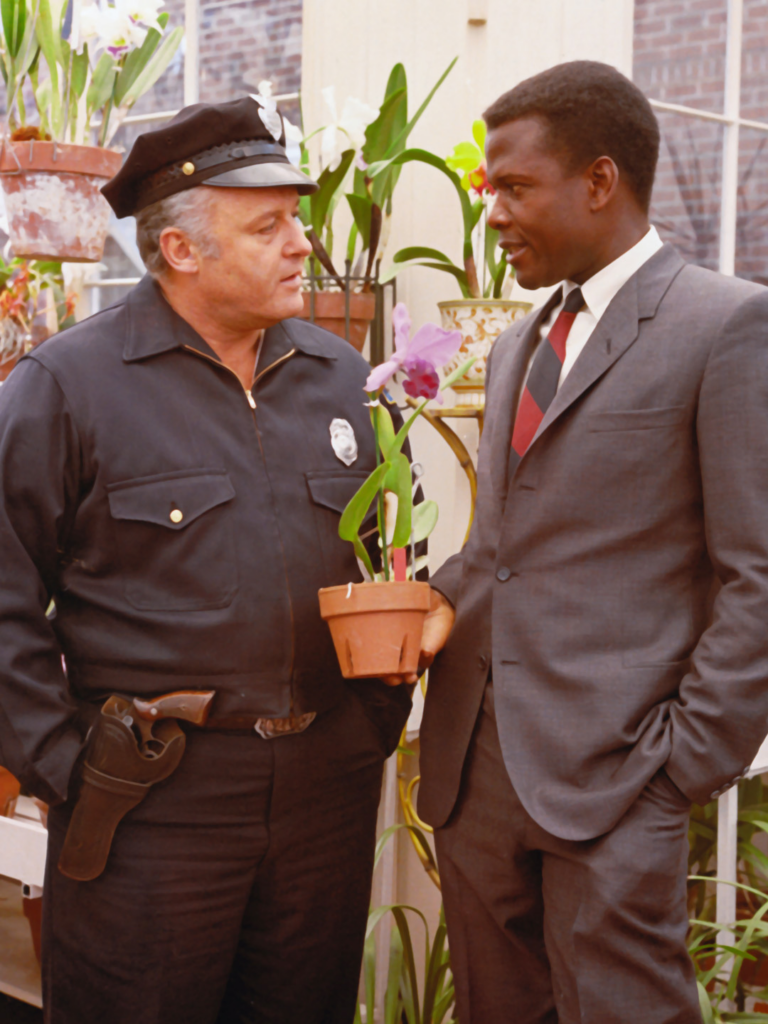 IN THE HEAT OF THE NIGHT
(director: Norman Jewison; screenwriters: from the novel by John Ball/Stirling Silliphant; cinematographer: Haskell Wexler; editor: Hal Ashby; music: Quincy Jones; cast: Sidney Poitier (Virgil Tibbs), Rod Steiger (Police Chief Bill Gillespie), Warren Oates (Deputy Sam Wood), Lee Grant (Mrs. Leslie Colbert), Larry Gates (Eric Endicott), James Patterson (Mr. Purdy), William Schallert (Mayor Schubert), Beah Richards (Mama Caleba), Matt Clark (Packy), Quentin Dean (Delores Purdy), Scott Wilson (Harvey Oberst), Anthony James (Ralph Henshaw, diner counterman), Peter Whitney (Off. George Courtney); Runtime: 109; MPAA Rating: PG; producer: Walter Mirisch; United Artists; 1967)
"Liberal do-gooder film."
Reviewed by Dennis Schwartz
The title song is sung by Ray Charles; Quincy Jones provides the pulsating moody score. The racially motivated detective pic is based on the 1965 novel of the same name by John Ball. The liberal do-gooder film is directed by Norman Jewison ("The Soldier Story") and written by Stirling Silliphant. It won the 1967 Oscar for Best Picture plus four other Oscars including one for Rod Steiger as Best Actor for his presentation of a bigoted cracker Southern sheriff. Curiously Sidney Poitier didn't even get nominated. After the film's success two sequels were made with Sidney Poitier reprising his role as Philadelphia homicide detective Virgil Tibbs in They Call Me Mister Tibbs! (1970) and The Organization (1971). It's noteworthy that this was one of the early films to have a non-white actor in a leading role. The racial climate was so unsettling in the Deep South, that the film had to be finished in Sparta, Illinois.
The dead body of wealthy Chicago industrialist Philip Colbert, in Sparta, Mississippi to build a factory, is found in an alley at night by Officer Woods (Warren Oates) while cruising in his patrol car. Redneck Police Chief Gillespie (Rod Steiger) orders the deputies to round up suspects, and Woods picks up a well-dressed Negro, Virgil Tibbs, waiting at the train station. After being held as a suspect, it's confirmed by a long-distance call that he's a first-rate homicide detective from Philadelphia, Pennsylvania, who was in town to visit his mother (who is strangely never heard of again as he stays over and chooses to stay with a stranger). At first reluctant to get the Negro cop's expertise help, the chief is talked into accepting it when Mrs. Colbert (Lee Grant) insists he be put on the case and the killer found, or else she will cancel plans to build the factory. The cunning racist mayor says it's a win-win situation for the chief, if he gets the killer everyone's happy and if he fails he can blame the Negro. Tibbs conducts the postmortem examination and the stubborn Gillespie has to reluctantly acknowledge his eastern colleague's greater experience in forensics. As the investigation begins a few suspects are cleared by Tibbs's thoroughness in conducting a homicide probe. Prime suspect Harvey Oberst (Scott Wilson) has the vic's wallet in his possession but only stole it when he saw the dead man lying on the street. Elderly racist plantation owner Eric Endicott (Larry Gates) was Colbert's number one enemy and vigorously opposed the progressive factory for its policy of hiring blacks with equal pay as whites, but he's not the killer as Tibbs was blinded by own bias into believing. Gradually Tibbs and Gillespie realize they have to work together to solve the murder, and when they do a grudging respect develops between the two opposites (who when they become closer realize they share some similar traits). Tibbs follows his intuition that takes him to the killer through clearing Officer Woods as a suspect. The slimy killer confesses into a tape recorder in the police station saying " I didn't mean to kill him." The sheriff drives Tibbs to the train station and carries his luggage; as they depart they shake hands and the sheriff smiles and tells him to take care in a friendly way and Tibbs smiles for the first time.
The film has two scenes it's remembered for. In the first, Sheriff Gillespie confronts Virgil Tibbs and says: Well, you're pretty sure of yourself, ain't you, Virgil. Virgil, that's a funny name for a nigger boy to come from Philadelphia. What do they call you up there? Virgil: They call me Mister Tibbs. The other has the Larry Gates character slap the Poitier character, who slaps him back.
The racism in the Deep South is given the once over and declared to be a deeply racist place but not without some hope for change. For Poitier, 1967 was a good year for him in films. Besides this sufficient one, he also made two other well-regarded films "Guess Who's Coming To Dinner" and "To Sir With Love.
"REVIEWED ON 5/27/2006 GRADE: B