INSIDE (BO BURNHAM: INSIDE)
(director/writer; Bo Burnham:cinematographer: Bo Burnham; editor: Bo Burnham; music: Bo Burnham; cast: Bo Burnham; Runtime: 99; MPAA Rating: R; producersJosh Senior; Netflix;  2021)
"The performer, during the special, reflects on his mistrust of digital life."
Reviewed by Dennis Schwartz

Bo Burnham ("Eight Grade") is a standup comedian, actor, screenwriter and director, responsible for Netflix's brilliant new special "Inside." It's filmed entirely in his L.A. guesthouse, where he spent a year in isolation in his small room, at first optimistically thinking comedy can cure the world of its ills and then becoming more realistic as he thought he was losing his mind over his anxieties. It was shot as you would shoot a feature movie, while he was quarantined during the pandemic. It's a clever take on material not entirely geared for comedy, that includes rips on his grim humor, on depression, on suicide, on self-hatred, on geopolitics and the Internet culture.

The odd claustrophobic setting becomes the place where Burnham celebrates his 30th birthday, takes some good swipes at Amazon's Jeff Bezos, and recognizes his stardom on YouTube. He lets us meet his live-in mate, Lorene Scafaria, the director of Hustlers, and his dog Bruce.

Silly satires fill the first half, such as the provocative song about social media vanity, "White Woman's Instagram."  The film goes into a different gear as it gets more real with the sincere rock tune about "trying to be funny and stuck in a room." And while tapping on a synthesizer, he belts out a tune about handling isolation as he sits on a cluttered floor in his tiny space.

Burnham references when he made faces and jokes from his bedroom as a teenager and got that on the Internet. Pointing out his evolution and how he has regressed because of the pandemic to now be back to where he was in the past, making jokes alone in his room and trying to get away from reality. The mood veers back and forth from pleasant nostalgia to darker songs and jokes.

The performer, during the special, reflects on his mistrust of digital life and also brings up things that can shake him up and bring him to tears, as he brings forth his best brooding artistic instincts to give us a show that Rocks.  Burnham made his name on the Internet, yet indicts in a slick way giving the film its sense of perplexity and being edgy.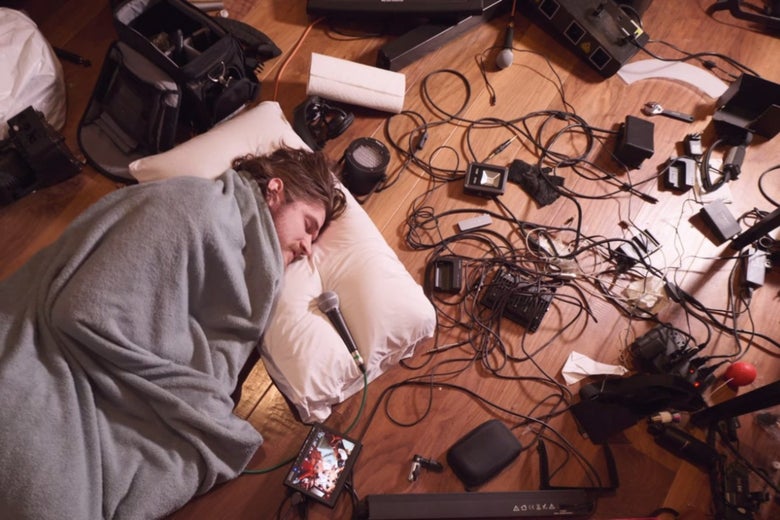 REVIEWED ON 6/20/2021 GRADE: B+