I KNOW WHAT YOU DID LAST SUMMER
(director: Jim Gillespie; screenwriters: Kevin Williamson/from the novel by Lois Duncan; cinematographer: Denis Crossan; editor: Steve Mirkovich; music: John Debney; cast: Jennifer Love Hewitt (Julie James), Sarah Michelle Gellar (Helen Shivers), Ryan Phillippe (Barry Cox), Freddie Prinze Jr. (Ray Bronson), Johnny Galecki (Max), Bridgette Wilson (Elsa Shivers), Anne Heche (Melissa Egan), Muse Watson (Benjamin Willis/Fisherman); Runtime: 100; MPAA Rating: R; producers: Erik Feig/Stokely Chaffin/Neal H. Moritz; Columbia Pictures; 1997)
"Though efficiently made it's not a good film."
Reviewed by Dennis Schwartz

Jim Gillespie ("D-Tox"/"Venom") directs this cliched date night slasher film that's written by Kevin Williamson, who wrote the screenplay for the much better horror pic "Scream." This horror film is based on the popular teen novel by Lois Duncan.

Four high school grads, consisting of two couples–the brainy scholarship college-bound Julie James (Jennifer Love Hewitt) and her working-class boyfriend Ray Bronson (Freddie Prinze Jr.), and the aspiring actress Croaker festival beauty queen who is the NYC-bound Helen Shivers (Sarah Michelle Gellar) and her belligerent wealthy star jock jerky boyfriend Barry Cox (Ryan Phillippe), after celebrating at Southport's annual Fourth of July festival and getting together at night for some fun and games on a deserted local beach in the coastal North Carolina fishing town, drive home. Ray drives the drunken Barry's car on a dark country road and hits a pedestrian when Barry distracts the designated driver while going around a bend. In panic, Barry, believing no jury would believe he wasn't the driver, talks the group into dumping the severely injured body off a pier and into the sea without reporting it. They then make a pact to never bring the subject up again. Julie reluctantly agrees to the pact, and the four go their separate ways.

One year passes and Julie returns from her away college and receives a threatening letter that states the movie title. The four teens reunite when they learn of the threat and decide to go after their vengeance-seeking stalker when he attacks them one at a time dressed in a fisherman's full-length slicker that blocks his face while he's brandishing a hook.

The moral implications of making a wrong decision weighs heavily on three of them. Julie looks like shit and has failing grades at her Ivy League college, the once upwardly mobile Ray ekes out a living while working with his fisherman father, and Helen fails as an actress in NYC and now works a counter job at her hometown family department store. Only Barry never changes from being a nasty drunken snot.

Though efficiently made it's not a good film, Its Grand Guignol is uninspired and it pulls too many dramatic punches to be taken seriously. It can't compete with Williamson's better written "Scream."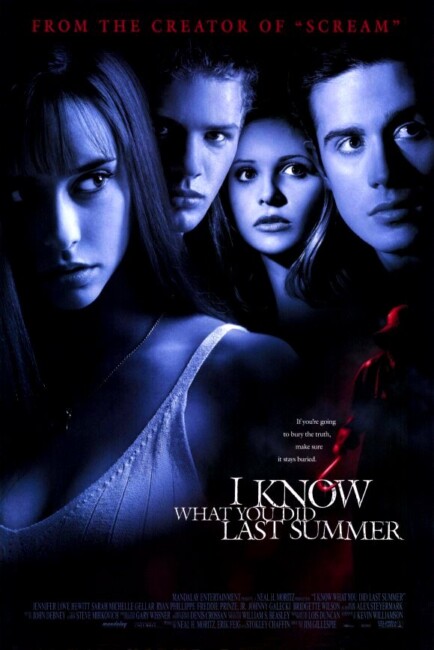 REVIEWED ON 4/6/2017 GRADE: C+