I CAN ONLY IMAGINE
(director: Jon Erwin/Andrew Erwin; screenwriters: based on the life story of Bart Millard/Brent McCorkle/Alex Cramer/Jon Erwin; cinematographer: Kristopher S. Kimlin; editors: Brent McCorkle, Andrew Erwin; music: Brent McCorkle; cast: J. Michael Finley (Bart Millard), Madeline Carroll (Shannon), Dennis Quaid (Arthur), Trace Adkins(Brickell), Cloris Leachman (Memaw), Jason Burkey (Mike),  Mark Furze (Nathan), Randy McDowell (Jim), Nicole Duport (Amy Grant), Cole Marcus (Robbie), Priscilla C. Shirer (Mrs. Fincher); Runtime: 110; MPAA Rating: PG; producers: Cindy Bond/Kevin Downes/Brent McCorkle; Lionsgate/Roadside Attractions; 2018)
"I can't imagine this Christian-based film reaching much of a secular audience."
Reviewed by Dennis Schwartz

A Christian inspirational film based on the true story of Bart Millard. The siblings Jon and Andrew Erwin ("Woodlawn"/"October Baby"), from Birmingham, Alabama, co-direct the family-fare musical drama in a sluggish and pushy way. It is about how the titular song tells about relieving inner pain through redemption (like let your pain inspire you to be an artist). The country ditty song from 20 years ago, is about the impact of true forgiveness on the songwriter who had to overcome so much from a bad childhood.

It's co-scripted by writers Jon Erwin, Brent McCorkle and Alex Cramer.

The religious music biopic tells the backstory of the title song, telling in depth how it was created. The song was the best-selling Christian single ever. The faith-based film follows the life of the Christian band MercyMe and its lead singer Bart Millard (J. Michael Finley). It tells of his rural Texas upbringing, where he endured his father's (Dennis Quaid) verbal and physical abuse, a meaningful unexpected death and much grief over personal matters.

Schoolboy Bart, at 11, came home from school one day to find his abused mom (Cloris Leachman) had split. When Bart meets his younger neighbor Shannon (Madeline Carroll), she gives him a purpose to live for. When they kiss for the first time, we know it's a big deal because in the background there's a fireworks explosion. Later they will marry.

A football injury in high school led Bart instead to the school chorus. Helped by his chorus teacher, Mrs. Fincher (Priscilla Shirer), he discovered his gift for music. When Bart left home after high school, he played in a traveling band. When he learned his dad was suffering from pancreatic cancer, he returned to care for him. Because of Bart's renewed Christian faith, he was able to forgive his father and be there for him in his time of need.

I can't imagine this Christian-based film reaching much of a secular audience, as its aim is to tell us all the abused lad was missing in life was Jesus. Once Jesus was found, we can assume all is good.

If you swallowed the story whole as simply a religious message film in keeping the faith, you should also be aware of its political message–Millard's band performed for Trump at his inaugural.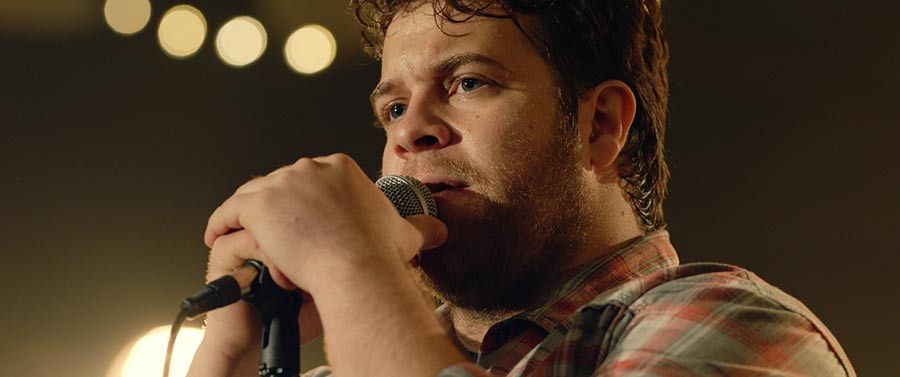 REVIEWED ON 9/1/2018 GRADE: C