HOSTILES
(director/writer: Scott Cooper; screenwriter: based on the manuscript by Donald E. Stewart; cinematographer: Masanobu Takayanagi; editor: Tom Cross; music: Max Richter; cast: Christian Bale (Capt. Joseph Blocker), Wes Studi (Chief Yellow Hawk), Ben Foster (Philip Wills), Rosamund Pike (RosalieQuaid), Q'orianka Kilcher (Moon Deer), Jesse Plemons (soldier),  Adam Beach (Black Hawk), Timothee Chalamet (Pvt. Philippe Dejardin), Jonathan Majors (Corporal Henry Woodson), Rory Cochrane (Metz), Tanaya Beatty (Living Woman), Scott Wilson (Cyrus Lounde), Peter Mullan (Lt. Colonel Ross McCowan), Robyn Malcolm (Mrs. Minnie McCowan); Runtime: 127; MPAA Rating: R; producers: John Lesher/Ken Kao/Scott Cooper; Entertainment Sudio; 2017)
"Christian Bale does a star turn as a macho soldier in this sometimes beautiful and sometimes flawed western."
Reviewed by Dennis Schwartz

Scott Cooper ("Black Mass"/"Crazy Heart") adeptly writes and directs this traditional western that is shot at a leisurely pace. It was masterly filmed by the DP Masanobu Takayanagi at the sweeping vistas of New Mexico and Colorado, and is set in 1892. It's based on the manuscript by the late Donald E. Stewart. Christian Bale does a star turn as a macho soldier in this sometimes beautiful and sometimes flawed western. But the Indians are viewed as ciphers, around for the brooding and embroiled Bale character to soften his hardness against them before the end of the third act. The story is a brutal one, telling of the inexcusable violence done by both sides. But, aside from that, it also shows its tender side.

A pioneer family in the remote part of New Mexico is attacked by a band of renegade Comanches who burn down their ranch and slaughter the patriarch and their 2 young daughters and their infant son, while mom, Rosalie Quaid (Rosamund Pike), escapes in the hills. Left to grieve her losses, a detail led by the ruthless veteran Indian hunter, Captain Joe Blocker (Christian Bale), comes by and rescues the abandoned survivors. To keep the peace, President Harrison orders the imprisoned for 7 years ruthless dying Cheyenne chief Yellow Hawk (Wes Studi) and his followers to return to their homeland in the Valley of the Bears, in Montana. Blocker refuses the mission until told he will be imprisoned and lose his pension if he refuses. It seems Blocker speaks Cheyenne and is the only one in the territory capable of delivering the released prisoners safely to their homeland. The gallant Blocker acts as the dignified woman's protector as he takes her with him to Montana.

On the arduous trek the detail encounters the criminal Frank Wills (Philip Wills) and a few other incidents that give Blocker time to reflect on how the white people stole the land from the Indians and slaughtered them while committing war crimes. By the last scene Blocker is honorably discharged and wearing civilian clothes, and is supposedly a reformed man saying goodbye to the Chicago-bound by train Rosalie.

The film asks us if we will ever end our hatred for others, and that maybe it will come when we learn about others as do the Indians and soldiers when given the chance on their 1,000-mile journey back to the tribal lands. The solid ensemble cast includes Timothee Chalamet, Jesse Plemons, Q'orianka Kilcher, Rory Cochrane and Adam Beach.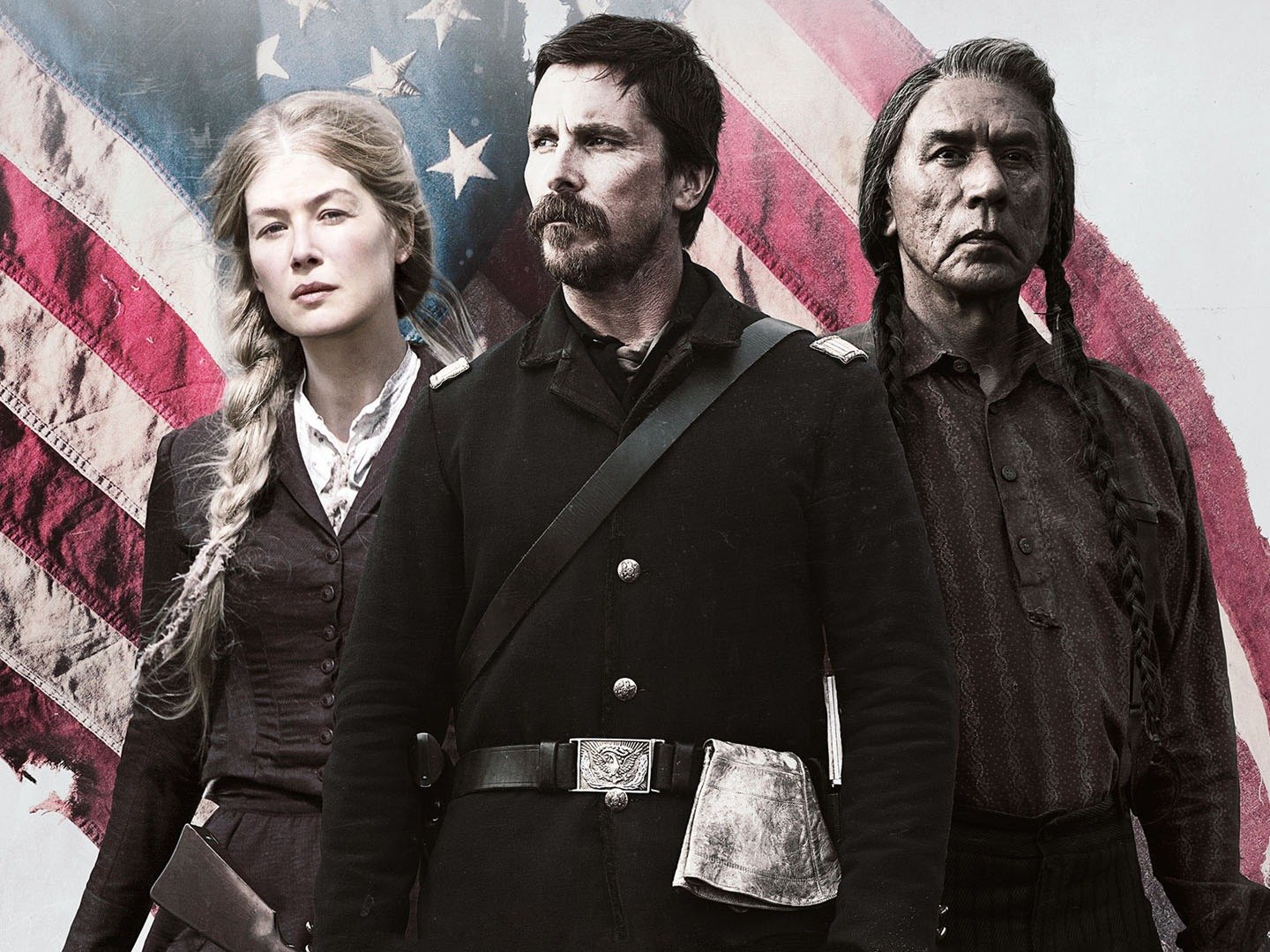 REVIEWED ON 12/5/2017 GRADE: B-