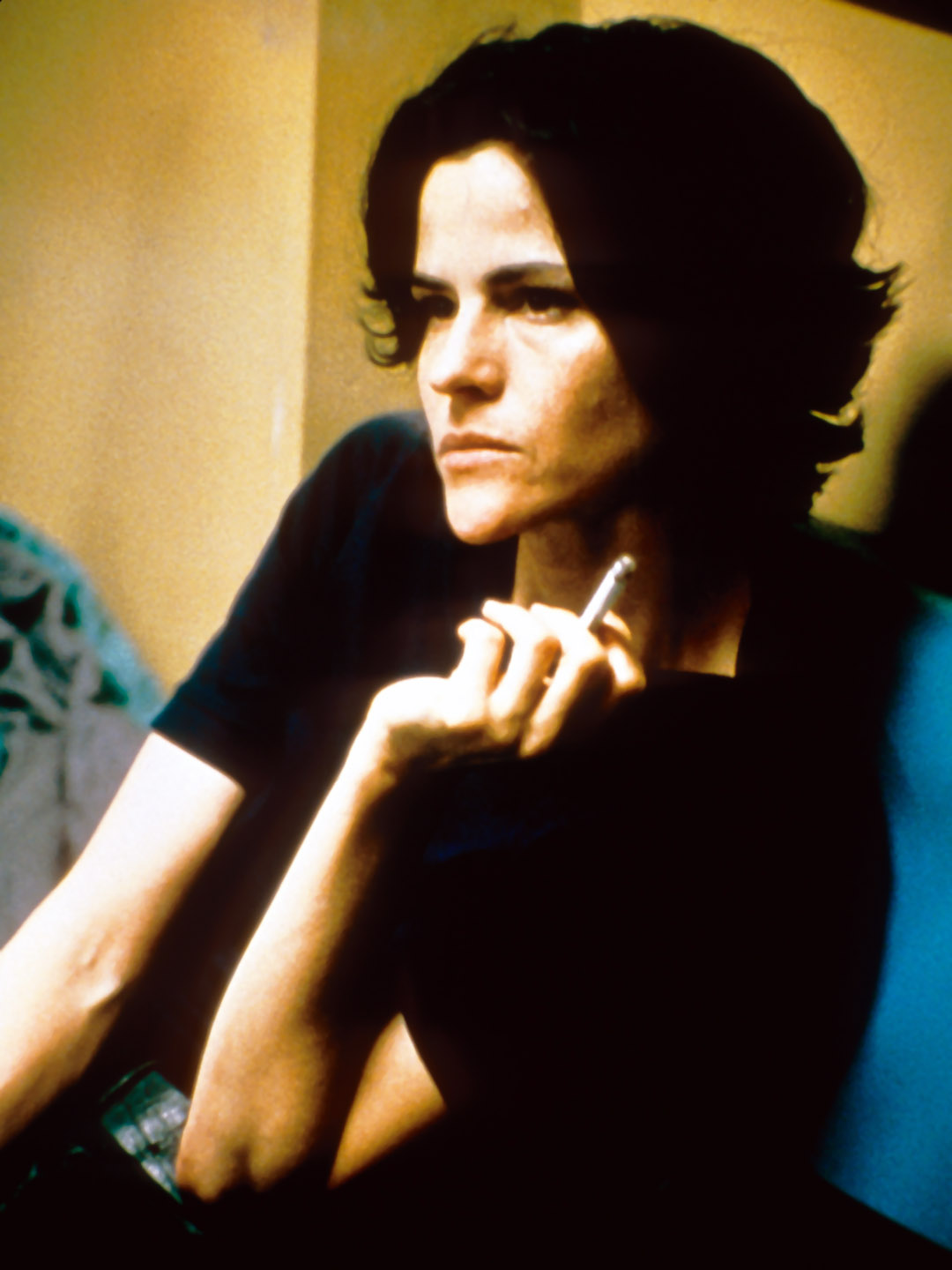 HIGH ART
(director/writer: Lisa Cholodenko; cinematographer: Tami Reiker; editor: Amy E. Duddleston; cast: Ally Sheedy (Lucy Berliner), Radha Mitchell (Syd), Patricia Clarkson (Greta), Gabriel Mann (James), Anh Duong (Dominique), David Thornton (Harry), Tammy Grimes (Lucy's mother), William Sage (Arnie); Runtime: 102; October Films; 1998)
"The film feels superficial, with all its glib characters provoking an air of chic fashion."
Reviewed by Dennis Schwartz
The film feels superficial, with all its glib characters provoking an air of chic fashion. What saves it from the doldrums is the virtuoso performance of Lucy Berliner (Ally Sheedy). She's a wily photographer retired from her professional duties for the last ten years and living in a lesbian relationship with a has-been German actress, Greta (Clarkson).
The less interesting story line involves the ambitions of an attractive, baby faced assistant editor at Frame magazine, Syd (Radha Mitchell), who lives with a boring boyfriend (Mann) in an emotionally chilling relationship. A plumbing problem brings her upstairs and that is how she accidently meets the once famous but now reclusive photographer. The photographer's tired live-in lover, Greta, once worked as an actress with the German director Fassbinder before her demise through a heroin addiction. A sexual attraction develops between the famous photographer and her ambitious neighbor. The complications that arise out of this new relationship is the springboard for the plot.
Lisa Cholodenko's first feature is a sleek and soulful look at the relationship between the two women, who find that they are attracted to each other for various reasons. The ambitious Syd is taken in by Lucy's artistic skills and worldly manner, while Lucy is attracted to the beauty and youthful energy Syd has and is not displeased with her ambitions. The two of them seem to have a chemistry together and their kissing scenes showed their true passions, with the more controlling Lucy being in charge of things and instigating the relationship to be more sexual.
Patricia Clarkson contributed a sense of despair and a cagey ability for survival, as she reeks from being a sophisticated world traveler. She is the jealous lover who senses her impending doom, who is hateful of this sycophantic upstart. When introduced to Syd Clarkson says in her heroin induced high, which is where the film could have derived its title of High Art from: "I live for Lucy- I mean, I live here with Lucy."
The look inside Syd's new power job (she's kow-towing to those above her, while putting on airs to those below) where she was just promoted from being an intern, is a despairing look at the workplace scene. Her editor (Thornton), is filled with cynicism and arrogance; the boss Dominique (Anh), has her arrogant opinions count even if they are wrong.
When Syd has Lucy's work featured on the cover of the magazine, it is a coup for her and the magazine. The story creates some tension in Lucy, who gave up her career because it was impossible for her to continue working at a straight job.
Eventually the film after being carried along by Sheedy's intense performance, dies an ungraceful death from too much slickness.
So what could have been cutting-edge dramatics, if the lesbian romance was followed through further and shown how it internally affects the two; but, instead, the film turns out to be an intelligent soap opera story about how three women, at different stages of their lives, get together and separate. All the pain that is there, is finally settled in the usual way sitcoms settle problems they don't want to handle any more. Which left the film only somewhat satisfying. Ultimately, it becomes plain that it really had nothing to say that was important. The film just looked too much like the slick magazine is was parodying; its style was, perhaps, too beautiful for its own good.
REVIEWED ON 8/4/99 GRADE: C+